13. februar 2018
Mouser Now Offering Maxim Integrated's MAX2250xE Transceivers for High-Performance Motion Control
Mouser Now Offering Maxim Integrated's MAX2250xE Transceivers for High-Performance Motion Control
February 13, 2018 – Mouser Electronics, Inc., the industry's leading New Product Introduction (NPI) distributor with the widest selection of semiconductors and electronic components, is now stocking the MAX22500E and MAX22501E RS-485/RS-422 transceivers from Maxim Integrated. Offering up to twice the data rates over longer distances compared to similar devices, the MAX22500E and MAX22501E transceivers deliver increased accuracy for demanding motion control systems, encoder interfaces, and other industrial controls.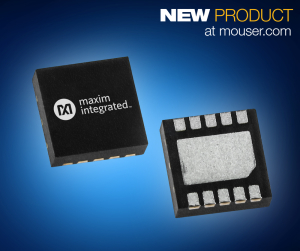 The Maxim MAX22500E and MAX22501E half-duplex transceivers, available from Mouser Electronics, provide flexible performance with ±15 V HBM electrostatic discharge (ESD) protection to suit a variety of applications. The devices offer a large receiver hysteresis of 250 mV, which provides excellent electrical fast transient (EFT) robustness. The transceivers feature integrated hot-swap protection and a fail-safe receiver to ensure a logic-high on the receiver output when input signals are shorted or open for longer than 10 μs.
The transceivers are optimized for 100 Mbps high-speed communication over 50 m (or 50 Mbps over 100 m) in an operating temperature range of minus 40 to 125 degrees Celsius. Both transceivers feature a supply range of 3V to 5.5V as well as high receiver sensitivity and wide receiver bandwidth. Additionally, the MAX22500E transceiver includes a low-voltage logic supply down to 1.6V.
The MAX22500E transceiver features integrated pre-emphasis circuitry to allow engineers to extend cable length by up to 50 percent and increase the data rate of reliable communication. The pre-emphasis feature also enables increased encoder resolution and reduced latency. In addition, by improving the signal integrity and robustness, system designers can achieve the same level of performance with lower-cost cables, thereby reducing overall system costs.
The transceivers are supported by the fully assembled and tested Maxim MAX22500E and MAX22501E evaluation kits, which can be used for standalone evaluation or connected to an RS-485/RS-422 network for in-system evaluation.
To learn more, visit http://www.mouser.com/maxim-max22500e-max22501e-transceivers.
Mouser / Maxim MAX22500E and MAX22501E RS-485/RS-422 Transceivers
Page Two
With its broad product line and unsurpassed customer service, Mouser strives to empower innovation among design engineers and buyers by delivering advanced technologies. Mouser stocks the world's widest selection of the latest semiconductors and electronic components for the newest design projects. Mouser Electronics' website is continually updated and offers advanced search methods to help customers quickly locate inventory. Mouser.com also houses data sheets, supplier-specific reference designs, application notes, technical design information, and engineering tools.
About Mouser Electronics
Mouser Electronics, a Berkshire Hathaway company, is an award-winning, authorized semiconductor and electronic component distributor focused on rapid New Product Introductions from its manufacturing partners for electronic design engineers and buyers. The global distributor's website, Mouser.com, is available in multiple languages and currencies and features more than 5 million products from over 700 manufacturers. Mouser offers 22 support locations around the world to provide best-in-class customer service and ships globally to over 600,000 customers in 170 countries from its 750,000 sq. ft. state-of-the-art facility south of Dallas, Texas. For more information, visit http://www.mouser.com.
About Maxim
Maxim is the leader in analog integration. From mobile to industrial solutions, Maxim is making analog smaller, smarter and more energy efficient.
Trademarks
Mouser and Mouser Electronics are registered trademarks of Mouser Electronics, Inc. All other products, logos, and company names mentioned herein may be trademarks of their respective owners.
– 30 –
Further information, contact:

Kevin Hess, Mouser Electronics

Senior Vice President of Marketing

(817) 804-3833

For press inquiries, contact:

Nick Foot, BWW Communications

PR Director

+44 (0)1491 636393