21. august 2017
Mouser Now Offering Highly Anticipated Microsemi PolarFire FPGA Evaluation Kit
Mouser Now Offering Highly Anticipated Microsemi PolarFire FPGA Evaluation Kit
August 21, 2017 – Mouser Electronics, Inc., the authorized global distributor with the newest semiconductors and electronic components, is now offering the PolarFire™ Evaluation Kit from Microsemi, which allows designers to evaluate the highly regarded PolarFire FPGA product family. The flash-based PolarFire field programmable gate arrays (FPGAs) deliver 100K to 500K logic elements at up to 50 percent lower power consumption than equivalent SRAM-based FPGAs, as well as best-in-class security and reliability.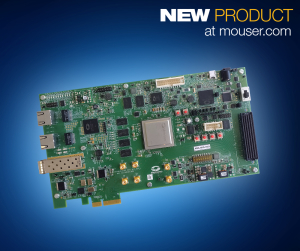 The Microsemi PolarFire Evaluation Kit, available to order from Mouser Electronics, provides a robust hardware design platform based on a 300K logic element PolarFire FPGA with DDR4, DDR3 and SPI-flash memory. The onboard FPGA integrates reliable non-volatile FPGA fabric, 12.7 Gbps transceivers, 1.6 Gbps inputs and outputs (I/Os), best-in-class-performance, hardened security IP, and crypto processors. The silicon features power optimization with the lowest static power for mid-range FPGAs, while the Flash*Freeze mode yields best-in-class standby power.
The evaluation kit includes SMA connectors for testing the transceiver channel, high pin count FPGA mezzanine card, x4 PCIe edge connector, dual Gigabit Ethernet connectors, and programming using an on-board embedded FlashPro5 programmer. The kit provides high-performance evaluation for a variety of applications, such as industrial automation, cellular infrastructure, security, imaging and video, and USB.
The kit also ships with a one-year Libero Gold Software License, which includes the Libero SoC PolarFire Design Suite of comprehensive, easy-to-learn, easy-to-adopt development tools. The suite integrates industry-standard Synopsys Synplify Pro® synthesis and Mentor Graphics ModelSim® simulation with best-in-class constraints management and debug capabilities.
To learn more about the evaluation kit, visit http://www.mouser.com/new/microsemi/microsemi-polarfire-evaluation-kit/. For more information on the PolarFire FPGAs, go to http://www.mouser.com/new/microsemi/microsemi-polarfire-fpga/.
Mouser / Microsemi PolarFire FPGA Evaluation Kit
Page Two
With its broad product line and unsurpassed customer service, Mouser strives to empower innovation among design engineers and buyers by delivering advanced technologies. Mouser stocks the world's widest selection of the latest semiconductors and electronic components for the newest design projects. Mouser Electronics' website is continually updated and offers advanced search methods to help customers quickly locate inventory. Mouser.com also houses data sheets, supplier-specific reference designs, application notes, technical design information, and engineering tools.
About Mouser Electronics
Mouser Electronics, a Berkshire Hathaway company, is an award-winning, authorized semiconductor and electronic component distributor focused on rapid New Product Introductions from its manufacturing partners for electronic design engineers and buyers. The global distributor's website, Mouser.com, is available in multiple languages and currencies and features more than 4 million products from over 600 manufacturers. Mouser offers 22 support locations around the world to provide best-in-class customer service and ships globally to over 550,000 customers in 170 countries from its 750,000 sq. ft. state-of-the-art facility south of Dallas, Texas. For more information, visit http://www.mouser.com.
Trademarks
Mouser and Mouser Electronics are registered trademarks of Mouser Electronics, Inc. All other products, logos, and company names mentioned herein may be trademarks of their respective owners.
– 30 –
Further information, contact:

Kevin Hess, Mouser Electronics

Senior Vice President of Marketing

(817) 804-3833

For press inquiries, contact:

Nick Foot, BWW Communications

PR Director

+44 (0)1491 636393