13. juni 2018
Mouser Honored with Top Customer Growth Award from Epson America, Inc.
Mouser Honored with Top Customer Growth Award from Epson America, Inc.
Industry-Leading NPI Distributor Recognized for Boosting Sales and Customers
June 13, 2018 – Mouser Electronics, Inc., the industry's leading New Product Introduction (NPI) distributor with the widest selection of semiconductors and electronic components, is pleased to announce that it received the Greatest Increase in Customer Count 2017 award from Epson America, Inc., a world leader in quartz crystal technology and a leading global supplier of high-performance components, including integrated circuits and crystal-based electronic devices. Epson honored Mouser with the award at the Electronics Distribution Show (EDS), held May 15–18 in Las Vegas.
"Mouser Electronics has consistently delivered outstanding results for us year after year," said  Lisa Liotta-Valine, Distribution Sales Manager for Epson America. "Growing our customer base is important to us, and Mouser was critical to helping us meet our goals for the year. Mouser added impressive numbers of customers in 2017 all the while focusing on sales of our newer products. Mouser's service to our customers and to us at Epson truly is best in class, and this award is well deserved."
"All of us at Mouser thank Epson America for this outstanding award," said Kristin Schuetter, Vice President of Supplier Management at Mouser Electronics. "We are honored to be recognized by such a fine company as Epson, a leader in its field and one of our valued suppliers. Our partnership has indeed grown through the years and has been very beneficial for both of our companies. We greatly appreciate this tribute to our distribution efforts.''
Epson honored Mouser with two awards last year: Best Overall Sales Improvement and Most Increased Customer Count. Epson America Inc., a part of Seiko Epson Corp., is a leading global supplier of high-performance components known for superior quality, functionality, compactness and energy efficiency. Mouser stocks a wide selection of Epson products available for same-day shipping around the world. To learn more, visit http://www.mouser.com/epsonelectronicsamerica.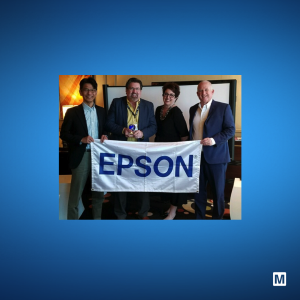 Mouser / Epson America Customer Growth Award
With its broad product line and unsurpassed customer service, Mouser strives to empower innovation among design engineers and buyers by delivering advanced technologies. Mouser stocks the world's widest selection of the latest semiconductors and electronic components for the newest design projects. Mouser Electronics' website is continually updated and offers advanced search methods to help customers quickly locate inventory. Mouser.com also houses data sheets, supplier-specific reference designs, application notes, technical design information, and engineering tools.
About Mouser Electronics
Mouser Electronics, a Berkshire Hathaway company, is an award-winning, authorized semiconductor and electronic component distributor focused on rapid New Product Introductions from its manufacturing partners for electronic design engineers and buyers. The global distributor's website, Mouser.com, is available in multiple languages and currencies and features more than 5 million products from over 700 manufacturers. Mouser offers 23 support locations around the world to provide best-in-class customer service and ships globally to over 600,000 customers in more than 220 countries/territories from its 750,000 sq. ft. state-of-the-art facility south of Dallas, Texas. For more information, visit http://www.mouser.com.
About Epson
Epson is a global technology leader dedicated to connecting people, things and information with its original efficient, compact and precision technologies. With a lineup that ranges from inkjet printers and digital printing systems to 3LCD projectors, watches and industrial robots, the company is focused on driving innovations and exceeding customer expectations in inkjet, visual communications, wearables and robotics.
Led by the Japan-based Seiko Epson Corporation, the Epson Group comprises more than 76,000 employees in 87 companies around the world, and is proud of its contributions to the communities in which it operates and its ongoing efforts to reduce environmental impacts.
Epson America, Inc., based in Long Beach, Calif., is Epson's regional headquarters for the U.S., Canada, and Latin America.
Trademarks
Mouser and Mouser Electronics are registered trademarks of Mouser Electronics, Inc. EPSON is a registered trademark Seiko Epson Corporation. All other products, logos, and company names mentioned herein may be trademarks of their respective owners.
Further information, contact:

Kevin Hess, Mouser Electronics

Senior Vice President of Marketing

(817) 804-3833

For press inquiries, contact:

Nick Foot, BWW Communications

PR Director

+44 (0) 1491 636393