22. juni 2017
Mouser Highlights Latest Technologies at Sensors Expo 2017
Mouser Highlights Latest Technologies at Sensors Expo 2017
June 22, 2017 – Mouser Electronics Inc., the worldwide authorized distributor with the newest semiconductors and electronic components, will feature its manufacturer partners' cutting-edge sensor technologies at the Sensors Expo and Conference 2017, taking place June 27–29 at the McEnery Convention Center in San Jose, California. The Sensors conference has established itself as the leading event in North America focused on sensors, MEMS, and related technologies within the industry.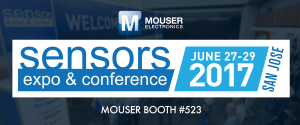 "Mouser is proud to support and be a part of Sensors Expo — an excellent opportunity for the engineering community to network and learn," says Kevin Hess, Senior Vice President of Marketing at Mouser Electronics. "As one of the most exciting events in the industry, the conference brings together engineers of all levels to experience the newest developments in sensors and sensor systems."
Mouser representatives will be at Booth 523 to discuss and demonstrate the newest sensor technologies for applications like the Internet of Things (IoT), energy harvesting, and medical. On display will be new products from Amphenol, ams, Analog Devices, Bosch, Digi International, Honeywell, Maxim, Microchip, Murata, Nordic, NXP, Omron, ROHM Semiconductor, Sensirion, Silicon Labs, STMicroelectronics, TE Connectivity, and Texas Instruments.
Mouser representatives will also demonstrate the new Omron Environment Sensor, which measures temperature, humidity, Ultraviolet (UV) Index, and more and allows developers to transfer the data to a smartphone via Bluetooth® technology. Throughout the expo, visitors to the Mouser booth can enter for a chance to win the Omron Environment Sensor.
Visitors to Mouser booth 523 can also learn more about Mouser's Empowering Innovation Together™ program, now in its third year of inspiring engineers by bringing the newest products and technologies to life with the help of celebrity engineer and former Mythbusters host Grant Imahara. The program's new series, Shaping Smarter Cities, will take viewers to cities in Portugal, Japan, and Southern California to cover the fascinating new technologies developed to improve modern living.
To learn more about Mouser at Sensors Expo 2017, visit https://eng.info.mouser.com/sensors-expo-2017.
Mouser / Sensors Expo 2017
Page Two
With its broad product line and unsurpassed customer service, Mouser strives to empower innovation among design engineers and buyers by delivering advanced technologies. Mouser stocks the world's widest selection of the latest semiconductors and electronic components for the newest design projects. Mouser Electronics' website is continually updated and offers advanced search methods to help customers quickly locate inventory. Mouser.com also houses data sheets, supplier-specific reference designs, application notes, technical design information, and engineering tools.
About Mouser Electronics
Mouser Electronics, a Berkshire Hathaway company, is an award-winning, authorized semiconductor and electronic component distributor focused on rapid New Product Introductions from its manufacturing partners for electronic design engineers and buyers. The global distributor's website, Mouser.com, is available in multiple languages and currencies and features more than 4 million products from over 600 manufacturers. Mouser offers 22 support locations around the world to provide best-in-class customer service and ships globally to over 550,000 customers in 170 countries from its 750,000 sq. ft. state-of-the-art facility south of Dallas, Texas. For more information, visit http://www.mouser.com.
Trademarks
Mouser and Mouser Electronics are registered trademarks of Mouser Electronics, Inc. All other products, logos, and company names mentioned herein may be trademarks of their respective owners.
– 30 –
Further information, contact:

Kevin Hess, Mouser Electronics

Senior Vice President of Marketing

(817) 804-3833

For press inquiries, contact:

Nick Foot, BWW Communications

PR Director

+44 (0)1491 636393