4. april 2017
Mouser Electronics to Host Webinar on Bluetooth 5 Developments
Mouser Electronics to Host Webinar on Bluetooth 5 Developments
April 3, 2017 – Mouser Electronics, Inc., the authorized global distributor with the newest semiconductors and electronic components, will host a webinar on the advancements of the Bluetooth® 5 specification at 10:00 a.m. Eastern Daylight Time on April 11. Bluetooth 5 is a major improvement to the wireless communication standard, with the primary goal of better addressing Internet of Things (IoT) applications. Tailored for IoT system designers, Mouser's webinar will address what's new in Bluetooth 5, how industrial IoT systems can benefit from it, where it stands versus its competitors, hardware and software tools available now and challenges to implementation.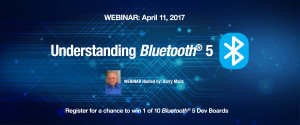 The webinar will be led by Barry Manz, president of Manz Communications and author of more than 1,000 articles. Manz specializes in radio frequency (RF) and microwave technology, wireless markets and technologies, IoT, test equipment, and analog, microwave and digital semiconductors. In the webinar, Manz will present the ways in which Bluetooth 5 offers major developments in achievable distance, maximum data rate and resources for Bluetooth beacons. He will also discuss exciting new features of the technology, including mesh networking, which was missing in previous Bluetooth specifications and now opens possibilities for a wider variety of applications.
"Mouser is excited to host this exciting and timely webinar on Bluetooth 5," said Kevin Hess, Senior Vice President of Marketing at Mouser. "We take great pride in providing our customers not only with the newest, most advanced products but also the information and technical know-how they need. This webinar gives designers a thorough introduction to the next generation of Bluetooth technology."
The webinar will provide a candid look at Bluetooth 5 from a designer's perspective. Attendees will learn about the new technology's key specifications and how they play in IoT, how it compares to competing technologies, and ways that component and software vendors are addressing Bluetooth 5 for IoT as well as recommendations for best implementing the technology. Webinar attendees can also register for a chance to win one of 10 Bluetooth 5 development kits.
Bluetooth is the world's most widely used personal area network standard and is a leading provider of IoT connectivity. To learn more about this Bluetooth 5 webinar as well as the wide variety of Bluetooth technology products available from Mouser, visit http://www.globalspec.com/events/eventdetails?eventid=1457.
Mouser / Bluetooth 5 Webinar
Page Two
With its broad product line and unsurpassed customer service, Mouser strives to empower innovation among design engineers and buyers by delivering advanced technologies. Mouser stocks the world's widest selection of the latest semiconductors and electronic components for the newest design projects. Mouser Electronics' website is continually updated and offers advanced search methods to help customers quickly locate inventory. Mouser.com also houses data sheets, supplier-specific reference designs, application notes, technical design information, and engineering tools.
About Mouser Electronics
Mouser Electronics, a subsidiary of TTI, Inc., is part of Warren Buffett's Berkshire Hathaway family of companies. Mouser is an award-winning, authorized semiconductor and electronic component distributor focused on rapid New Product Introductions from its manufacturing partners for electronic design engineers and buyers. The global distributor's website, Mouser.com, is available in multiple languages and currencies and features more than 4 million products from over 600 manufacturers. Mouser offers 22 support locations around the world to provide best-in-class customer service and ships globally to over 500,000 customers in 170 countries from its 750,000 sq. ft. state-of-the-art facility south of Dallas, Texas. For more information, visit http://www.mouser.com.
Trademarks
Mouser and Mouser Electronics are registered trademarks of Mouser Electronics, Inc. All other products, logos, and company names mentioned herein may be trademarks of their respective owners.
– 30 –
Further information, contact:

Nick Foot, BWW Communications

PR Director

+44(0) 1491 636393

For press inquiries, contact:

Kelly DeGarmo, Mouser Electronics

Manager, Corporate Communications and Media Relations

(817) 804-7764