13. april 2017
Mouser Electronics Sponsors Hall of Fame at FIRST Championship
Mouser Electronics Sponsors Hall of Fame at FIRST Championship
International Robotics Contest Inspires and Challenges Students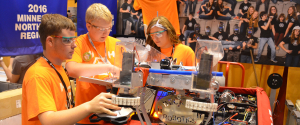 April 13, 2017 – Mouser Electronics, Inc., the New Product Introduction leader empowering innovation, is pleased to announce that it will once again be a major sponsor of the FIRST® Championship. Mouser will sponsor the Hall of Fame Exhibit at the title matches, honoring the winning teams with the esteemed Chairman's Award. Joining Mouser in this sponsorship at the robotics competition are valued manufacturer partners Nordic Semiconductor and ON Semiconductor.
The 2017 FIRST Championship will be held in two locations: April 19–22 in Houston at the George R. Brown Convention Center, followed by the second weekend, April 26–29, in St. Louis at the America's Center Convention Complex.
Mouser is a strong supporter of the FIRST (For Inspiration and Recognition of Science and Technology) Robotics Competition, an international high school robotics building contest that began in 1992. This year's creative FIRST STEAMWORKS theme promises to inspire and challenge students and entertain audiences of all ages with its take on the steampunk subculture.
The mission of FIRST is to inspire young people to be leaders in science and technology through exciting mentor-based programs that build science, engineering and technology skills. FIRST programs inspire innovation and foster well-rounded life capabilities including self-confidence, communication and leadership.
"Science education is at the heart of who we are at Mouser, we are proud to continue sponsoring a program that supports the brightest young minds and future engineers," said Kevin Hess, Mouser's Senior Vice President of Marketing. "The FIRST Robotics Competition provides students with a platform for innovation, a chance to solve real engineering challenges, and an opportunity to build character and self-esteem."
The FIRST Robotics Competition Hall of Fame exhibit at the FIRST Championship highlights the past recipients of the Chairman's Award, the highest honor awarded in the FIRST Robotics Competitions. Instead of awarding the Chairman's Award to the team that earns the most points in the competition, FIRST honors the team that best exemplifies the goals and values of FIRST.
Since 2012, Mouser has supported FIRST Robotics Competition at the local, regional, and international levels, including donating electronic components to FIRST teams. The program challenges high school students to build 120-pound robots that complete a different task each year using a standard set of parts, plus any additional off-the-shelf or custom parts. Each team receives a kit of parts, including motors, batteries, a control system, a PC, and a mix of automation components — with no instructions. Teams have six weeks to transform their kits into working robots designed to perform specific tasks.
To learn more about how Mouser supports FIRST, visit http://www.mouser.com/first/.
Mouser/FIRST Championships
Page 2
With its broad product line and unsurpassed customer service, Mouser strives to empower innovation among design engineers and buyers by delivering advanced technologies. Mouser stocks the world's widest selection of the latest semiconductors and electronic components for the newest design projects. Mouser Electronics' website is continually updated and offers advanced search methods to help customers quickly locate inventory. Mouser.com also houses data sheets, supplier-specific reference designs, application notes, technical design information, and engineering tools.
About Mouser Electronics
Mouser Electronics, a subsidiary of TTI, Inc., is part of Warren Buffett's Berkshire Hathaway family of companies. Mouser is an award-winning, authorized semiconductor and electronic component distributor focused on rapid New Product Introductions from its manufacturing partners for electronic design engineers and buyers. The global distributor's website, Mouser.com, is available in multiple languages and currencies and features more than 4 million products from over 600 manufacturers. Mouser offers 22 support locations around the world to provide best-in-class customer service and ships globally to over 500,000 customers in 170 countries from its 750,000 sq. ft. state-of-the-art facility south of Dallas, Texas. For more information, visit http://www.mouser.com.
Nordic Semiconductor
Nordic Semiconductor provides class-leading levels of wireless performance and sophistication at a price that enables the company's ultralow power (ULP) wireless chips to be used in even the most cost-sensitive consumer products. Nordic Semiconductor's chips can be found in products such as wireless PC peripherals, gaming controllers, sports and fitness sensors, toys, advanced multi-media controllers, and digital/satellite TV (set-top box) remotes and much more.
About ON Semiconductor
ON Semiconductor is a premier supplier of high-performance, energy-efficient silicon solutions for green electronics. ON Semiconductor's broad portfolio of power and signal management, logic, discrete and custom devices helps customers efficiently solve their design challenges in automotive, communications, computing, consumer, industrial, LED lighting, medical, military/aerospace and power applications.
Trademarks
Mouser and Mouser Electronics are registered trademarks of Mouser Electronics, Inc. All other products, logos, and company names mentioned herein may be trademarks of their respective owners.
– 30 –
Further information, contact:

Nick Foot, BWW Communications

PR Director

+44 (0) 1491 636393

For press inquiries, contact:

Kelly DeGarmo, Mouser Electronics

Manager, Corporate Communications and Media Relations

(817) 804-7764