2. oktober 2020
Mouser Electronics Signs Global Distribution Agreement with Motion Control Expert Trinamic
Mouser Electronics, Inc., the authorised global distributor with the newest semiconductors and electronic components, today announces a global distribution agreement with Trinamic, now part of Maxim Integrated, empowering intelligent motion. Trinamic's motion control expertise and Maxim Integrated's efficient power analog process technology enable a new class of intelligent actuators that extend engineers' ability to deliver intelligence at the edge and achieve the promise of Industry 4.0.
Trinamic's application-driven approach and deep application understanding means that engineers do not need in-depth knowledge of motors or control circuitry. As a result, the design phase is simplified, resulting in significant labor and cost savings in development as well as a reduction in the total cost of ownership.
Mouser now stocks a broad selection of Trinamic products, including stepper motor drivers and evaluation kits. Trinamic TMCM-3110 3-axis stepper motor driver is a highly integrated and compact controller/driver that supports up to three bipolar stepper motors with up to 2.8 ARMS coil current. The driver features an operating voltage range of 9 VDC to 48 VDC and is available in versions controlled by CANopen firmware or Trinamic's TMCL firmware. The TMCM-3110 driver provides three additional encoder interfaces.
The Trinamic TMCM-6110 6-axis stepper motor controller and driver is a standalone board that supports up to six bipolar stepper motors with up to 1.1 ARMS coil current. Both the TMCM-3110 and TMCM-6110 ready-to-use boards are powered by proprietary StallGuard2™, CoolStep™, and  SpreadCycle™ technologies and provide RS485, CAN, and USB interfaces. An integrated protocol processor supplies high-level TMCL communication. Both off-the-shelf products save considerable development time, making them ideal solutions for projects with a short time to market.
The TMC5130-EVAL-KIT evaluation kit allows engineers to explore all functions of the TMC5130A-TA cDriver™ integrated motor driver and motion controller solution for 3D printing, CCTV cameras, pumps, and other automated equipment applications. The TMC5160-EVAL-KIT evaluation kit allows engineers to evaluate the high-voltage TMC5160A motor controller and driver IC with serial communication interfaces. Both kits include a microcontroller board, a bridge board, and either a TMC5130-EVAL or TMC5160-EVAL driver board to enable quick and easy evaluation with full access to all registers and full functionality and diagnostics.
To learn more about the Trinamic products now available from Mouser, visit https://eu.mouser.com/manufacturer/trinamic/.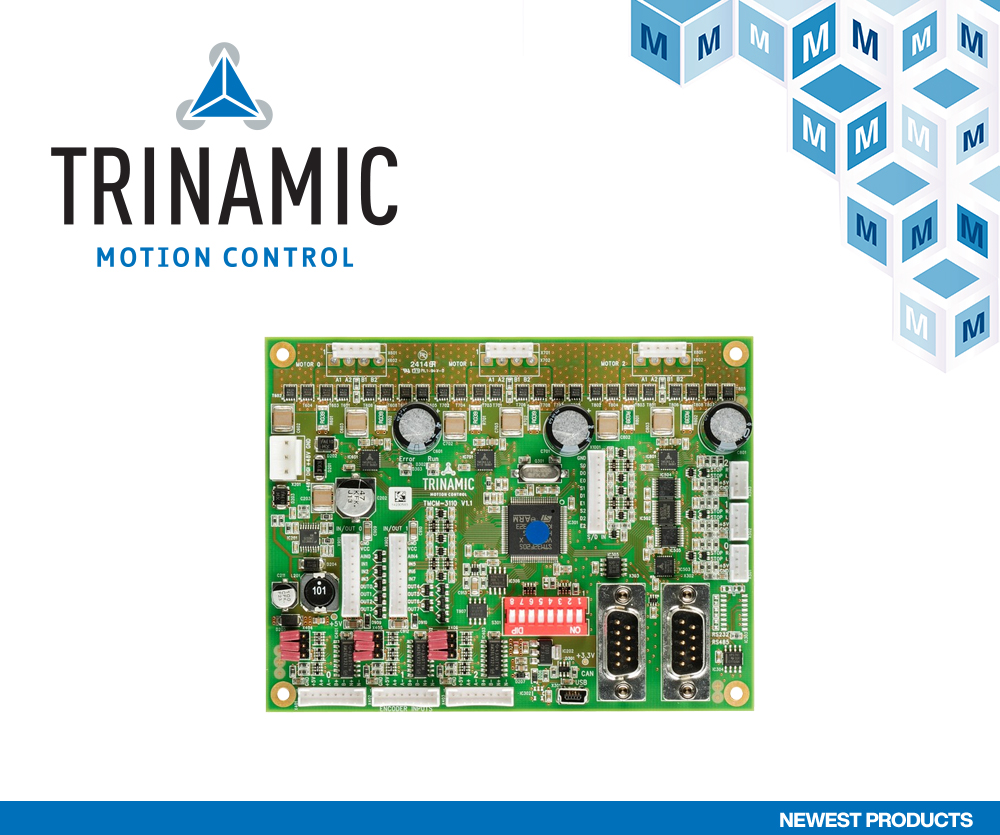 About Mouser Electronics
Mouser Electronics, a Berkshire Hathaway company, is an authorised semiconductor and electronic component distributor focused on New Product Introductions from its manufacturing partners for electronic design engineers and buyers. The global distributor's website, Mouser.com, is available in multiple languages and currencies and features more than 5 million products from over 800 manufacturers. Mouser offers 27 support locations around the world to provide best-in-class customer service in local language, currency and time zone. The distributor ships to over 630,000 customers in more than 223 countries/territories from its 93,000 square-meter, state-of-the-art facilities in the Dallas, Texas, metro area. For more information, visit http://www.mouser.com.