11. oktober 2017
  Mouser Electronics Signs Global Distribution Agreement with LinkSprite to Offer Arduino-Compatible Boards
Mouser Electronics Signs Global Distribution Agreement with LinkSprite to Offer Arduino-Compatible Boards
October 11, 2017 – Mouser Electronics, Inc., the industry's leading New Product Introduction (NPI) distributor with the widest selection of semiconductors and electronic components, today announced that it has signed a global distribution agreement with LinkSprite, designers and producers of hardware, firmware, and apps focused on home automation, health care, and more.
The LinkSprite product line available from Mouser Electronics features a series of boards and accessories, including the O-board, the Arduino-compatible LinkNode D1 board, and LinkNode modules and kits. The O-board is an OpenRISC processor SoC development board based on the Intel® Altera Cyclone IV FPGA, which provides 22,000 logic elements, 1 Mbyte of flash, and 32 Mbytes of SDRAM. The board includes a complete OpenRISC reference design that boots Linux 3.1 and features a micro-USB port that provides power, two JTAG interfaces, and two UART interfaces.
The LinkNode D1 is an Arduino-compatible Wi-Fi development board, powered by a highly integrated ESP8266 Wi-Fi system-on-chip (SoC). The LinkNode D1 offers 11 digital input/output (I/O) pins and one analog input pin and can associate with an existing Wi-Fi interface to send commands over the network using the LinkSprite IO app for iOS or Android. Mouser also stocks a variety of LinkNode modules and kits, including touch, tilt, thermal, vibration, path tracking and flame sensor modules, among others.
To learn more about LinkSprite and its product line at Mouser, visit http://www.mouser.com/linksprite.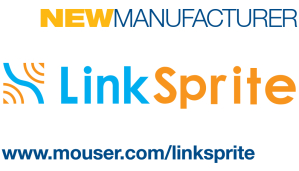 Mouser / LinkSprite New Supplier Announcement
With its broad product line and unsurpassed customer service, Mouser strives to empower innovation among design engineers and buyers by delivering advanced technologies. Mouser stocks the world's widest selection of the latest semiconductors and electronic components for the newest design projects. Mouser Electronics' website is continually updated and offers advanced search methods to help customers quickly locate inventory. Mouser.com also houses data sheets, supplier-specific reference designs, application notes, technical design information, and engineering tools.
About Mouser Electronics
Mouser Electronics, a Berkshire Hathaway company, is an award-winning, authorized semiconductor and electronic component distributor focused on rapid New Product Introductions from its manufacturing partners for electronic design engineers and buyers. The global distributor's website, Mouser.com, is available in multiple languages and currencies and features more than 4 million products from over 600 manufacturers. Mouser offers 22 support locations around the world to provide best-in-class customer service and ships globally to over 550,000 customers in 170 countries from its 750,000 sq. ft. state-of-the-art facility south of Dallas, Texas. For more information, visit http://www.mouser.com/.
About LinkSprite
LinkSprite Technology is a high-tech enterprise that focuses on hardware, firmware, and mobile apps that serve a broad consumer base of makers plus industries such as smart home, smart hardware, industrial control, and education.
Trademarks
Mouser and Mouser Electronics are registered trademarks of Mouser Electronics, Inc. All other products, logos, and company names mentioned herein may be trademarks of their respective owners.
Further information, contact:
Kevin Hess, Mouser Electronics
Senior Vice President of Marketing
(817) 804-3833
Kevin.Hess@mouser.com
For press inquiries, contact:
Nick Foot, BWW Communications
PR Director
(+44) 1491 636393
Nick.Foot@bwwcomms.com