12. september 2017
Mouser Electronics Signs Global Distribution Agreement with Industruino
Mouser Electronics Signs Global Distribution Agreement with Industruino
Arduino-Compatible Industrial Controllers Enable Easy Programming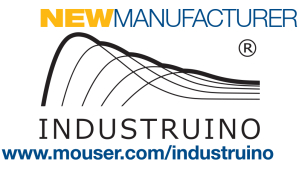 September 12, 2017 – Mouser Electronics, Inc., the New Product Introduction (NPI) leader that empowers innovation, today announced a global distribution agreement with Industruino, manufacturers of Arduino-compatible boards fully enclosed in DIN rail-mountable casings. Industruino's open source products are ideal for permanent or prototype industrial applications, including automation, data logging, and human machine interaction (HMI).
The Industruino product line of Arduino-compatible boards, available from Mouser Electronics, includes the PROTO kit and IND.I/O kit plus Ethernet and GSM/GPRS modules. Both the Industruino PROTO kit and IND.I/O kit are based on a 48 MHz Microchip SAM D21 microcontroller with 256 Kbytes of onboard flash memory and feature a backlit 128×64 LCD screen and a 14-pin IDC expansion port. The boards allow developers to use the Arduino platform and large community to quickly program their designs.
The PROTO kit includes a main control board above a prototyping board, with a 2 A switching voltage regulator that offers an output of 5 V and an input voltage range of 7 V – 28 V. The IND.I/O kit is an interfacing solution to bridge the gap between Arduino compatibility and programmable logic controllers (PLCs) and robust industrial sensors and actuators. All field peripherals are galvanically isolated from the microcontroller via digital isolators and communicate via the I2C protocol. The kit provides industrial-level input and output (I/O) capabilities, including eight channels of 24 V I/O, four switchable 0–10 V/4–20 mA analog inputs and two analog outputs, isolated RS485 transceiver, and isolated power zones.
For network connectivity, Mouser also stocks Industruino's Ethernet and GSM/GPRS expansion modules, which connect to the PROTO and IND.I/O kits through the IDC port. The Ethernet module features a microSD card slot for storing large data-logging files, plus 8 Kbytes of non-volatile FRAM memory — ideal for fast and repeated storage of small values such as system status and configuration data. The GSM/GPRS module also includes a microSD card slot as well as an RS-232 communication port for connecting directly to a PC for software development. The 850/900/1800/1900MHz quad-band module provides internet and SMS control capabilities to enhance automation and enable remote updates.
To learn more about Industruino kits and expansion modules, visit http://www.mouser.com/industruino.
Mouser / Industruino New Supplier Announcement
Page Two
With its broad product line and unsurpassed customer service, Mouser strives to empower innovation among design engineers and buyers by delivering advanced technologies. Mouser stocks the world's widest selection of the latest semiconductors and electronic components for the newest design projects. Mouser Electronics' website is continually updated and offers advanced search methods to help customers quickly locate inventory. Mouser.com also houses data sheets, supplier-specific reference designs, application notes, technical design information, and engineering tools.
About Mouser Electronics
Mouser Electronics, a Berkshire Hathaway company, is an award-winning, authorized semiconductor and electronic component distributor focused on rapid New Product Introductions from its manufacturing partners for electronic design engineers and buyers. The global distributor's website, Mouser.com, is available in multiple languages and currencies and features more than 4 million products from over 600 manufacturers. Mouser offers 22 support locations around the world to provide best-in-class customer service and ships globally to over 550,000 customers in 170 countries from its 750,000 sq. ft. state-of-the-art facility south of Dallas, Texas. For more information, visit http://www.mouser.com.
About Industruino
Industruino was created by two product designers with a mission to help people make their own products via an accessible platform. Industruino is a fully featured Arduino-compatible board with prototyping area, onboard LCD, and membrane panel housed in a DIN-rail mountable case. The board allows engineers to quickly install Arduino applications for a variety of projects, from automation projects to data loggers to interactive art installations.
Trademarks
Mouser and Mouser Electronics are registered trademarks of Mouser Electronics, Inc. All other products, logos, and company names mentioned herein may be trademarks of their respective owners.
– 30 –
Further information, contact:

Kevin Hess, Mouser Electronics

Senior Vice President of Marketing

(817) 804-3833

For press inquiries, contact:

Nick Foot, BWW Communications

PR Director

+44 (0)1491 636393