22. august 2018
Mouser Electronics Signs Global Agreement with Inforce Computing to Distribute Snapdragon-Based Boards 
Mouser Electronics Signs Global Agreement with Inforce Computing to Distribute Snapdragon-Based Boards
August 22, 2018 – Mouser Electronics, Inc., the authorized global distributor with the newest semiconductors and electronic components, announces a global distribution agreement with Inforce Computing, Inc., a leading provider of modular embedded computing platforms and solutions. Through the agreement, Mouser is now stocking Inforce system-on-modules (SoMs) and single-board computers (SBCs) that feature Qualcomm® Snapdragon™ processors.
Based on the Snapdragon 410E processor, the Inforce 6301 micro-SOM features exceptional edge processing, extended temperature grade, and ability to deploy at scale, making it an ideal Internet of Things (IoT) platform for asset tracking, automation, drones, and robotics. The Inforce 6301 Development kit includes an Inforce 6301 micro-SOM, evaluation carrier board, power adapter, Micro-USB cable, acrylic base, and support for Linaro Debian or Ubuntu Linux and Android OS.
The Inforce 6601 micro-SOM, powered by a 64-bit quad-core Snapdragon 820 processor, is tailored for mobile processing technologies to next-generation embedded applications. Targeting designs that require 4K HEVC video and graphics processing, ultra-low power consumption, and Arm®v8 CPU performance, the Inforce 6601 enables access to a wide range of the Snapdragon 820 processor's full set of inputs and output (I/O) interfaces. The Inforce 6601 Development kit includes an Inforce 6601 micro-SOM, carrier board, power adapter, Micro-USB cable, acrylic base, and support for Android 8.
The Inforce 6309 micro-SBC is based on the powerful 64-bit Snapdragon 410 processor. The credit card-sized (54 mm × 85 mm) board is an application-ready platform that delivers a rich set of I/Os and unique features, such as dual MIPI-CSI cameras, support for an extended operating temperature range of minus 30 to 85 degree Celsius, and LVDS displays. The Inforce 6309 starter kits include the micro-SBC, power adapter, Micro-USB cable, and acrylic base.
The high-performance Inforce 6640 SBC is based on the Snapdragon 820 processor and offers memory options such as 4 Gbytes of LPDDR4, 64 Gbytes of Universal Flash Storage (UFS), and a MicroSD card interface. With Dual MIPI-DSI, HDMI, 4K HEVC video capture and playback, Bluetooth®, Wi-Fi, and Gigabit Ethernet, the SBC provides a robust experience for graphics-heavy and compute-intense applications such as augmented and virtual reality, medical devices, IoT devices, video collaboration, and gaming. The 6640 SBC is also available with a development kit that consists of a power adapter, USB cable, and acrylic base.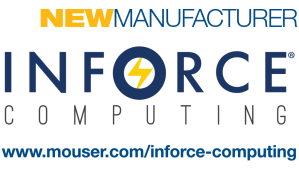 To learn more, visit http://www.mouser.com/inforce-computing.
Mouser / Inforce Computing New Supplier Announcement
With its broad product line and unsurpassed customer service, Mouser strives to empower innovation among design engineers and buyers by delivering advanced technologies. Mouser stocks the world's widest selection of the latest semiconductors and electronic components for the newest design projects. Mouser Electronics' website is continually updated and offers advanced search methods to help customers quickly locate inventory. Mouser.com also houses data sheets, supplier-specific reference designs, application notes, technical design information, and engineering tools.
About Mouser Electronics
Mouser Electronics, a Berkshire Hathaway company, is an award-winning, authorized semiconductor and electronic component distributor focused on rapid New Product Introductions from its manufacturing partners for electronic design engineers and buyers. The global distributor's website, Mouser.com, is available in multiple languages and currencies and features more than 5 million products from over 700 manufacturers. Mouser offers 23 support locations around the world to provide best-in-class customer service and ships globally to over 600,000 customers in more than 220 countries/territories from its 750,000 sq. ft. state-of-the-art facility south of Dallas, Texas. For more information, visit http://www.mouser.com.
About Inforce Computing
Inforce Computing is at the leading edge of modern embedded computing design and is a leading supplier of application-ready embedded hardware platforms based on Android and Linux OS for low-power, small footprint, and high-performance solutions powered by the Qualcomm Snapdragon family of processors and chipsets. Inforce's system-on-module (SoM), single-board-computer (SBC), development kits, and wireless technologies have enabled OEM solutions in diverse markets such as portable medical imaging, collaboration and videoconferencing, AR/VR based hands-free computing, computer vision, robotics, and drones. Inforce leverages mobile and embedded Internet technologies to provide hardware and software support for the long term. Inforce also provides broad hardware and software design services to accelerate customer designs to market.
Trademarks
Mouser and Mouser Electronics are registered trademarks of Mouser Electronics, Inc. All other products, logos, and company names mentioned herein may be trademarks of their respective owners.
Further information, contact:

Kevin Hess, Mouser Electronics

Senior Vice President of Marketing

(817) 804-3833

For press inquiries, contact:

Nick Foot, BWW Communications

PR Director

+44 (0) 1491 636393