30. oktober 2017
Mouser Electronics Signs Global Agreement with Helium to Distribute IoT Hardware Solutions
Mouser Electronics Signs Global Agreement with Helium to Distribute IoT Hardware Solutions
October 30, 2017 – Mouser Electronics, Inc., the industry's leading New Product Introduction (NPI) distributor with the widest selection of semiconductors and electronic components, announces a global distribution agreement with Helium, a provider of simple, secure, scalable Internet of Things (IoT) connectivity. Helium reduces total IoT costs of operations through easy-to-deploy, low-cost hardware that offers scalability and security. The Helium product line, available from Mouser Electronics, features Atom Modules, starter kits, and adapters plus Element Access Points.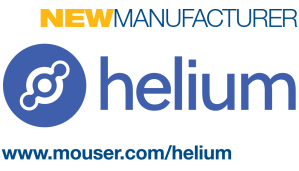 The Helium Atom Modules, available in surface-mount and prototyping versions, are low-cost, easy-to-use, dual-band radio frequency (RF) communication modules for IoT-enabled wireless products. The Atom incorporates a Microchip SAM R21 Arm®-based microcontroller and 2.4GHz Microchip AT86RF233 IEEE 802.15.4 radio, and enables designers to easily and quickly add FCC-, ETSI-, and IC-certified wireless connectivity to hardware designs. Each Atom Module has a uniquely provisioned hardware root of trust to help ensure continuously authentic data.
Helium Starter Kits include everything required to easily give embedded devices secure, long-range connectivity. Each kit includes a Helium Atom prototyping module, a Helium Element access point with cellular connectivity, and a hardware adapter for Arduino and mbed, Raspberry Pi, or USB. Additional adapters are also available from Mouser Electronics.
Helium Element Access Points allow Atom devices to connect out of the box using Helium's wireless technology, which allows devices to communicate long distances with little interference and requiring no device-level configuration. Element Access Points are available in either cellular or Ethernet models; the Ethernet-backed Helium Element supports Power over Ethernet (PoE), which eliminates the need for an additional power source.
To learn more about the Helium products available from Mouser, visit https://www.mouser.com/helium.
Mouser / Helium New Supplier Announcement
Page Two
With its broad product line and unsurpassed customer service, Mouser strives to empower innovation among design engineers and buyers by delivering advanced technologies. Mouser stocks the world's widest selection of the latest semiconductors and electronic components for the newest design projects. Mouser Electronics' website is continually updated and offers advanced search methods to help customers quickly locate inventory. Mouser.com also houses data sheets, supplier-specific reference designs, application notes, technical design information, and engineering tools.
About Mouser Electronics
Mouser Electronics, a Berkshire Hathaway company, is an award-winning, authorized semiconductor and electronic component distributor focused on rapid New Product Introductions from its manufacturing partners for electronic design engineers and buyers. The global distributor's website, Mouser.com, is available in multiple languages and currencies and features more than 4 million products from over 600 manufacturers. Mouser offers 22 support locations around the world to provide best-in-class customer service and ships globally to over 550,000 customers in 170 countries from its 750,000 sq. ft. state-of-the-art facility south of Dallas, Texas. For more information, visit https://www.mouser.com/.
About Helium
Helium was founded with a mission to make it easier to build connected devices. The company believes that it shouldn't be challenging to connect IoT devices and with Helium's unique technology; it's now easy to simply and securely deliver IoT data from device to the cloud. Easily integrated with hundreds of development boards, a Helium-enabled device simply turns on and securely delivers data to an IoT channel of choice. Zero-configuration deployment and tools that streamline the ongoing management of an IoT fleet enable a lower total cost of ownership while simplifying how businesses apply IoT.
Trademarks
Mouser and Mouser Electronics are registered trademarks of Mouser Electronics, Inc. All other products, logos, and company names mentioned herein may be trademarks of their respective owners.
– 30 –
Further information, contact:

Kevin Hess, Mouser Electronics

Senior Vice President of Marketing

(817) 804-3833

For press inquiries, contact:

Nick Foot, BWW Communications

PR Director

+44 (0)1491 636393