17. maj 2017
Mouser Electronics Signs Global Agreement with D3 Semiconductor to Distribute +FET SJ Power MOSFETs
Mouser Electronics Signs Global Agreement with
D3 Semiconductor to Distribute +FET SJ Power MOSFETs
May 16, 2017 – Mouser Electronics, Inc., the authorized global distributor with the newest semiconductors and electronic components, today announced a global distribution agreement with D3 Semiconductor, a world-class provider of super junction power MOSFETs. As part of the agreement, Mouser now stocks D3 Semi's line of 650V superjunction power MOSFETs, which are designed for a variety of demanding uses, including enterprise computing power supplies, motor control, lighting and other challenging power management applications.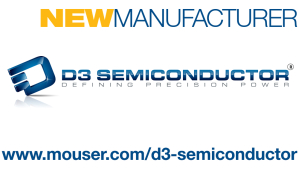 D3 Semiconductor's offering of +FET 650V super junction power MOSFETs, now available from Mouser Electronics, are designed using the company's unique +FET™ super junction technology — an innovative approach that fuses the power and efficiency of super junction architectures with mixed-signal precision. To afford the highest possible level of performance and reliability, each +FET super junction power MOSFET in the D3 Semi portfolio targets a 650V node, which helps improve power densities of applications traditionally served by IGBTs such as inverters and motor drives.
The +FET super junction power MOSFETs feature an ultra-low on-state resistance (RDS-ON) ranging from 32 milliohm to 1000 milliohm for improved performance in low-frequency applications, as well as fast-switching capabilities that enable the devices to perform rapid transfers of the gate charge in a short period of time. Each device in the family is also 100 percent avalanche tested at the industry's highest avalanche current levels during production to ensure the most robust solution for even the most demanding applications. The devices also meet the JESD 22 standard for electrostatic discharge (ESD) performance and are high temperature reverse bias (HTRB) stress tested at over 3,000 hours.
To learn more about D3 Semiconductor and its portfolio of +FET superjunction power MOSFETs, visit http://www.mouser.com/d3-semiconductor/.
Mouser / D3 Semiconductor New Supplier Announcement
Page Two
With its broad product line and unsurpassed customer service, Mouser strives to empower innovation among design engineers and buyers by delivering advanced technologies. Mouser stocks the world's widest selection of the latest semiconductors and electronic components for the newest design projects. Mouser Electronics' website is continually updated and offers advanced search methods to help customers quickly locate inventory. Mouser.com also houses data sheets, supplier-specific reference designs, application notes, technical design information, and engineering tools.
About Mouser Electronics
Mouser Electronics, a Berkshire Hathaway company, is an award-winning, authorized semiconductor and electronic component distributor focused on rapid New Product Introductions from its manufacturing partners for electronic design engineers and buyers. The global distributor's website, Mouser.com, is available in multiple languages and currencies and features more than 4 million products from over 600 manufacturers. Mouser offers 22 support locations around the world to provide best-in-class customer service and ships globally to over 550,000 customers in 170 countries from its 750,000 sq. ft. state-of-the-art facility south of Dallas, Texas. For more information, visit http://www.mouser.com.
About D3 Semiconductor
Founded in late 2011, D3 Semiconductor delivers system solutions through its ecosystem of affiliated companies. Among other products, the company develops power MOSFETs for motor control applications and power supplies. D3 Semi's leadership team brings invaluable semiconductor industry expertise, spanning the areas of manufacturing, engineering and management. Focused on power conversion and motor control applications, and working from the system perspective, D3 Semi is able to deliver higher-efficiency, integration and performance.
Trademarks
Mouser and Mouser Electronics are registered trademarks of Mouser Electronics, Inc. All other products, logos, and company names mentioned herein may be trademarks of their respective owners.
– 30 –
Further information, contact:

Nick Foot, BWW Communications

PR Director

+44 (0)1491 636393

For press inquiries, contact:

Kelly DeGarmo, Mouser Electronics

Manager, Corporate Communications and Media Relations

(817) 804-7764