20. oktober 2017
Mouser Electronics Signs Agreement with Pycom to Distribute IoT Modules and Dev Boards
Mouser Electronics Signs Agreement with Pycom
to Distribute IoT Modules and Dev Boards
October 20, 2017 – Mouser Electronics, Inc., the authorized global distributor with the newest semiconductors and electronic components, has signed a global distribution agreement with Pycom, a maker of multi-network Internet of Things (IoT) development boards and modules. The Pycom product line, available from Mouser Electronics, is based on the state-of-the-art Espressif ESP32 chipset and open source MicroPython scripting language.
The Pycom range provides engineers with the innovative hardware to rapidly create and connect devices via Wi-Fi, Bluetooth® Classic, and Bluetooth low energy technologies; LPWAN communication technologies LoRa and Sigfox; and the latest LTE cellular networks, NB-IoT and Cat M1. These enterprise-grade IoT development boards have a common footprint and sit interchangeably on expansion boards and breadboards. They also offer ultra-low-power consumption that provides up to 10 years of usage on a single battery.
The L01 module and LoPy development board enable Wi-Fi and Bluetooth connectivity with additional support for LoRa long-range wireless protocol. The devices support 10 times faster programming with MicroPython scripting and serve as a LoRa Nano Gateway able to connect up to 100 other LoPy devices in a 5-kilometer radius. The FiPy board offers a five-network development platform in a footprint that matches the WiPy and LoPy boards. Featuring the ESP32 chipset for Wi-Fi and Bluetooth connectivity plus support for three additional networks — LoRa, Sigfox, and LTE Cat M1 and NB-IoT — FiPy presents an open source firmware playground.
The SiPy development board is available in 14 dBm and 22 dBm versions with support for Wi-Fi, Bluetooth, and Sigfox communication. The 14dBm version is suitable for Sigfox zones RCZ1 and RCZ3, while the 22dBm version is suitable for Sigfox zones RCZ2 and RCZ4. The G01 module and GPy development board support Wi-Fi, Bluetooth, and cellular LTE-M, providing LTE-M Cat M1 and NB1 connectivity from a single chip for narrowband IoT applications. The module and board support 34 bands from 699 MHz to 2690 MHz, enabling designers worldwide to incorporate the technology into products.
The development boards all incorporate an internal Wi-Fi and Bluetooth antenna, U.FL antenna connector, 22 general-purpose inputs/outputs (GPIOs), and support for I2C, SPI, and UART. The boards also provide a 3.3V ultra-low-noise switching regulator, RGB LED, and reset and RF switches. To further support the Pycom modules and development boards, Mouser is also stocking the Pysense sensor shield, Pytrack GPS and accelerometer shield, and Expansion Board 2.0 as well as antenna kits for LoRa/Sigfox and LTE-M.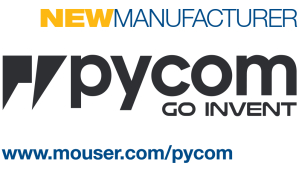 To learn more, visit http://www.mouser.com/pycom.
Mouser / Pycom New Supplier
With its broad product line and unsurpassed customer service, Mouser strives to empower innovation among design engineers and buyers by delivering advanced technologies. Mouser stocks the world's widest selection of the latest semiconductors and electronic components for the newest design projects. Mouser Electronics' website is continually updated and offers advanced search methods to help customers quickly locate inventory. Mouser.com also houses data sheets, supplier-specific reference designs, application notes, technical design information, and engineering tools.
About Mouser Electronics
Mouser Electronics, a Berkshire Hathaway company, is an award-winning, authorized semiconductor and electronic component distributor focused on rapid New Product Introductions from its manufacturing partners for electronic design engineers and buyers. The global distributor's website, Mouser.com, is available in multiple languages and currencies and features more than 4 million products from over 600 manufacturers. Mouser offers 22 support locations around the world to provide best-in-class customer service and ships globally to over 550,000 customers in 170 countries from its 750,000 sq. ft. state-of-the-art facility south of Dallas, Texas. For more information, visit http://www.mouser.com/.
About Pycom
Pycom enables and inspires everyone to be an inventor and challenges conventional IoT. Since its launch, Pycom has introduced an LPWAN-based full-stack IoT portfolio of ESP32-based development boards and matching OEM modules, all of which offer multi-network, low-energy IoT deployments at the edge of the network. Pycom offers a common, open source MicroPython firmware stack supported by a full IoT stack that includes LPWAN network access through a multitude of network partners, the Pymakr suite of IDE plugins, the Pymate mobile app, and Pybytes — the free middleware platform and desktop application. Pycom aims to deliver IoT solutions differently, which encourages the company's rapidly growing global community of hobbyist and professional developers — all of whom are looking to deploy great-value, enterprise-grade connected solutions — to #GOINVENT.
Trademarks
Mouser and Mouser Electronics are registered trademarks of Mouser Electronics, Inc. All other products, logos, and company names mentioned herein may be trademarks of their respective owners.
Further information, contact:
Kevin Hess, Mouser Electronics
Senior Vice President of Marketing
(817) 804-3833
Kevin.Hess@mouser.com
For press inquiries, contact:
Nick Foot, BWW Communications
PR Director
+44 (0) 1491 636393
Nick.Foot@bwwcomms.com