5. april 2018
Mouser Electronics' Service Excellence Honored for Sixth Straight Year
Mouser Electronics' Service Excellence Honored for Sixth Straight Year
CRMI's NorthFace ScoreBoard Award Recognizes Mouser's Best-in-Class Score
April 6, 2018 – Mouser Electronics, Inc., the authorized global distributor with the newest semiconductors and electronic components, is very proud to announce that it has received the prestigious NorthFace ScoreBoard AwardSM from the Customer Relationship Management Institute (CRMI) for the sixth consecutive year.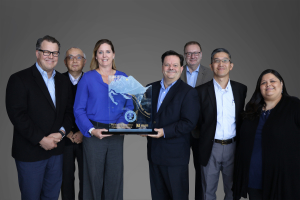 Caption:
For the sixth consecutive year, Mouser Electronics has received the NorthFace ScoreBoard Award for world-class customer service excellence. Pictured left to right are Mouser executives Coby Kleinjan, Sam Katsuta, Regina Denbow, Mark Burr-Lonnon, Graham Munson, Minky Lam and Linda Salinas.
The award was given in recognition of achieving excellence in customer service and support throughout 2017. Mouser received a 99 percent satisfaction score as rated solely by its customers.
"The NorthFace ScoreBoard Award recognizes organizations who not only offer exemplary customer service, but who also center their existence on a deep commitment to exceeding customer expectations," said John Alexander Maraganis, President & CEO of CRMI.
"We are honored to receive the NorthFace ScoreBoard Award for the sixth time. It is a testament to our team members around the world who work diligently to ensure that every customer is pleased with the Mouser experience," said Mark Burr-Lonnon, Senior Vice President of Global Service and EMEA & APAC Business at Mouser Electronics.
CRMI's methodology measures customer satisfaction and loyalty levels on a 5-point scale four times during the year in such categories as technical support, field service, customer service and account management. NorthFace ScoreBoard Award recipients are companies who, based solely on survey responses from their own customers, achieved a 4.0 or above (or equivalent) out of a possible 5.0. As in previous years, Mouser earned a 4.8.
"Providing best-in-class service is what we strive to accomplish every day here at Mouser. It's who we are, but it is especially gratifying when it is recognized," added Burr-Lonnon.
"Due to its unique 'customer-only vote' criteria, the NorthFace ScoreBoard Award has become the objective benchmark for excellence in customer service," Maraganis continued. "Our research indicates that companies that consistently achieve a 4.0 rating or above, which we call the 'Loyalty Zone,' are succeeding in locking in profitable, long-term customer relationships, and this significantly raises the bar on their competitors."
Mouser's customer service excellence is deeply ingrained into its corporate culture, which emphasizes the importance of each employee, working as a team, to help ensure customer satisfaction and loyalty.
For more information, visit http://www.mouser.com/nfsb-award.
Mouser / CRMI NorthFace ScoreBoard Award 2018
Page Two
With its broad product line and unsurpassed customer service, Mouser strives to empower innovation among design engineers and buyers by delivering advanced technologies. Mouser stocks the world's widest selection of the latest semiconductors and electronic components for the newest design projects. Mouser Electronics' website is continually updated and offers advanced search methods to help customers quickly locate inventory. Mouser.com also houses data sheets, supplier-specific reference designs, application notes, technical design information, and engineering tools.
About Mouser Electronics
Mouser Electronics, a Berkshire Hathaway company, is an award-winning, authorized semiconductor and electronic component distributor focused on rapid New Product Introductions from its manufacturing partners for electronic design engineers and buyers. The global distributor's website, Mouser.com, is available in multiple languages and currencies and features more than 5 million products from over 700 manufacturers. Mouser offers 22 support locations around the world to provide best-in-class customer service and ships globally to over 600,000 customers in 170 countries from its 750,000 sq. ft. state-of-the-art facility south of Dallas, Texas. For more information, visit http://www.mouser.com.
Trademarks
Mouser and Mouser Electronics are registered trademarks of Mouser Electronics, Inc. All other products, logos, and company names mentioned herein may be trademarks of their respective owners.
– 30 –
Further information, contact:

Kevin Hess, Mouser Electronics

Senior Vice President of Marketing

(817) 804-3833

For press inquiries, contact:

Nick Foot, BWW Communications

PR Director

+44 (0)1491 636393