9. august 2017
Mouser Electronics Recognizes 2017 Best-in-Class Award Winners
Mouser Electronics Recognizes 2017 Best-in-Class Award Winners
August 9, 2017 – Mouser Electronics, Inc. today congratulates the recipients of its annual Mouser Best-in-Class Awards. Mouser honored the winners at an awards ceremony on August 7, recognizing the exceptional individuals from Mouser's manufacturer partners who best supported the global distributor's marketing programs and new product introduction (NPI) launches by demonstrating best-in-class teamwork and performance.
Winners of the Mouser Best-in-Class Award are selected using five main criteria: Promoting product lines, partnering strategically with the Mouser team, working together to launch new products, finding creative solutions to grow Mouser and the manufacturer market share, and maximizing Mouser's unique value proposition within their own businesses.
"This year's winners were selected from hundreds of professionals working for our outstanding suppliers," said Glenn Smith, Mouser Electronics' President and CEO. "We want to recognize and thank all of the dedicated individuals who won our Best-in-Class Awards this year as well as our latest President's Award winner. They have all played an essential part in helping us introduce and promote their companies' products to our customers."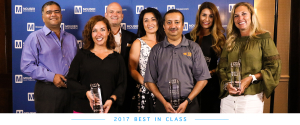 Mouser Electronics awards its 2017 Best-in-Class recipients. Pictured from left to right are Sumit Awasthi, Renée Dill, Adam Osmancevic, Jen Lintner, Mandar Deshpande, Catherine Côté, and Tammy Stine.
2017 Mouser Best-in-Class Award Winners:
Sumit Awasthi                        Analog Devices
Jen Lintner                             Amphenol
Catherine Côté                       Cypress
Adam Osmancevic                Lumileds
Renée Dill                               Molex
Tammy Stine                          TE Connectivity
Mandar Deshpande               TE Connectivity
At this year's ceremony, Mouser also recognized the four individuals who have achieved the President's Award honors. The President's Award recognizes the extraordinary individuals from Mouser's supplier partners who have won the Best-in-Class award five or more times, demonstrating consistent exemplary performance. This year, Mouser added Dee Fuller from Amphenol to the ranks of those achieving this level of commitment.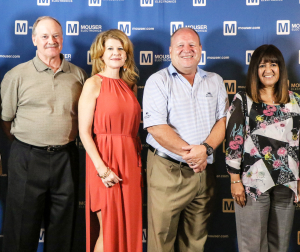 Mouser Electronics honors outstanding individuals with the President's Award for winning the Best-in-Class Award five or more times. President's Award recipients are (left to right) Doug Lippincott, Cheryl Swaim, Steve Nye, and Dee Fuller.
President's Award Winners:
Dee Fuller (2017 Recipient)    Amphenol
Cheryl Swaim                         KEMET
Doug Lippincott                    Panasonic
Steve Nye                               Vishay Intertechnology
To learn more about the awards and recipients, visit http://www.mouser.com/bestinclass.
Mouser / 2017 Best-in-Class Awards
Page Two
With its broad product line and unsurpassed customer service, Mouser strives to empower innovation among design engineers and buyers by delivering advanced technologies. Mouser stocks the world's widest selection of the latest semiconductors and electronic components for the newest design projects. Mouser Electronics' website is continually updated and offers advanced search methods to help customers quickly locate inventory. Mouser.com also houses data sheets, supplier-specific reference designs, application notes, technical design information, and engineering tools.
About Mouser Electronics
Mouser Electronics, a Berkshire Hathaway company, is an award-winning, authorized semiconductor and electronic component distributor focused on rapid New Product Introductions from its manufacturing partners for electronic design engineers and buyers. The global distributor's website, Mouser.com, is available in multiple languages and currencies and features more than 4 million products from over 600 manufacturers. Mouser offers 22 support locations around the world to provide best-in-class customer service and ships globally to over 550,000 customers in 170 countries from its 750,000 sq. ft. state-of-the-art facility south of Dallas, Texas. For more information, visit http://www.mouser.com.
Trademarks
Mouser and Mouser Electronics are registered trademarks of Mouser Electronics, Inc. All other products, logos, and company names mentioned herein may be trademarks of their respective owners.
– 30 –
Further information, contact:

Kevin Hess, Mouser Electronics

Senior Vice President of Marketing

(817) 804-3833

For press inquiries, contact:

Nick Foot, BWW Communications

PR Director

+44 (0)1491 636393