6. juni 2022
Mouser Electronics Recognised As Global Distributor of the Year by Littelfuse for Fifth Consecutive Year
Mouser Electronics, Inc., the industry's leading New Product Introduction (NPI) distributor with the widest selection of semiconductors and electronic components™, proudly announces that it has received the 2021 Global High-Service Distributor of the Year award from Littelfuse, an industrial technology manufacturing company empowering a sustainable, connected, and safer world. Littelfuse present the award to Mouser at the 2022 EDS Leadership Summit in Las Vegas. This is the fifth consecutive year and 11th time overall that Mouser has won this prestigious award.
"We are delighted to honour Mouser Electronics as a premier channel partner for Littelfuse," said Dave Heinzmann, Littelfuse President and Chief Executive Officer. "With an unwavering commitment to outstanding customer service, we view Mouser as a true partner in innovation. Mouser has helped drive increased demand and sales growth across our product portfolio Maintaining strong alignment with our channel partners is a critical part of meeting the most demanding engineering and production needs of our customers."
"Mouser is grateful for our fantastic relationship with Littelfuse and for this important recognition," said Glenn Smith, Mouser's President and CEO. "Littelfuse and Mouser have long had a collaborative, innovation-focused partnership aimed at meeting customer needs through best-in-class service."
Littelfuse chooses the winner of the High Service Distributor of the Year award based on a variety of distributor performance metrics, including overall sales growth, focus product sales, growth in the number of customers served, and the number and quality of creative marketing campaigns that reach customers. Mouser previously won the Littelfuse High Service/Catalog Distributor of the Year award for 2008 through 2011, 2014, 2015, and 2017 through 2020.
To learn more about the Littelfuse product line available from Mouser Electronics, visit https://eu.mouser.com/manufacturer/littelfuse/.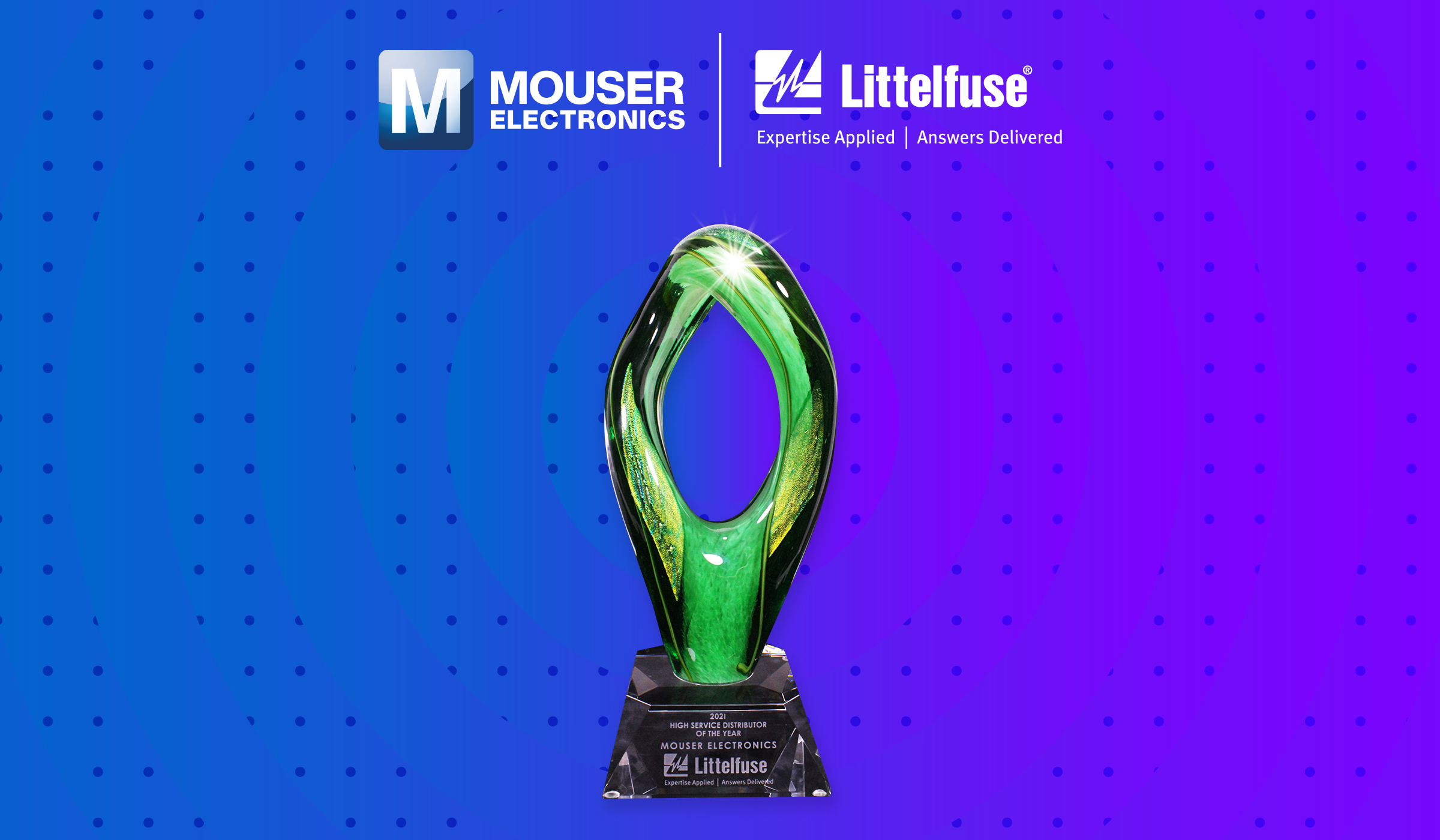 About Mouser Electronics
Mouser Electronics, a Berkshire Hathaway company, is an authorised semiconductor and electronic component distributor focused on New Product Introductions from its leading manufacturer partners. Serving the global electronic design engineer and buyer community, the global distributor's website, mouser.com, is available in multiple languages and currencies and features more than 6,8 million products from over 1.200 manufacturer brands. Mouser offers 27 support locations worldwide to provide best-in-class customer service in local language, currency and time zone. The distributor ships to over 650.000 customers in 223 countries/territories from its 93.000 square-meter, state-of-the-art facilities in the Dallas, Texas, metro area. For more information, visit https://www.mouser.com/.
About Littelfuse
Littelfuse (NASDAQ: LFUS) is an industrial technology manufacturing company empowering a sustainable, connected, and safer world. Across more than 15 countries, and with 17,000 global associates, we partner with customers to design and deliver innovative, reliable solutions. Serving over 100,000 end customers, our products are found in a variety of industrial, transportation and electronics end markets – everywhere, every day.