6. juli 2022
Mouser Electronics Receives TDK's Top Global, Europe, North America Distribution Awards
Mouser Electronics, Inc., the authorised global distributor with the newest semiconductors and electronic components, is proud to announce that it has received three top distribution awards from TDK. Mouser was honoured with TDK's Global Best Performance Award for Fiscal Year 2022, North America Distributor of the Year for Calendar Year 2021, and European Distribution Award in High-Service Distribution for 2021.
TDK honours its distributors' performance and collaboration with TDK in the areas of business performance, inventory management, contractual terms, and operational excellence. Mouser previously received the European Distribution Award in High-Service Distribution for 2020, 2018, and 2017 as well as the Sales Achievement Award for Highest Growth Distributor for Fiscal Year 2019 and Americas Highest Percentage Sales Growth for Fiscal Year 2017.
"We are very pleased to present the Mouser team with these awards as an acknowledgement of their tireless efforts to grow annual revenues and expand sales channels while simultaneously providing the highest levels of customer service to our valued end customer base," said Jon Nelson, President and CEO of TDK Corporation of America.
"Mouser greatly appreciates TDK for their support and recognition of our global teams," said Jeff Newell, Senior Vice President of Products at Mouser Electronics. "We are honoured to receive these awards and renew our commitment to delivering exceptional service to TDK and our shared customer base."
With a focus on demanding markets in the areas of information and communication technology and automotive, industrial and consumer electronics, TDK manufactures a vast array of quality electronic components. The portfolio includes passive components, such as ceramic, aluminium electrolytic and film capacitors, ferrites and inductors, high-frequency products, and piezo and protection components, as well as sensors and sensor systems and power supplies.
To learn more about TDK, visit https://eu.mouser.com/manufacturer/tdk/.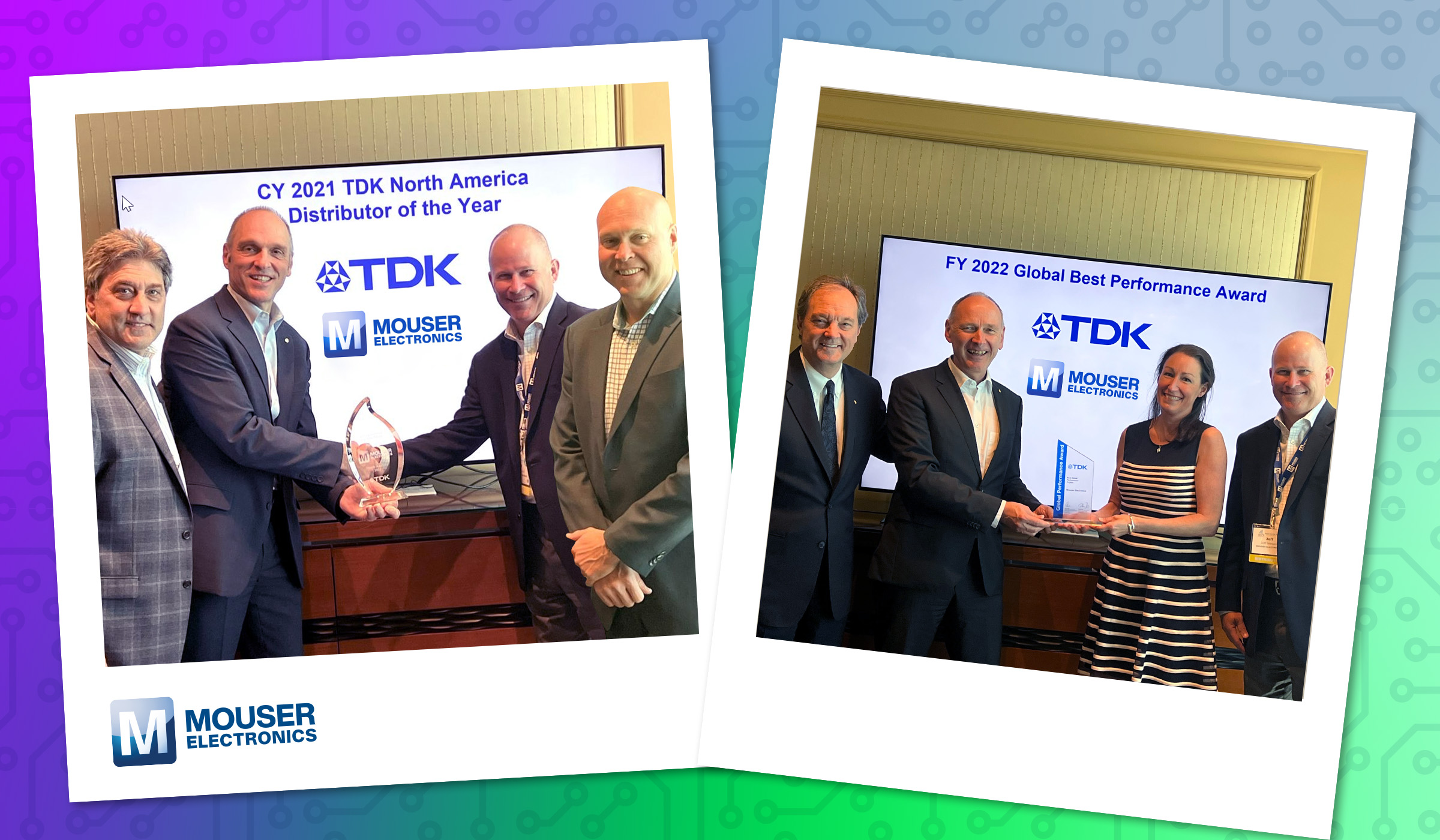 About Mouser Electronics
Mouser Electronics, a Berkshire Hathaway company, is an authorised semiconductor and electronic component distributor focused on New Product Introductions from its leading manufacturer partners. Serving the global electronic design engineer and buyer community, the global distributor's website, mouser.com, is available in multiple languages and currencies and features more than 6,8 million products from over 1.200 manufacturer brands. Mouser offers 27 support locations worldwide to provide best-in-class customer service in local language, currency and time zone. The distributor ships to over 650.000 customers in 223 countries/territories from its 93.000 square-meter, state-of-the-art facilities in the Dallas, Texas, metro area. For more information, visit https://www.mouser.com/.
About TDK Corporation
TDK Corporation is a world leader in electronic solutions for the smart society based in Tokyo, Japan. Built on a foundation of material sciences mastery, TDK welcomes societal transformation by resolutely remaining at the forefront of technological evolution and deliberately "Attracting Tomorrow." It was established in 1935 to commercialise ferrite, a key material in electronic and magnetic products. TDK's comprehensive, innovation-driven portfolio features passive components such as ceramic, aluminium electrolytic and film capacitors, as well as magnetics, high-frequency, and piezo and protection devices. The product spectrum also includes sensors and sensor systems such as temperature and pressure, magnetic, and MEMS sensors. In addition, TDK provides power supplies and energy devices, magnetic heads and more. These products are marketed under the product brands TDK, EPCOS, InvenSense, Micronas, Tronics and TDK-Lambda. TDK focuses on demanding markets in automotive, industrial and consumer electronics, and information and communication technology. The company has a network of design and manufacturing locations and sales offices in Asia, Europe, and in North and South America. In fiscal 2022, TDK posted total sales of USD 15.6 billion and employed about 117,000 people worldwide.