10. februar 2021
Mouser Electronics Presents New RISC-V Resource Page
Mouser Electronics, Inc., the New Product Introduction (NPI) leader empowering innovation, has created a new resource site dedicated to RISC-V, an open-source instruction set architecture (ISA). Engineers and designers can access the comprehensive new site by visiting https://resources.mouser.com/risc-v.
RISC-V offers exceptional freedom for extensible hardware and software on architecture, as it is unconstrained by proprietary architecture standards. The open-source ISA is a key factor in the continued development of revolutionary technologies such as 5G, artificial intelligence, and the Internet of Things (IoT). RISC-V is supported by a worldwide community that believes in the sharing of ideas inherent to the open-source vision.
Mouser's new RISC-V resource site features articles on several innovative uses of the technology, such as internet-connected AI facial detection, open-source security, and flexible processor design. The site also explores some of the key strategies used in RISC-V development and includes videos and product information for RISC-V-based development kits.
Mouser offers a broad selection of RISC-V-based devices, including the Microchip Technology PolarFire SoC FPGA Icicle Kit. The kit is a low-cost platform that enables reliable computing for applications including industrial automation, IoT devices, and automotive applications. The Terasic Technologies T-Core FPGA MAX 10 development board is a robust hardware design platform that supports protocol bridging, analog-to-digital conversion, and motor control drive.
To begin exploring Mouser's RISC-V resource site, visit https://resources.mouser.com/risc-v.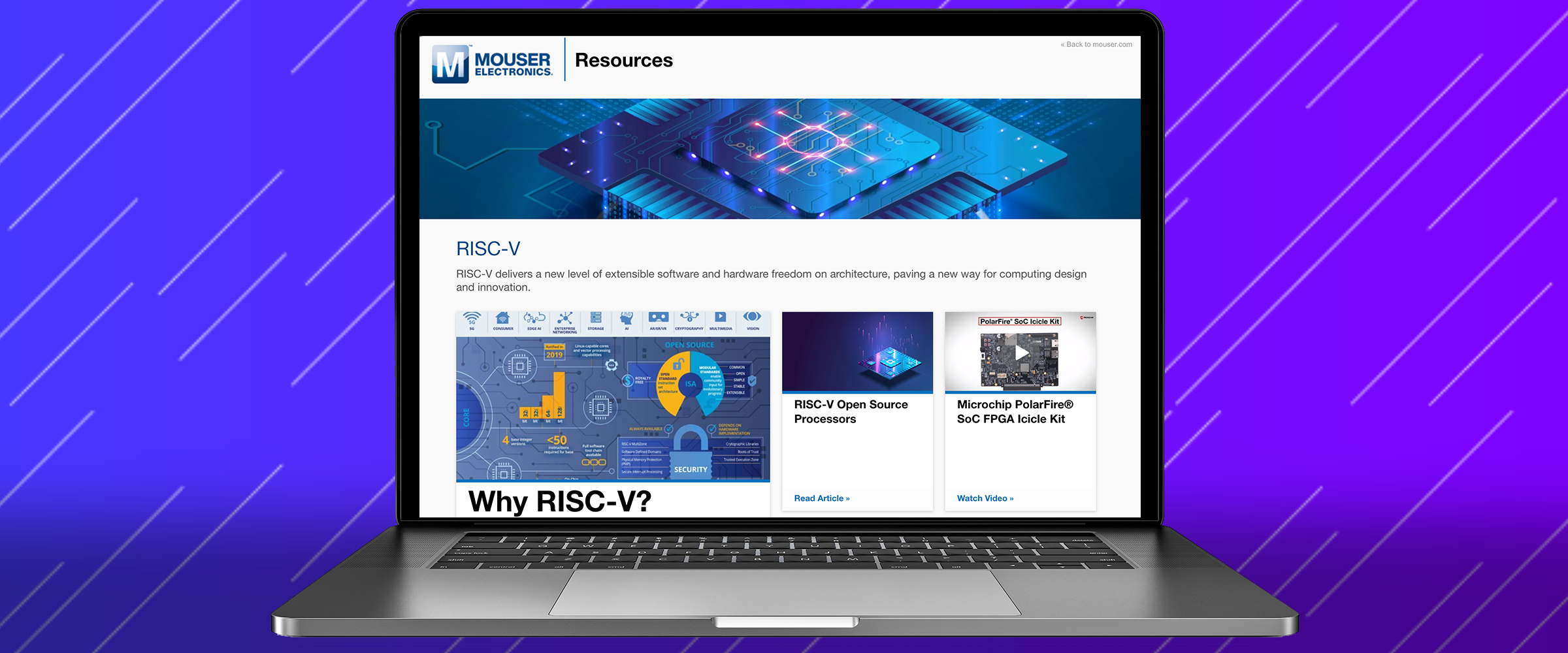 About Mouser Electronics
Mouser Electronics, a Berkshire Hathaway company, is an authorised semiconductor and electronic component distributor focused on New Product Introductions from its leading manufacturer partners. Serving the global electronic design engineer and buyer community, the global distributor's website, mouser.com, is available in multiple languages and currencies and features more than 5 million products from over 1,100 manufacturer brands. Mouser offers 27 support locations worldwide to provide best-in-class customer service in local language, currency, and time zone. The distributor ships to over 630,000 customers in 223 countries/territories from its 1 million-square-foot, state-of-the-art distribution facilities in the Dallas, Texas, metro area. For more information, visit eu.mouser.com.