26. maj 2017
Mouser Electronics Partners with Macnica to Support Engineers in Japan from Prototype to Production
Mouser Electronics Partners with Macnica to Support Engineers in Japan from Prototype to Production
May 25, 2017 – Mouser Electronics, Inc. and Macnica, Inc. are pleased to announce a new strategic partnership to deliver the highest levels of service and support to Japanese design engineers. With the partnership, Mouser and Macnica are introducing a new co-branded website available to customers in Japan.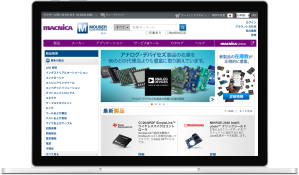 Macnica is the leading Japanese semiconductor distributor focused on offering technical support and the continuous advancement of its technological capabilities. Macnica became an industry pioneer by creating a business model that focused on providing technical support and established itself as a new type of "technical trading company." Mouser is the industry's leading New Product Introduction (NPI) distributor with an e-commerce model that makes it easy for engineers and buyers to find engineering quantities of the newest products for their designs. In addition, Mouser offers instant availability of both development tools and semiconductor products from the leading manufacturers.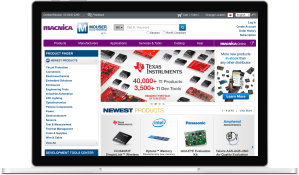 "We are excited to partner with Macnica and leverage our e-commerce and NPI expertise to serve engineering customers in Japan," said Glenn Smith, Mouser President and CEO. "We will be able to maximize our strengths for mutual benefit and serve Japanese engineers with the highest levels of service while increasing our brand presence in this important market."
Through the partnership, customers in Japan can speed time-to-market by taking advantage of Mouser's and Macnica's complementary distribution models. Mouser will handle new product content and engineering quantities for prototype development, while Macnica will focus on volume distribution and technical support for engineers across Japan.
"The online business has become increasingly important to our business. Mouser is a world-class e-commerce company focused on engineering quantities and new product introductions," said Kiyoshi Nakashima, President and CEO of Macnica. "This joint partnership with Mouser will allow us to better serve our customers by offering an online presence combined with vast inventory and world-class fulfillment and Macnica's technical support. We look forward to offering new value to Japanese customers and supporting them throughout their design cycle challenges."
With its broad product line and unsurpassed customer service, the Macnica-Mouser co-branded site strives to empower innovation among design engineers and buyers by delivering advanced technologies. The Macnica-Mouser co-branded site stocks the world's widest selection of the latest semiconductors and electronic components for the newest design projects. Visit the new Macnica-Mouser Mouser site, available in Japanese and English, at http://www.macnica-mouser.jp/.
About Mouser Electronics
Mouser Electronics, a Berkshire Hathaway company is an award-winning, authorized semiconductor and electronic component distributor focused on rapid New Product Introductions from its manufacturing partners for electronic design engineers and buyers. The global distributor's website, Mouser.com, is available in multiple languages and currencies and features more than 4 million products from over 600 manufacturers. Mouser offers 22 support locations around the world to provide best-in-class customer service and ships globally to over 550,000 customers in 170 countries from its 750,000 sq. ft. state-of-the-art facility south of Dallas, Texas. For more information, visit http://www.mouser.com.
About Macnica
Since its establishment in 1972, Macnica Inc. has specialized in the supply of a wide variety of high-value-added electronic parts and network equipment, particularly semiconductors, to the electronics, information and communications industries. The company is justly known as a leader in the high-technology fields in which they operate. In recent years, Macnica has expanded its lineup to provide in-depth technical support to customers in addition to the supply of devices. Its customers include Japan's leading electrical and electronic products manufacturers. The company has its headquarters in Yokohama, and its subsidiaries are located in Hong Kong, China, Taiwan, Singapore, Korea, Thailand, Vietnam, India, Europe, the USA and Brazil.
Trademarks
Mouser and Mouser Electronics are registered trademarks of Mouser Electronics, Inc. All other products, logos, and company names mentioned herein may be trademarks of their respective owners.
– 30 –
Further information, contact:

Kevin Hess, Mouser Electronics

Senior Vice President of Marketing

(817) 804-3833

For press inquiries, contact:

Nick Foot, BWW Communications

PR Director

+44 (0)1491 636393

Further information, contact:

Daphne Tien, Mouser Electronics

Vice President of Asia Marketing and

Business Development

For press inquiries, contact:

Ceres Wang, Mouser Electronics

Advertising & Communications Manager, APAC

+886 (2) 2799 2096 #4817

+886 (0) 953-091-539