24. februar 2021
Mouser Electronics Offers Comprehensive Suite of Sensirion Environmental Sensors
Mouser Electronics, Inc., the industry's leading New Product Introduction (NPI) distributor with the widest selection of semiconductors and electronic components, offers a broad selection of environmental sensors from Sensirion, a leading supplier of sensors for the medical and automotive industries. Over the past two decades, Sensirion has grown to become one of the world's leading designers and manufacturers of flow and environmental sensors. These high-performance products are essential for applications that are top of mind in today's homes and factories, including air purification, indoor air quality monitoring, and carbon dioxide detection.
The Sensirion SGP40 indoor air quality sensor, available from Mouser, is an integrated CMOSens sensor system on a single chip that provides a humidity-compensated indoor air quality signal. The sensor offers long-term stability in terms of response time and sensitivity, providing a reliable solution for applications including kitchen hoods, thermostats, and demand-controlled ventilation. The SPS30 particulate matter sensor is an optical sensor that combines laser scattering with Sensirion's contamination-resistant technology. Built for a lifetime of more than eight years, the SPS30 sensor enables accurate measurements for HVAC equipment, air conditioners, and Internet of Things (IoT) devices.
Sensirion's STC31 is a chip-sized gas concentration sensor, offering accurate, high-range CO2 measurements for high-volume production. The STC31 sensor is based on a thermal conductivity measurement principle, which results in outstanding repeatability and long-term stability. The SFA30 formaldehyde sensor module, available to order from Mouser, is based on Sensirion's electrochemical technology and provides exceptional formaldehyde sensing performance with low cross-sensitivity to other volatile organic compounds. The SFA30 sensor module is designed for simple integration into air purifiers, indoor air quality monitors, and demand-controlled ventilation systems.
To learn more about Sensirion products available at Mouser, visit: https://eu.mouser.com/manufacturer/sensirion/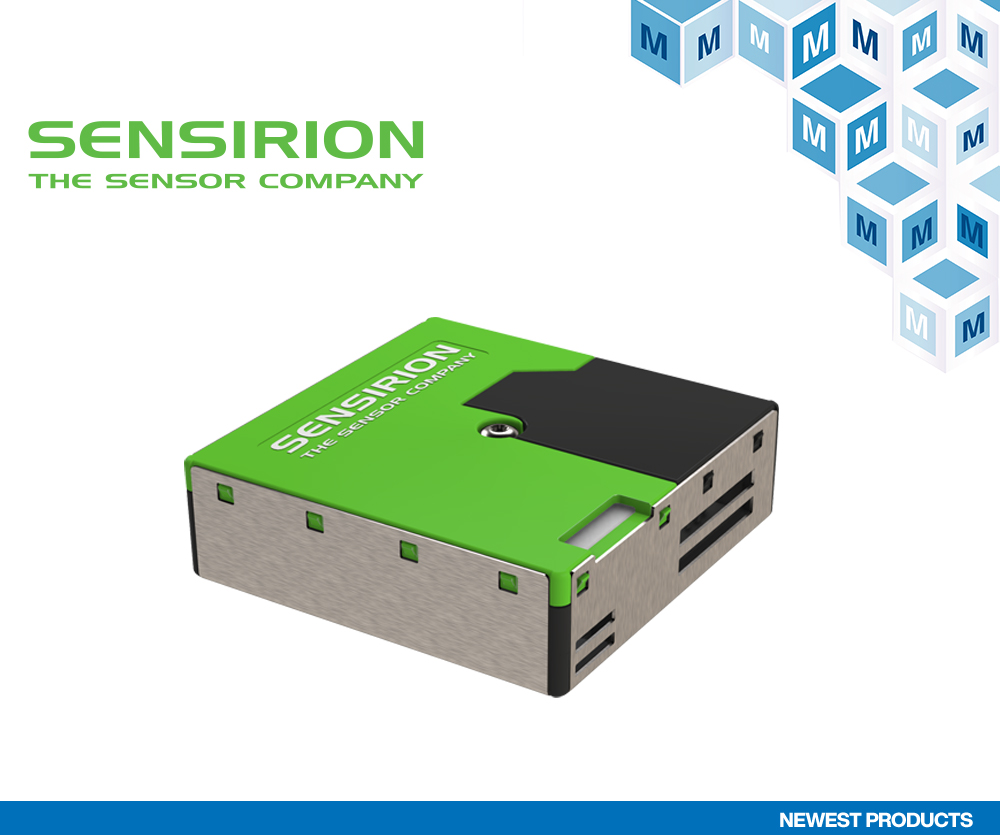 About Mouser Electronics
Mouser Electronics, a Berkshire Hathaway company, is an authorised semiconductor and electronic component distributor focused on New Product Introductions from its leading manufacturer partners. Serving the global electronic design engineer and buyer community, the global distributor's website, mouser.com, is available in multiple languages and currencies and features more than 5 million products from over 1,100 manufacturer brands. Mouser offers 27 support locations worldwide to provide best-in-class customer service in local language, currency, and time zone. The distributor ships to over 630,000 customers in 223 countries/territories from its 1 million-square-foot, state-of-the-art distribution facilities in the Dallas, Texas, metro area. For more information, visit eu.mouser.com.