5. juli 2019
Mouser Electronics Now Stocking Texas Instruments' OPA855 8-GHz Operational Amplifier
Mouser Electronics Now Stocking Texas Instruments' OPA855
8-GHz Operational Amplifier
July 5, 2019 – Mouser Electronics, Inc., the industry's leading New Product Introduction (NPI) distributor with the widest selection of semiconductors and electronic components, is now stocking the OPA855 decompensated amplifier from Texas Instruments (TI). Designed as a wideband, low-noise, bipolar-input operational amplifier, the OPA855 excels in high bandwidth transimpedance and voltage amplifier applications. The 8-GHz gain-bandwidth product (GBWP) of the OPA855 enables high-gain configurations while maintaining wide closed-loop bandwidth. Additionally, the low input-voltage noise of 0.98 nV/√Hz minimizes noise contribution from the amplifier, and the high slew rate of 2750 V/µs enables wide output voltage swings.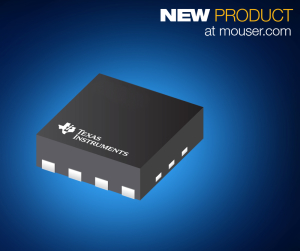 For transimpedance amplifier (TIA) applications TI's OPA855, available from Mouser Electronics, features a low input capacitance of only 0.8 pF, which minimizes the total circuit input capacitance and enables higher-speed designs. The device also uses a unique package pinout that simplifies the layout of the feedback network while simultaneously isolating pin-to-pin capacitance between the input and feedback connections. This pinout design reduces the total parasitic capacitance around the amplifier's feedback network, allowing for high-gain TIA designs to achieve wide bandwidth.
TIA applications for the OPA855 include in optical time-of-flight (ToF) systems with a time-to-digital converter, such as TI's TDC7201. Alternatively, the OPA855 can also be used to drive a high-speed analog-to-digital converter (ADC) in high-resolution LIDAR systems with a differential output amplifier, such as TI's THS4541 or LMH5401.
The OPA855 is the latest addition to TI's family of ultra-wide bandwidth operational amplifiers, which also includes the FET-input OPA858 and OPA859 devices. This family of amplifiers is ideal for wideband transimpedance circuits as well as high-speed data acquisition systems, low-noise front ends, and more. The device is supported by the dedicated OPA855DSGEVM op amp evaluation module and the general-purpose DEM-OPA-WSON8-EVM unpopulated evaluation board.
To learn more, visit http://www.mouser.com/ti-opa855-amplifiers.
Mouser / Texas Instruments OPA855 Op Amp
Page Two
With its broad product line and unsurpassed customer service, Mouser strives to empower innovation among design engineers and buyers by delivering advanced technologies. Mouser stocks the world's widest selection of the latest semiconductors and electronic components for the newest design projects. Mouser Electronics' website is continually updated and offers advanced search methods to help customers quickly locate inventory. Mouser.com also houses data sheets, supplier-specific reference designs, application notes, technical design information, and engineering tools.
About Mouser Electronics
Mouser Electronics, a Berkshire Hathaway company, is an award-winning, authorized semiconductor and electronic component distributor focused on rapid New Product Introductions from its manufacturing partners for electronic design engineers and buyers. The global distributor's website, Mouser.com, is available in multiple languages and currencies and features more than 5 million products from over 750 manufacturers. Mouser offers 25 support locations around the world to provide best-in-class customer service and ships globally to over 600,000 customers in more than 220 countries/territories from its 750,000 sq. ft. state-of-the-art facility south of Dallas, Texas. For more information, visit http://www.mouser.com.
Trademarks
Mouser and Mouser Electronics are registered trademarks of Mouser Electronics, Inc. All other products, logos, and company names mentioned herein may be trademarks of their respective owners.
– 30 –
For further information, contact:

Kevin Hess, Mouser Electronics

Senior Vice President of Marketing

(817) 804-3833

For press inquiries, contact:

Nick Foot, BWW Communications

PR Director

+44 (0)1491 636393