22. juni 2018
Mouser Electronics Now Stocking Texas Instruments' Award-Winning mmWave Sensors for Smart Industry and Auto
Mouser Electronics Now Stocking Texas Instruments'
Award-Winning mmWave Sensors for Smart Industry and Auto
June 22, 2018 – Mouser Electronics, Inc., the authorized global distributor with the newest semiconductors and electronic components, is now stocking ultra-wideband millimeter wave (mmWave) sensors from Texas Instruments. The industry's first single-chip, CMOS mmWave sensors in mass production, the devices support frequencies from 76 to 81 GHz and deliver three times more accurate sensing and smaller footprint at a fraction of the power of other sensor technologies.
The TI mmWave sensors, available from Mouser Electronics, are self-contained, single-chip solutions based on frequency-modulated continuous wave (FMCW) radar technology. The industrial IWR1642 and automotive AWR1642 sensors integrate entire mmWave blocks and analog baseband signal chain for two transmitters and four receivers, an analog-to-digital converter (ADC), programmable Arm® Cortex®-R4F microcontroller, and hardware accelerator, plus a high-performance DSP for radar signal processing.
The automotive-qualified AWR1642 sensors analyze and respond to an automobile's nearby environment, resulting in improved safety and usability. The device enables multimode radar for processing complex urban environments and short-range radar for detecting automobiles, motorcycles and other dynamic objects up to 80 meters away with high accuracy.
The industrial-focused IWR1642 sensors are ideal for building automation, traffic monitoring, gesture recognition, and more. The sensors are designed to accurately detect the angle, range and velocity of objects, even in adverse conditions such as rain, fog, smoke and ambient light. The devices also support radar for transport, with the ability to detect moving vehicles at a distance of 60 meters with incoming velocities of up to 100 kilometers per hour.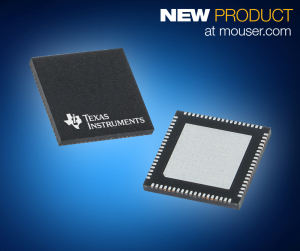 To learn more, visit http://www.mouser.com/ti-mmwave-sensor.
Mouser / TI mmWave Sensors
With its broad product line and unsurpassed customer service, Mouser strives to empower innovation among design engineers and buyers by delivering advanced technologies. Mouser stocks the world's widest selection of the latest semiconductors and electronic components for the newest design projects. Mouser Electronics' website is continually updated and offers advanced search methods to help customers quickly locate inventory. Mouser.com also houses data sheets, supplier-specific reference designs, application notes, technical design information, and engineering tools.
About Mouser Electronics
Mouser Electronics, a Berkshire Hathaway company, is an award-winning, authorized semiconductor and electronic component distributor focused on rapid New Product Introductions from its manufacturing partners for electronic design engineers and buyers. The global distributor's website, Mouser.com, is available in multiple languages and currencies and features more than 5 million products from over 700 manufacturers. Mouser offers 23 support locations around the world to provide best-in-class customer service and ships globally to over 600,000 customers in more than 220 countries/territories from its 750,000 sq. ft. state-of-the-art facility south of Dallas, Texas. For more information, visit http://www.mouser.com.
Trademarks
Mouser and Mouser Electronics are registered trademarks of Mouser Electronics, Inc. All other products, logos, and company names mentioned herein may be trademarks of their respective owners.
Further information, contact:

Kevin Hess, Mouser Electronics

Senior Vice President of Marketing

(817) 804-3833

For press inquiries, contact:

Nick Foot, BWW Communications

PR Director

+44 (0) 1491 636393