13. april 2018
Mouser Electronics Now Stocking Infineon's TLE9250 High-Speed CAN Transceivers for Automotive and Industrial Control
Mouser Electronics Now Stocking Infineon's TLE9250 High-Speed CAN Transceivers for Automotive and Industrial Control
April 13, 2018 – Mouser Electronics, Inc., the industry's leading New Product Introduction (NPI) distributor with the widest selection of semiconductors and electronic components, is now stocking the TLE9250 high-speed CAN transceivers from Infineon Technologies. Designed for high-speed automotive and industrial Controller Area Network (CAN) systems that connect microcontrollers, sensors, and actuators, the TLE9250 transceiver serves as an interface between the physical bus layer and protocol controller to protect against interferences generated inside the network.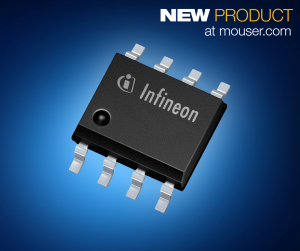 The Infineon TLE9250 transceivers, available from Mouser Electronics, are designed to comply with SAE standards J1939 and J2284 and meet current and upcoming ISO 11898-2 physical layer specifications. Featuring high electrostatic discharge (ESD) robustness of ±8 kV (HBM) and ±11 kV (IEC 61000-4-2), the device's RF immunity makes it suitable for use in automotive and industrial applications without requiring additional protection devices.
Based on the high symmetry of CANL and CANH output signals, the TLE9250 transceivers provide low electromagnetic emission (EME) within a wide frequency range. This optimal symmetry also allows the devices to support data rates up to 5 Mbits per second (Mbps) to meet the CAN Flexible Data Rate protocol. The devices' low EME allows them to fulfill stringent electromagnetic compatibility (EMC) test limits without the need for an additional common mode choke.
Infineon's RoHS-compliant TLE9250 transceivers are ideal for use inside high-speed CAN networks in automotive applications, including include engine control units, transmission control units, chassis control modules and electric power steering. The devices are also useful in a variety of industrial applications, as output current limitation and overtemperature protection features guard the transceivers from damage in harsh environments.
To learn more, visit http://www.mouser.com/infineon-tle9250-transceivers.
Mouser / Infineon TLE9250 CAN Transceivers
Page Two
With its broad product line and unsurpassed customer service, Mouser strives to empower innovation among design engineers and buyers by delivering advanced technologies. Mouser stocks the world's widest selection of the latest semiconductors and electronic components for the newest design projects. Mouser Electronics' website is continually updated and offers advanced search methods to help customers quickly locate inventory. Mouser.com also houses data sheets, supplier-specific reference designs, application notes, technical design information, and engineering tools.
About Mouser Electronics
Mouser Electronics, a Berkshire Hathaway company, is an award-winning, authorized semiconductor and electronic component distributor focused on rapid New Product Introductions from its manufacturing partners for electronic design engineers and buyers. The global distributor's website, Mouser.com, is available in multiple languages and currencies and features more than 5 million products from over 700 manufacturers. Mouser offers 22 support locations around the world to provide best-in-class customer service and ships globally to over 600,000 customers in 170 countries from its 750,000 sq. ft. state-of-the-art facility south of Dallas, Texas. For more information, visit http://www.mouser.com.
About Infineon Technologies
Infineon Technologies is a leading global designer, manufacturer and supplier of a broad range of semiconductors used in various microelectronic applications. Infineon's product portfolio consists of logic products, including digital, mixed-signal, and analog integrated circuits, as well as discrete semiconductor products.
Trademarks
Mouser and Mouser Electronics are registered trademarks of Mouser Electronics, Inc. All other products, logos, and company names mentioned herein may be trademarks of their respective owners.
– 30 –
Further information, contact:

Kevin Hess, Mouser Electronics

Senior Vice President of Marketing

(817) 804-3833

For press inquiries, contact:

Nick Foot, BWW Communications

PR Director

+44 (0)1491 636393