4. maj 2023
Mouser Electronics Now Shipping Microchip ATECC608B CryptoAuthentication Device for Secure Connected Systems
Mouser Electronics, Inc., the industry's leading New Product Introduction (NPI) distributor with the widest selection of semiconductors and electronic components™, is now stocking the ATECC608B CryptoAuthentication™ device from Microchip Technology. Delivering ultra-secure cryptographic elements that enable more secure connected systems, the ATECC608B is ideal for a variety of Internet of Things (IoT) applications in the areas of home automation, industrial networking, IoT node security and ID, message security and authentication, medical devices, ecosystem control, and anti-cloning.
The Microchip ATECC608B CryptoAuthentication device, available from Mouser Electronics, can function as either a device pre-loaded with cryptographic keys, keeping the keys securely stored within embedded and IoT devices, or as a cryptographic co-processor, executing strong cryptographic algorithms without burdening the resources of the host microprocessor or microcontroller. The device includes several security features, including optimised key storage and authentication functionality, ECDH security protocol, and ECDSA sign-verify authentication. The device also includes a 256-bit SHA/HMAC hardware engine, a 10.5-kbit EEPROM for secret and private keys, and a guaranteed 72-bit unique ID.
The ATECC608B device is currently available in 8-pad UDFN, 8-lead SOIC and 3-lead contact package options and delivers extremely low power consumption over a wide 2.0 V to 5.5 V supply voltage. The device integrates into a hardware design alongside the host microprocessor and interfaces directly to the host over the I²C bus.
To learn more about the ATECC608B and related development tools, visit https://eu.mouser.com/new/microchip/microchip-atecc608b-crypto-devices/.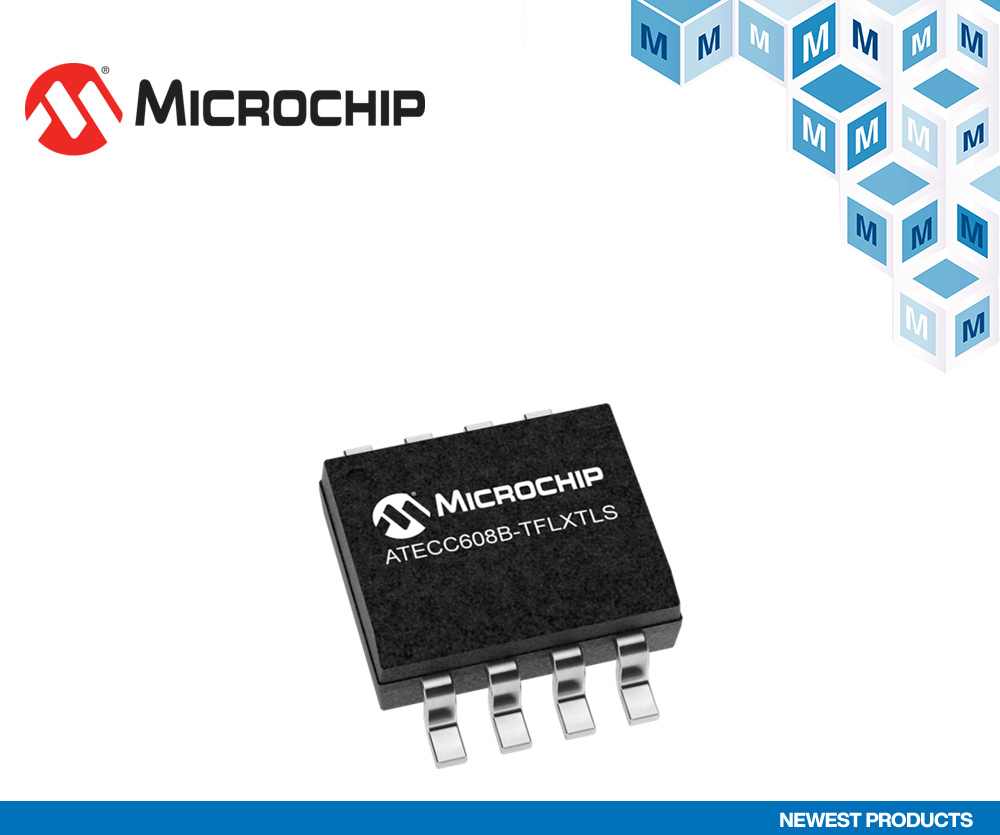 About Mouser Electronics
Mouser Electronics, a Berkshire Hathaway company, is an authorised semiconductor and electronic component distributor focused on New Product Introductions from its leading manufacturer partners. Serving the global electronic design engineer and buyer community, the global distributor's website, mouser.com, is available in multiple languages and currencies and features more than 6.8 million products from over 1,200 manufacturer brands. Mouser offers 27 support locations worldwide to provide best-in-class customer service in local language, currency and time zone. The distributor ships to over 650,000 customers in 223 countries/territories from its 1 million-square-foot, state-of-the-art distribution facilities in the Dallas, Texas, metro area. For more information, visit https://www.mouser.com/.