19. september 2017
Mouser Electronics Now Offering Bosch Sensortec's BME680 Combo MEMS Environmental Sensor
Mouser Electronics Now Offering Bosch Sensortec's
BME680 Combo MEMS Environmental Sensor
September 19, 2017 – Mouser Electronics, Inc., the industry's leading New Product Introduction (NPI) distributor with the widest selection of semiconductors and electronic components, is now stocking the BME680 environmental sensor from Bosch Sensortec. The BME680 delivers superior environmental measurement performance, made possible by the internal compensation and calibration of gas, pressure, temperature and humidity sensors. The sensor enables new capabilities for mobile devices such as air quality measurement, personalized weather stations, indoor navigation, fitness monitoring, home automation and other Internet of Things (IoT) applications.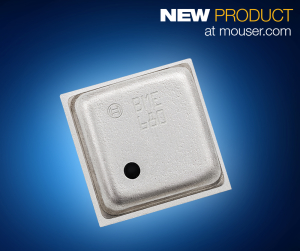 The Bosch Sensortec ME680 environmental sensor, available from Mouser Electronics, is a tiny, low-power microelectromechanical system (MEMS) device that integrates a gas sensor with air pressure, humidity and ambient air temperature sensing functions. The gas sensor can detect a broad range of gases in order to measure indoor air quality, including volatile organic compounds (VOC) — from sources such as paints, cleaning supplies, furnishings, and adhesives — down to the parts-per-million (ppm) range.
The BME680's pressure accuracy provides precise altitude information. The fast response time for measurement of humidity and ambient temperature enables new applications, such as personalized weather information and air quality monitoring.
The BME680 is equipped with both I2C and SPI communication interfaces, as well as three power modes and oversampling rates for pressure and temperature measurements that can be configured separately to help designers easily adapt the BME680 to different applications. An integrated IIR filter eliminates short-term measurement fluctuations caused by potential environmental influences.
To learn more, visit https://www.mouser.com/new/bosch/bosch-sensortec-bme680-sensor/.
Mouser / Bosch Sensortec BME680
Page Two
With its broad product line and unsurpassed customer service, Mouser strives to empower innovation among design engineers and buyers by delivering advanced technologies. Mouser stocks the world's widest selection of the latest semiconductors and electronic components for the newest design projects. Mouser Electronics' website is continually updated and offers advanced search methods to help customers quickly locate inventory. Mouser.com also houses data sheets, supplier-specific reference designs, application notes, technical design information, and engineering tools.
About Mouser Electronics
Mouser Electronics, a Berkshire Hathaway company, is an award-winning, authorized semiconductor and electronic component distributor focused on rapid New Product Introductions from its manufacturing partners for electronic design engineers and buyers. The global distributor's website, Mouser.com, is available in multiple languages and currencies and features more than 4 million products from over 600 manufacturers. Mouser offers 22 support locations around the world to provide best-in-class customer service and ships globally to over 550,000 customers in 170 countries from its 750,000 sq. ft. state-of-the-art facility south of Dallas, Texas. For more information, visit https://www.mouser.com/.
About Bosch Sensortec
Bosch Sensortec, a subsidiary of Robert Bosch GmbH, has been providing micro mechanical sensors and application services for the consumer electronics market since 2005. Bosch Sensortec has access to the development and manufacturing competencies of the Bosch Automotive Electronics division which makes for flexible and close cooperation during all project phases. This allows not only focus on new applications, but the ability to quickly respond to special customer requests. Due to its integration in the Bosch Group, Bosch Sensortec is capable of a rapid adaptation of existing sensors in new areas of application.
Trademarks
Mouser and Mouser Electronics are registered trademarks of Mouser Electronics, Inc. All other products, logos, and company names mentioned herein may be trademarks of their respective owners.
– 30 –
Further information, contact:

Kevin Hess, Mouser Electronics

Senior Vice President of Marketing

(817) 804-3833

For press inquiries, contact:

Nick Foot, BWW Communications

PR Director

+44 (0)1491 636393