9. april 2019
Mouser Electronics Now Offering Analog Devices AD738x SAR ADCs
Mouser Electronics Now Offering Analog Devices AD738x SAR ADCs
April 9, 2019 – Mouser Electronics, Inc., the industry's leading New Product Introduction (NPI) distributor with the widest selection of semiconductors and electronic components, is now offering the AD7380 and AD7381 successive-approximation register (SAR) analog-to-digital converters (ADCs) from Analog Devices, Inc. The pin-compatible 16-bit AD7380 and 14-bit AD7381 ADCs feature throughput rates of 4 megasamples per second (MSPS) and a tiny 3 × 3 mm LFCSP package. The dual simultaneous-sampling, high-speed ADCs are ideal for motor control, sonar, power quality, and data acquisition applications.
The Analog Devices AD7380 and AD7381, available from Mouser Electronics, contain two SAR ADCs and a serial interface with two separate data output pins. Engineers can access data on the devices via the serial interface, which can operate with one or two serial outputs. The ADCs feature fully differential analog inputs that accept a wide common-mode input voltage, sampling and converting on the falling edge of CS. The conversion process and data acquisition use standard control inputs allowing easy interfacing to microprocessors or digital signal processors (DSPs). Integrated on-chip oversampling blocks improve dynamic range and reduce noise at lower bandwidths.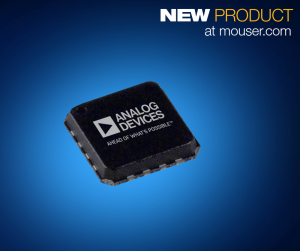 The AD7380 and AD7381 ADCs operate from a 3.0 V to 3.6 V power supply, with a buffered internal 2.5 V reference (optional external reference up to 3.3 V) and typical drift of just ±1 ppm/°C. The devices are supported by the EVAL-AD7380FMCZ and EVAL-AD7381FMCZ evaluation boards, respectively, in conjunction with the EVAL-SDP-CH1Z high-speed controller board.
To learn more, visit http://www.mouser.com/adi-ad7380-ad7381-adcs.
Mouser / Analog Devices AD7380 and AD7381 ADCs
Page Two
With its broad product line and unsurpassed customer service, Mouser strives to empower innovation among design engineers and buyers by delivering advanced technologies. Mouser stocks the world's widest selection of the latest semiconductors and electronic components for the newest design projects. Mouser Electronics' website is continually updated and offers advanced search methods to help customers quickly locate inventory. Mouser.com also houses data sheets, supplier-specific reference designs, application notes, technical design information, and engineering tools.
About Mouser Electronics
Mouser Electronics, a Berkshire Hathaway company, is an award-winning, authorized semiconductor and electronic component distributor focused on rapid New Product Introductions from its manufacturing partners for electronic design engineers and buyers. The global distributor's website, Mouser.com, is available in multiple languages and currencies and features more than 5 million products from over 750 manufacturers. Mouser offers 23 support locations around the world to provide best-in-class customer service and ships globally to over 600,000 customers in more than 220 countries/territories from its 750,000 sq. ft. state-of-the-art facility south of Dallas, Texas. For more information, visit http://www.mouser.com.
About Analog Devices
Analog Devices is a leading global high-performance analog technology company dedicated to solving the toughest engineering challenges. We enable our customers to interpret the world around us by intelligently bridging the physical and digital with unmatched technologies that sense, measure, power, connect and interpret. Visit http://www.analog.com.
Trademarks
Mouser and Mouser Electronics are registered trademarks of Mouser Electronics, Inc. All other products, logos, and company names mentioned herein may be trademarks of their respective owners.
– 30 –
For further information, contact:

Kevin Hess, Mouser Electronics

Senior Vice President of Marketing

(817) 804-3833

For press inquiries, contact:

Nick Foot, BWW Communications

PR Director

+44 (0)1491 636393