6. juni 2018
Mouser Electronics Named Top Global Distributor by HARTING
Mouser Electronics Named Top Global Distributor by HARTING
June 6, 2018 – Mouser Electronics, Inc., the industry's leading New Product Introduction (NPI) distributor with the widest selection of semiconductors and electronic components, has been honored with the prestigious Global High Service Distributor of the Year award from HARTING, Inc. of North America. The award was presented at the annual Electronics Distribution Show (EDS), held May 15–18 in Las Vegas.
HARTING is a leading manufacturer of electrical and electronic connectors, device terminations, backplanes, network components, as well as cable harnesses for networks and machinery. Mouser stocks the full line of HARTING products.
"This award recognizes Mouser's outstanding overall performance in revenue growth, new customer growth, NPI introductions and marketing initiatives over the past year," said Jon DeSouza, President and CEO of HARTING Americas.
"For more than a decade, HARTING and Mouser have enjoyed an outstanding business partnership. Mouser is committed to investing and promoting our reliable products and problem-solving technologies, and this has led to impressive revenue growth and significant expansion of our customer base," DeSouza added.
"All of us at Mouser are grateful to be recognized with this top award," said Krystal Jackson, Vice President of Supplier Management for Mouser Electronics. "HARTING is a valued manufacturer partner and we share a common goal of delivering best-in-class service and products to our customers. We look forward to continued mutual success."
Mouser also received the 2014 and 2015 Distributor of the Year award from HARTING. Previously, Mouser earned HARTING's Distinguished Award for New Customer Growth and a Distinguished Award  New Product Growth, recognizing Mouser's significant business growth during 2012–2013. To learn more about HARTING, visit http://www.mouser.com/harting.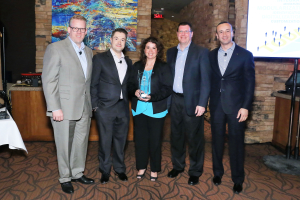 Mouser / HARTING Distributor of the Year
With its broad product line and unsurpassed customer service, Mouser strives to empower innovation among design engineers and buyers by delivering advanced technologies. Mouser stocks the world's widest selection of the latest semiconductors and electronic components for the newest design projects. Mouser Electronics' website is continually updated and offers advanced search methods to help customers quickly locate inventory. Mouser.com also houses data sheets, supplier-specific reference designs, application notes, technical design information, and engineering tools.
About Mouser Electronics
Mouser Electronics, a Berkshire Hathaway company, is an award-winning, authorized semiconductor and electronic component distributor focused on rapid New Product Introductions from its manufacturing partners for electronic design engineers and buyers. The global distributor's website, Mouser.com, is available in multiple languages and currencies and features more than 5 million products from over 700 manufacturers. Mouser offers 23 support locations around the world to provide best-in-class customer service and ships globally to over 600,000 customers in more than 220 countries/territories from its 750,000 sq. ft. state-of-the-art facility south of Dallas, Texas. For more information, visit http://www.mouser.com.
About HARTING
The HARTING Technology Group, family owned and based in Germany, employs more than 4,600 people globally with subsidiaries and branch offices in 44 countries. With production facilities in Europe, Asia, and the Americas, the HARTING portfolio of connectivity solutions focuses on multiple levels, from the machine to the device and into the communication infrastructure. The U.S. facility in Elgin, Illinois is one of three HARTING locations that manufactures the HIS product line (HARTING Integrated Solutions – backplanes) and custom cable assemblies. HARTING also has custom cable assembly capabilities in Mexico and Brazil. The company's core business is intelligent and high-performance connection technology. HARTING works in almost all industrial markets with a focus on requirements for robust, reliable connectivity solutions.
Trademarks
Mouser and Mouser Electronics are registered trademarks of Mouser Electronics, Inc. All other products, logos, and company names mentioned herein may be trademarks of their respective owners.
Further information, contact:

Kevin Hess, Mouser Electronics

Senior Vice President of Marketing

(817) 804-3833

For press inquiries, contact:

Nick Foot, BWW Communications

PR Director

+44 (0) 1491 636393