2. juni 2023
Mouser Electronics Named 2022 Distributor of the Year by Bel
Mouser Electronics, Inc., the industry's leading New Product Introduction (NPI) distributor with the widest selection of semiconductors and electronic components™, is pleased to announce it has been named 2022 Distributor of the Year, North America, by Bel.
Bel, a leading global manufacturer of products that power, protect and connect electronic circuits, recognized Mouser for the distributor's overall sales growth, POS growth, customer count growth, and overall support and engagement.
"It is with great pleasure that I award Glenn Smith and the Mouser Team, Bel's Distributor of the Year. This award acknowledges their efforts in exceeding's sales, POS, and customer count growth while providing the highest level of engagement and support for 2022," said Dan Bernstein, CEO, Bel Fuse Inc. "Over the decades, we have truly appreciated Mouser's hard work, dedication and passion for our product portfolio. To the Mouser Team, thank you for being a great partner and your successes this past year. It is much appreciated."
"We at Mouser greatly appreciate this recognition from Bel, a recognised leader in our industry," said Glenn Smith, President and CEO of Mouser Electronics. Bel is a valued manufacturer partner, and we share a common goal of delivering best-in-class service and products to our customers. We've realised many successes together throughout our longstanding partnership, and we look forward to many more in the future."
Mouser offers products from Bel's entire group of companies:
In 2020, Mouser was named Global Distributor of the Year in 2019 by Bel for growing sales and customer count across all Bel companies. To learn more about the Bel group of companies, visit https://eu.mouser.com/manufacturer/bel-group/.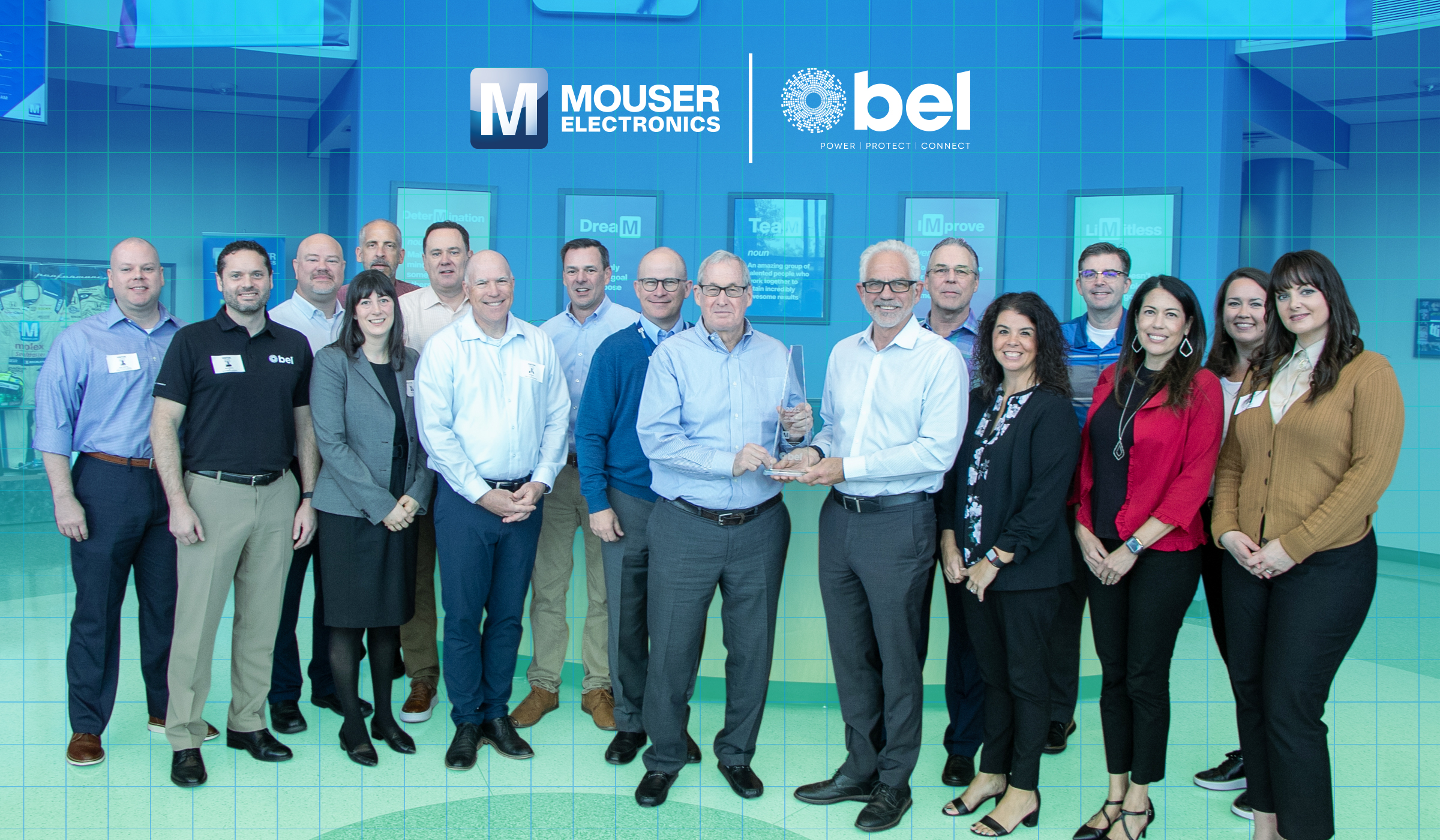 About Mouser Electronics
Mouser Electronics, a Berkshire Hathaway company, is an authorised semiconductor and electronic component distributor focused on New Product Introductions from its leading manufacturer partners. Serving the global electronic design engineer and buyer community, the global distributor's website, mouser.com, is available in multiple languages and currencies and features more than 6.8 million products from over 1,200 manufacturer brands. Mouser offers 27 support locations worldwide to provide best-in-class customer service in local language, currency and time zone. The distributor ships to over 650,000 customers in 223 countries/territories from its 1 million-square-foot, state-of-the-art distribution facilities in the Dallas, Texas, metro area. For more information, visit https://www.mouser.com/.