29. januar 2018
Mouser Electronics Launches Volume Two of Methods E-zine, Looks Ahead to Top Developments of 2018
Mouser Electronics Launches Volume Two of Methods E-zine, Looks Ahead to Top Developments of 2018
January 29, 2018 – Mouser Electronics, Inc., the New Product Introduction leader that empowers innovation, today announces the first issue in volume two of its popular Methods e-zine. This latest issue, titled "2018 Look Ahead: Design & Technology," explores key developments to come this year as well as their social ramifications.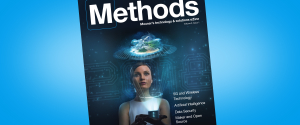 "The industry expects to see many exciting developments in 2018, and this new issue of Methods will be an essential tool for anyone interested in learning what may lie ahead," said Kevin Hess, Senior Vice President of Marketing at Mouser Electronics. "We hope our designer and developer audience will use Methods as a reference guide throughout the year."
In volume two of Methods, Mouser's industry experts explore the latest development boards, rise and role of artificial intelligence (AI), biggest gaps to fill in data security, most important advancements in 5G and wireless technology, and more. Readers can also learn more about the coming year in open source hardware and the latest in high-performance development kits.
"At Mouser we provide more than the latest and widest selection of semiconductors and electronic components," Hess added. "We provide the tools, the insight, and the know-how to succeed."
In 2017, Mouser released volume one of Methods, offering three issues devoted to subjects important to engineers, including Bluetooth® 5 technology and data security, plus Mouser's best technical content from 2017. Find all issues of Methods plus the Data Security: Think Like a Hacker webinar at Mouser's Applications & Technologies site, http://www.mouser.com/applications, or subscribe to Methods at eng.info.mouser.com/ezine-signup.
Mouser / Methods: 2018 Look Ahead
Page Two
With its broad product line and unsurpassed customer service, Mouser strives to empower innovation among design engineers and buyers by delivering advanced technologies. Mouser stocks the world's widest selection of the latest semiconductors and electronic components for the newest design projects. Mouser Electronics' website is continually updated and offers advanced search methods to help customers quickly locate inventory. Mouser.com also houses data sheets, supplier-specific reference designs, application notes, technical design information, and engineering tools.
About Mouser Electronics
Mouser Electronics, a Berkshire Hathaway company, is an award-winning, authorized semiconductor and electronic component distributor focused on rapid New Product Introductions from its manufacturing partners for electronic design engineers and buyers. The global distributor's website, Mouser.com, is available in multiple languages and currencies and features more than 4 million products from over 700 manufacturers. Mouser offers 22 support locations around the world to provide best-in-class customer service and ships globally to over 550,000 customers in 170 countries from its 750,000 sq. ft. state-of-the-art facility south of Dallas, Texas. For more information, visit http://www.mouser.com.
Trademarks
Mouser and Mouser Electronics are registered trademarks of Mouser Electronics, Inc. All other products, logos, and company names mentioned herein may be trademarks of their respective owners.
– 30 –
Further information, contact:

Kevin Hess, Mouser Electronics

Senior Vice President of Marketing

(817) 804-3833

For press inquiries, contact:

Nick Foot, BWW Communications

PR Director

+44 (0)1491 636393