19. august 2022
Mouser Electronics Celebrates Its 2022 Best-in-Class Award Winners
Mouser Electronics, Inc., the industry's leading New Product Introduction (NPI) distributor with the widest selection of semiconductors and electronic components™, congratulates the 2022 winners of its annual Mouser Best-in-Class Awards. The annual awards event recognises the outstanding individuals from Mouser's manufacturer partners who best supported the global distributor's marketing programs and new product introduction (NPI) launches by demonstrating exemplary teamwork and top performance.
"We extend our congratulations and profound appreciation for the devoted professionals who won the Best-in-Class Award this year," said Jeff Newell, Mouser Electronics' Senior Vice President of Products. "Each of the winners — chosen from hundreds of their colleagues across our base of outstanding manufacturer partners — has played an important role in helping us provide our customers with the high levels of service they expect."
Winners of the Mouser Best-in-Class Award are selected using five main criteria: Strategically partnering with the Mouser team; promoting product lines and working together on new product launches; finding creative solutions to grow market share mutually for both companies; maximising Mouser's unique value proposition within their own businesses; and championing Mouser within their organisations.
2022 Mouser Best-in-Class Award Winners:
Mouser will also present Tammy Stine of TE Connectivity with the President's Award, after delaying last year's ceremony. The President's Award celebrates the exemplary individuals from Mouser's manufacturer partners who have won the Best-in-Class Award five or more times, demonstrating consistent top performance.
"I'm very happy to finally present Tammy with the President's Award — one of the highest and rarest recognitions that Mouser gives to colleagues at our manufacturer partners. It represents our profound respect and appreciation for exceptional teamwork," said Glenn Smith, President and CEO of Mouser Electronics. "The TE–Mouser relationship has benefited greatly with Tammy's guidance, and all of Mouser joins me in congratulating her on this well-deserved President's Award."
Previous President's Award winners are Sumit Awasthi, Analog Devices Inc.; Dee Fuller, Amphenol; Cheryl Swaim, KEMET; Doug Lippincott, Panasonic; and Steve Nye, Vishay Intertechnology.
To learn more about the awards and recipients, visit https://eu.mouser.com/bestinclass/.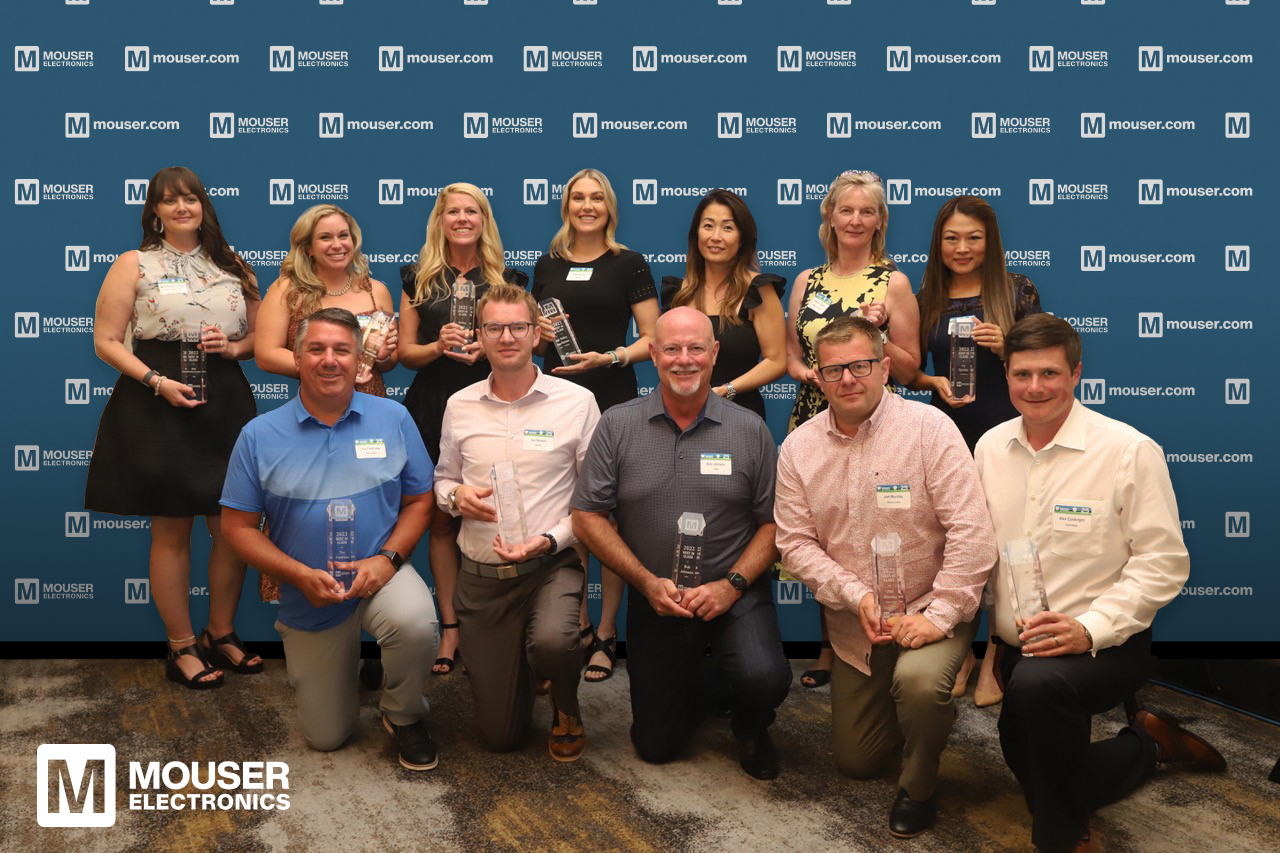 As a global authorised distributor, Mouser offers the world's widest selection of the newest semiconductors and electronic components — in stock and ready to ship™. Mouser's customers can expect 100% certified, genuine products that are fully traceable from each of its manufacturer partners. To help speed customers' designs, Mouser's website hosts an extensive library of technical resources, including a Technical Resource Centre, along with product data sheets, supplier-specific reference designs, application notes, technical design information, engineering tools and other helpful information.
About Mouser Electronics
Mouser Electronics, a Berkshire Hathaway company, is an authorised semiconductor and electronic component distributor focused on New Product Introductions from its leading manufacturer partners. Serving the global electronic design engineer and buyer community, the global distributor's website, mouser.com, is available in multiple languages and currencies and features more than 6,8 million products from over 1.200 manufacturer brands. Mouser offers 27 support locations worldwide to provide best-in-class customer service in local language, currency and time zone. The distributor ships to over 650.000 customers in 223 countries/territories from its 93.000 square-meter, state-of-the-art facilities in the Dallas, Texas, metro area. For more information, visit https://www.mouser.com/.