18. september 2020
Mouser Electronics Announces Global Distribution Agreement with Embedded Vision Leader FRAMOS
Mouser Electronics, Inc., the authorised global distributor with the newest semiconductors and electronic components, has signed a global distribution agreement with FRAMOS, a leading manufacturer of imaging and embedded vision technologies, to offer its sensor modules and processor adaptor products. Through the FRAMOS Ecosystem's expanded range of sensor modules, adapters and accessories, and development kits, vision engineers and developers can evaluate and integrate many different image sensors on open processor platforms, quickly create proofs-of-concepts, and systematically develop them further for their exact needs.
FRAMOS Sensor Modules (FSM) allow customers to seamlessly plug the latest image sensor technology into common processing platforms through the use of a fully modular design that relies on standardised connectors and mechanicals. The lineup provides an extensive range with resolutions from 0.4 MP to 24 MP that comes with rolling and global shutter options. These small modules are available from Mouser in a 26.5 mm × 26.5 mm form factor, and include native MIPI CSI-2 sensors.
FRAMOS adapters and accessories contain all the necessary periphery to operate the sensor, and transmit and convert its signals into the formats needed by the processor development boards. The FRAMOS Sensor Adapters (FSA) are stacked to the FSMs to ensure modularity and design flexibility in all application-specific designs. The FSAs include reference clocks, power rails and processing functionality with standardised connectivity for operating the imager to allow seamless interchangeability. These products provide flexibility, decrease redundancy and improve performance, and include all design documentation to support customised all-on-one-board integration. FRAMOS Processor Adaptor (FPA) boards offer a modular adaption to several third-party image processing boards within the FRAMOS EV ecosystem.
FRAMOS sensor module development kits support up to four FSMs simultaneously and include pre-assembled FSM/FSAs with a lens mount and M12 lens, tripod adapter, and all the necessary adapters for interfacing to the NVIDIA® Jetson™ hardware products and other third-party development boards. Device drivers and sample applications with source code provide a minimum environment to control the sensor and stream images directly into user applications, enabling customers to rapidly create unique applications, with little overhead. The kits also include a chainable 150 mm flex cable connecting the FSAs to the FPAs, allowing engineers to get up and running quickly with an FSM and their existing third-party processor development kit.
To learn more, visit https://eu.mouser.com/manufacturer/framos/.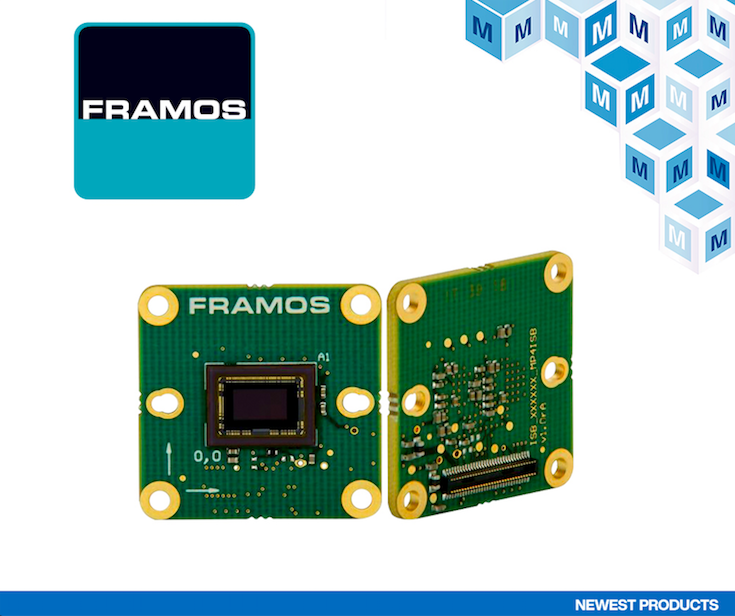 About Mouser Electronics
Mouser Electronics, a Berkshire Hathaway company, is an award-winning, authorised semiconductor and electronic component distributor focused on rapid New Product Introductions from its manufacturing partners for electronic design engineers and buyers. The global distributor's website, mouser.com, is available in multiple languages and currencies and features more than 5 million products from over 800 manufacturers. Mouser offers 27 support locations around the world to provide best-in-class customer service and ships globally to over 630.000 customers in more than 223 countries/territories from its 93.000 square meter state-of-the-art facilities south of Dallas, Texas. For more information, visit http://www.mouser.com.