13. oktober 2021
Mouser Electronics and Texas Instruments Present Functional Safety Webinar
Mouser Electronics, Inc., the authorised global distributor with the newest semiconductors and electronic components, has teamed up with Texas Instruments to bring the engineering community a brand new webinar, titled "Develop your functional safety signal chain application with Texas Instruments". The free live webinar will occur at 3 p.m. CEST on Monday, 18 October 2021.
Functional safety is required across most industrial applications, in particular factory automation and control systems. It plays a vital role in the overall safety of a system and depends on responding to certain inputs and failure states in a predictable manner. Functional safety standards accept that there is always a hazard and specify how to develop systems that reduce the risk to a tolerable level. Therefore, system designs that include functional safety must lower the risk from improper use and detect faults to minimize their impact.
To achieve functional safety compliance, engineers must:
Predict and define hazardous conditions.
Identify safety functions that address these conditions.
Assess the risk reduction that the safety functions achieve.
Ensure that the safety functions perform to their design intent.
Presented by Lars Lotzenburger, System Engineer, Factory Automation and Control, Texas Instruments, the webinar aims to kick start the functional safety development process and how it applies to attendees' applications. Identifying the hazards and defining the functional safety goals are crucial elements of this process. Therefore, creating a qualitative failure modes, effects and diagnostic analysis (FMEDA) is essential.
During the webinar, attendees will learn how to develop schematics and in-depth diagnostic methods that address the challenges of avoiding dangerous malfunctions of the application. Functional safety-relevant parameters results, such as the failure in time (FIT) rate, diagnostic coverage and probability of dangerous failure per hour, will then be reviewed based on the components that the quantitative FMEDA has generated.
Attendees will gain valuable insights into how to develop a signal chain application within functional safety standards. To learn more and to register for the free webinar, visit https://emea.info.mouser.com/ti-webinar-functional-safety-emea-en?cid=homepage&pid=mouser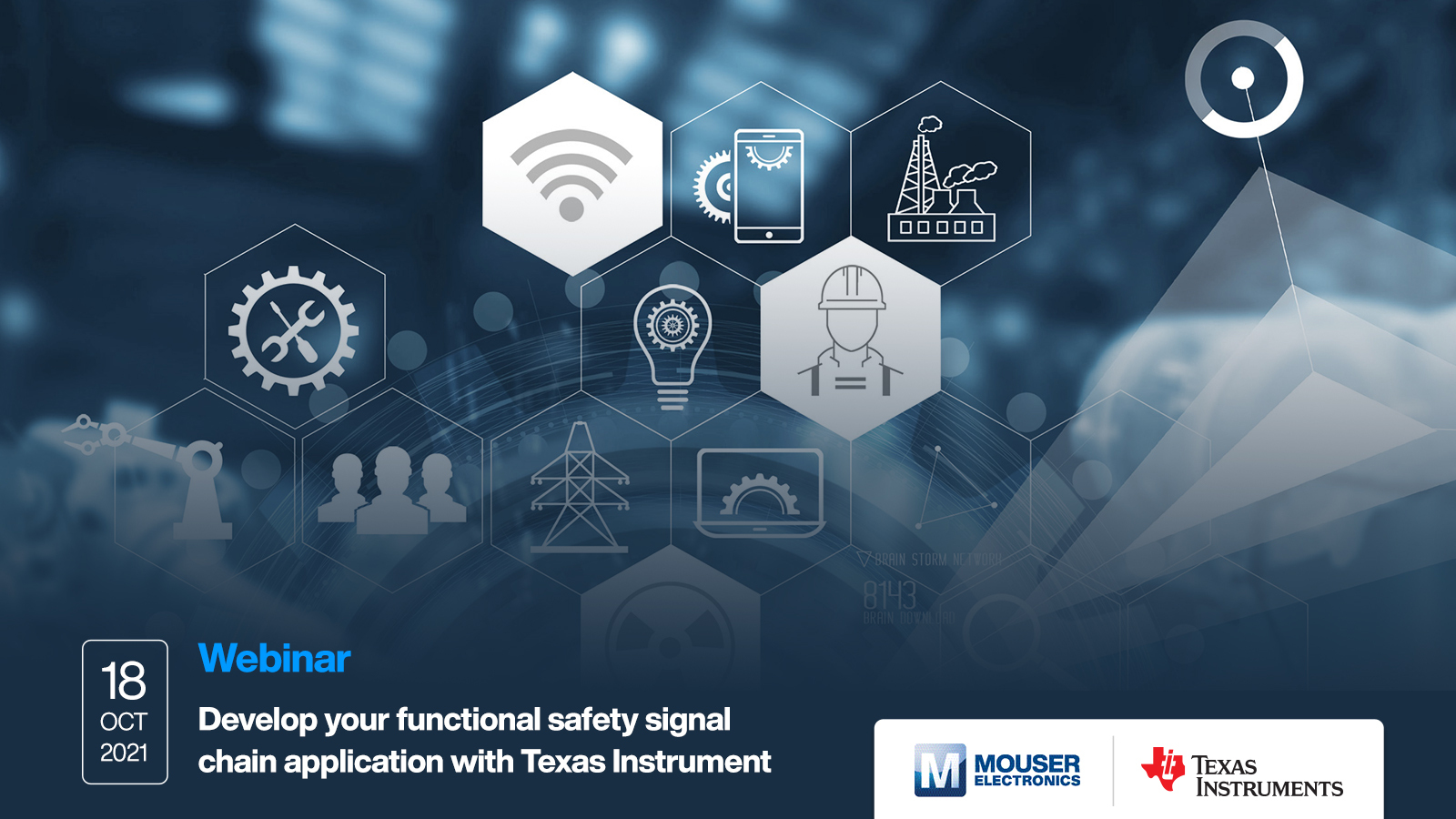 About Mouser Electronics
Mouser Electronics, a Berkshire Hathaway company, is an authorised semiconductor and electronic component distributor focused on New Product Introductions from its leading manufacturer partners. Serving the global electronic design engineer and buyer community, the global distributor's website, mouser.com, is available in multiple languages and currencies and features more than 5 million products from over 1,100 manufacturer brands. Mouser offers 27 support locations worldwide to provide best-in-class customer service in local language, currency and time zone. The distributor ships to over 630,000 customers in 223 countries/territories from its 1 million-square-foot, state-of-the-art distribution facilities in the Dallas, Texas, metro area. For more information, visit http://www.mouser.com.