11. december 2018
Mouser Electronics and NDK Announce Global Distribution Agreement
Mouser Electronics and NDK Announce Global Distribution Agreement
Leading NPI Distributor to Stock NDK's Crystal Timing Devices
December 11, 2018 – Mouser Electronics, Inc., the industry's leading New Product Introduction (NPI) distributor with the widest selection of semiconductors and electronic components, announces a global distribution deal with NDK, a major manufacturer and supplier of crystal timing devices. NDK makes crystal timing devices for the control, selection, and detection of frequencies to ensure precise synchronization and stable communication. Through this agreement, Mouser will distribute NDK's crystal timing products worldwide.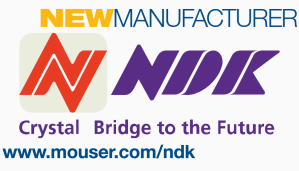 The NDK product line, available from Mouser Electronics, comprises a wide range of timing devices across many frequencies, including NX1612AA and NX3225SA crystal timing units. The ultra-small NX1612AA devices are 24 MHz to 80 MHz surface-mount units that consume just 10µA with a load capacitance of 8 pF. The 1.6 mm × 2.1 mm devices are ideal for office automation and audio/video products, as well as short-range wireless applications such as local area networks (LANs) and Bluetooth® technology.
The NX3225SA crystal timing units are designed for automotive and mobile communication in addition to office automation and audio/video applications. Available in a range of nominal frequencies from 12 MHz, to 114 MHz, the 3.2 mm × 2.5 mm surface-mount devices provide excellent environmental characteristics including shock and heat resistance.
For more information on crystals and timing devices, visit Mouser's Timing Technology site at http://www.mouser.com/applications/timing-technology. To learn more about NDK products available at Mouser, visit http://www.mouser.com/ndk.
Mouser / NDK New Supplier Announcement
Page Two
With its broad product line and unsurpassed customer service, Mouser strives to empower innovation among design engineers and buyers by delivering advanced technologies. Mouser stocks the world's widest selection of the latest semiconductors and electronic components for the newest design projects. Mouser Electronics' website is continually updated and offers advanced search methods to help customers quickly locate inventory. Mouser.com also houses data sheets, supplier-specific reference designs, application notes, technical design information, and engineering tools.
About Mouser Electronics
Mouser Electronics, a Berkshire Hathaway company, is an award-winning, authorized semiconductor and electronic component distributor focused on rapid New Product Introductions from its manufacturing partners for electronic design engineers and buyers. The global distributor's website, Mouser.com, is available in multiple languages and currencies and features more than 5 million products from over 750 manufacturers. Mouser offers 23 support locations around the world to provide best-in-class customer service and ships globally to over 600,000 customers in more than 220 countries/territories from its 750,000 sq. ft. state-of-the-art facility south of Dallas, Texas. For more information, visit http://www.mouser.com.
About NDK
NDK is a major manufacturer and supplier of crystal timing devices with a vast array of applications that are essential components in virtually all electronic equipment. The company is also applying its crystal technologies to sensors and a full spectrum of new high-value-added components and products with the aim of achieving sustained business growth as a comprehensive manufacturer of frequency control devices.
Trademarks
Mouser and Mouser Electronics are registered trademarks of Mouser Electronics, Inc. All other products, logos, and company names mentioned herein may be trademarks of their respective owners.
– 30 –
Further information, contact:

Kevin Hess, Mouser Electronics

Senior Vice President of Marketing

(817) 804-3833

For press inquiries, contact:

Nick Foot, BWW Communications

PR Director

+44 (0)1491 636393