5. maj 2023
Mouser Electronics and Navitas Semiconductor Announce Global Distribution Agreement
Mouser Electronics, Inc., the industry's leading New Product Introduction (NPI) distributor with the widest selection of semiconductors and electronic components™, announces a global distribution agreement with Navitas Semiconductor, the only pure-play, next-generation power semiconductor company and industry leader in gallium nitride (GaN) power ICs and silicon carbide (SiC) technology. According to the agreement, Mouser will offer customers Navitas' range of GaNFast™ and GaNSense™ power ICs, in addition to the GeneSiC™ range of SiC power MOSFETs and diodes. These highly-efficient semiconductors enable high-frequency performance for applications including electric vehicles, fast charging devices, consumer electronics, alternative energy and industrial solutions.
"Mouser is pleased to add this strong industry leader to our line card, and to deliver these innovative power devices to our customers," said Kristin Schuetter, Mouser's Vice President of Supplier Management. "Design engineers now have easy access to Navitas' advanced components, backed by Mouser's unsurpassed customer service and best-in-class logistics. We're looking forward to a very successful partnership."
"Adding GaNFast parts to the existing GeneSiC portfolio greatly amplifies the awareness, interest and ultimately revenue for Navitas via Mouser's established and successful distribution platform," said David Carroll, Senior Vice President Worldwide Sales at Navitas Semiconductor. "Next-gen products, ease-of-use, immediate availability and great tech support mean that power designers can quickly deliver high-quality prototypes with both SiC and GaN, on time and ready for mass production."
The GaNFast Power ICs enable switching frequencies six-times higher than discrete GaN solutions, enabling an increase in system energy savings, while reducing system size and weight. GaNFast power ICs are easy to use and compatible with a range of popular topologies and controllers. GaNFast power ICs monolithically integrate GaN power, drive, and control, to create an easy-to-use, high-speed, high-performance 'digital-in, power-out' building block. GaNFast power ICs enable up to 3x faster charging in half the size and weight of old, silicon-based power electronics, or 3x more power without a size or weight increase.
GaNFast Power ICs with GaNSense technology integrate critical, real-time, autonomous sensing and protection circuits which further improve Navitas' industry-leading reliability and robustness. These revolutionary single-package solutions reduce component count and footprint compared to existing discretes, which cuts system cost, size, weight, and complexity. Featuring a supply voltage range of 5.5 V to 24 V, GaNFast power ICs are ideal for a variety of consumer and enterprise applications.
The GaNFast family of power ICs offers multiple efficiency and reliability benefits in easy-to-use, low-profile, low-inductance, industry-standard PQFN packages. These devices enable fast time-to-prototype and fast time-to-revenue and are designed to enable the next generation of soft-switching topologies, while maximizing GaN's high-speed, MHz+ fast-switching capability. These high-efficiency devices are suitable for mobile and data centre applications, as well as industrial motor drives.
To learn more about power ICs from Navitas Semiconductor, visit https://www.mouser.com/manufacturer/navitas/.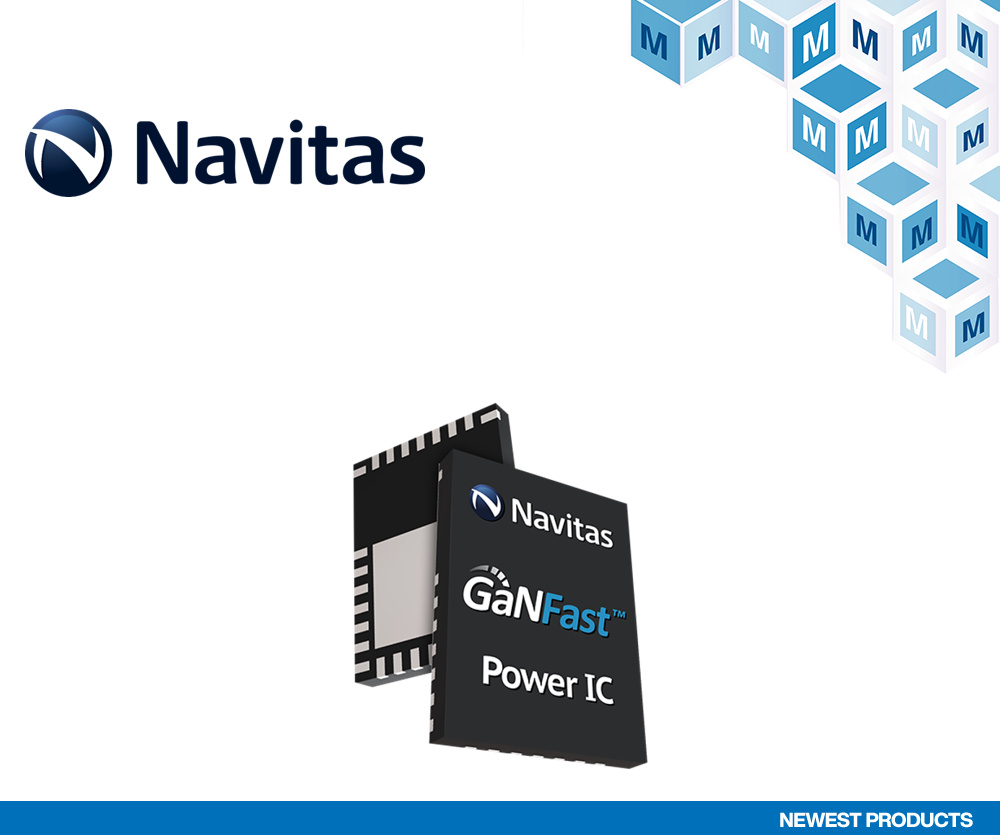 About Mouser Electronics
Mouser Electronics, a Berkshire Hathaway company, is an authorised semiconductor and electronic component distributor focused on New Product Introductions from its leading manufacturer partners. Serving the global electronic design engineer and buyer community, the global distributor's website, mouser.com, is available in multiple languages and currencies and features more than 6.8 million products from over 1,200 manufacturer brands. Mouser offers 27 support locations worldwide to provide best-in-class customer service in local language, currency and time zone. The distributor ships to over 650,000 customers in 223 countries/territories from its 1 million-square-foot, state-of-the-art distribution facilities in the Dallas, Texas, metro area. For more information, visit https://www.mouser.com/.
About Navitas Semiconductor
Navitas Semiconductor is the only pure-play, next-generation power-semiconductor company, founded in 2014. GaNFast™ power ICs integrate gallium nitride (GaN) power and drive, with control, sensing, and protection to enable faster charging, higher power density, and greater energy savings. Complementary GeneSiC™ power devices are optimised high-power, high-voltage, and high-reliability silicon carbide (SiC) solutions. Focus markets include EV, solar / energy storage, home appliance / industrial, data centre, mobile and consumer. Over 185 Navitas patents are issued or pending. Over 70 million GaN units and 9 million SiC have been shipped, now with the industry's first and only GaN 20-year warranty. Navitas was the world's first semiconductor company to be CarbonNeutral®-certified.