18. september 2018
Mouser Electronics and Marvell Enter Global Distribution Agreement
Mouser Electronics and Marvell Enter Global Distribution Agreement
September 17, 2018 – Mouser Electronics, Inc., the industry's leading New Product Introduction (NPI) distributor with the widest selection of semiconductors and electronic components, announces a global distribution agreement with Marvell Semiconductor, Inc., a provider of storage, processing, networking, security and connectivity semiconductor solutions. Mouser will distribute Marvell® industry-leading Fast Ethernet and Alaska® Gigabit Ethernet physical layer (PHY) transceivers.
"Mouser is excited to offer our customers Marvell's high-performance, low-power PHY transceivers," said Kristin Schuetter, Vice President of Supplier Management at Mouser. "Marvell has an exceptional history of delivering next-generation products that continue to revolutionize how customers move data."
"Mouser is a proven global partner with top-tier sales and customer support that reflect our own high standards," said Dean Jarnac, vice president, Americas Sales and Global Distribution at Marvell. "With Mouser's leadership in global distribution, we expect to significantly increase adoption of our Ethernet transceivers."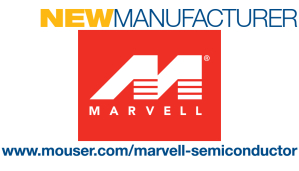 The Marvell Fast Ethernet PHY transceivers offer low power dissipation, small form factor, high performance, and an advanced feature set. The octal Fast Ethernet PHY family, including the 88E3082 and 88E3083 devices, features significantly lower power consumption (under 150 mW per port), enabling network systems manufacturers to decrease system costs by reducing both power supply and fan requirements.
The efficient design of the Marvell Alaska Gigabit Ethernet (GbE) PHY transceivers enables increased density, reduced power, and smaller package size to meet the demands of next-generation green networks. Alaska GbE PHYs include a high level of integration in thermally efficient packages that optimize PCB real estate and enable fan-less and heat sink-less designs.
Both the Fast Ethernet and Alaska GbE PHYs transceivers feature the Marvell Virtual Cable Tester® (VCT) fault detection technology. This technology enables end-users, IT managers and networking equipment manufacturers to quickly and remotely analyze the quality and attributes of the cable, avoiding unnecessary equipment returns and on-site service calls.
To learn more, visit http://www.mouser.com/marvell-semiconductor.
Mouser / Marvell New Supplier Announcement
Page Two
With its broad product line and unsurpassed customer service, Mouser strives to empower innovation among design engineers and buyers by delivering advanced technologies. Mouser stocks the world's widest selection of the latest semiconductors and electronic components for the newest design projects. Mouser Electronics' website is continually updated and offers advanced search methods to help customers quickly locate inventory. Mouser.com also houses data sheets, supplier-specific reference designs, application notes, technical design information, and engineering tools.
About Mouser Electronics
Mouser Electronics, a Berkshire Hathaway company, is an award-winning, authorized semiconductor and electronic component distributor focused on rapid New Product Introductions from its manufacturing partners for electronic design engineers and buyers. The global distributor's website, Mouser.com, is available in multiple languages and currencies and features more than 5 million products from over 700 manufacturers. Mouser offers 23 support locations around the world to provide best-in-class customer service and ships globally to over 600,000 customers in more than 220 countries/territories from its 750,000 sq. ft. state-of-the-art facility south of Dallas, Texas. For more information, visit http://www.mouser.com.
About Marvell Semiconductor
Marvell first revolutionized the digital storage industry by moving information at speeds never thought possible. Today, that same breakthrough innovation remains at the heart of the company's storage, processing, networking, security and connectivity solutions. With leading intellectual property and deep system-level knowledge, Marvell's semiconductor solutions continue to transform the enterprise, cloud, automotive, industrial and consumer markets.
Trademarks
Mouser and Mouser Electronics are registered trademarks of Mouser Electronics, Inc. All other products, logos, and company names mentioned herein may be trademarks of their respective owners.
– 30 –
Further information, contact:

Kevin Hess, Mouser Electronics

Senior Vice President of Marketing

(817) 804-3833

For press inquiries, contact:

Nick Foot, BWW Communications

PR Director

+44 (0)1491 636393