20. april 2018
Mouser Electronics and Grant Imahara Launch 2018 Empowering Innovation Together Series "Generation Robot"
Mouser Electronics and Grant Imahara Launch
2018 Empowering Innovation Together Series "Generation Robot"
April 20, 2018 – Mouser Electronics Inc. is teaming up for the fourth consecutive year with celebrity engineer Grant Imahara for the latest edition of their popular Empowering Innovation Together™ program, the Generation Robot video series. To watch the first video in the series, go to https://youtu.be/j4DkfKALnag.
The exciting new series features five videos filmed in locations around the world, highlighting the people, companies and machines that are changing how we view and interact with robots. The series will showcase everything from robotics theory to
real-world uses of robots that seem like science fiction to how we will navigate an equal human/robot world. The 2018 series is once again supported by Mouser's valued suppliers Analog Devices, Intel®, Microchip Technology and Molex.
In the first Generation Robot video, Imahara visits the Institute for Robotics and Intelligent Machines at Georgia Tech to meet with executive director Dr. Magnus Egerstedt. Together, they explore the basics of what constitutes a robot, the myths and misconceptions of robotics and Egerstedt's greatest hopes and fears for the advancement of robot technology.
The Generation Robot series will take viewers to locations in the U.S., Germany, Japan, South Korea and Hong Kong, examining the entire spectrum of robotics technology, including the challenge of shifting from a purely technological impact to one that has social and moral implications. Viewers will gain new insights and a better understanding of what "Generation Robot" means: We are living in the robots' world just as much as they are in ours.
"Innovation is the heart of technological advancement, and that sense of innovation is alive in the minds of the engineers advancing robotics," states Glenn Smith, President and CEO of Mouser Electronics, a leading global distributor of the newest semiconductors and electronic components. "It will be exciting to watch how these companies and talented engineers will bring the next life-saving and humanity-benefiting robots to market."
"Technology has always been a catalyst for change, such as the invention of the airplane or the internet. And now, another revolution — one that truly could redefine the human experience," said Imahara, a longtime Mouser customer. "I'm happy to be part of this new series, which seeks to answer the questions many people have about robots."
Since 2015, the Empowering Innovation Together program has been one of the most visible and recognized marketing programs in the electronic component industry, featuring projects ranging from bringing superhero technology to life to the amazing benefits of technologies that are Shaping Smarter Cities. For 2018, Mouser's goal is to reach even more innovators around the globe with the Empowering Innovation Together program through the focus of how robots impact humanity.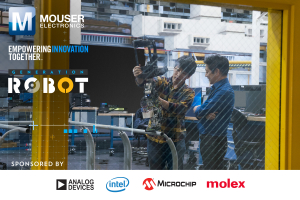 Mouser Electronics and engineer spokesperson Grant Imahara team up to present the Generation Robot series, part of Mouser's Empowering Innovation Together program. The series highlights the people, companies and machines that are changing how we view and interact with robots. To learn more, visit http://www.mouser.com/empowering-innovation.
To learn more about this and all of Mouser's Empowering Innovation Together series, visit http://www.mouser.com/empowering-innovation and follow Mouser on Facebook and Twitter.
About Mouser Electronics
Mouser Electronics, a Berkshire Hathaway company, is an award-winning, authorized semiconductor and electronic component distributor focused on rapid New Product Introductions from its manufacturing partners for electronic design engineers and buyers. The global distributor's website, Mouser.com, is available in multiple languages and currencies and features more than 5 million products from over 700 manufacturers. Mouser offers 22 support locations around the world to provide best-in-class customer service and ships globally to over 600,000 customers in 170 countries from its 750,000 sq. ft. state-of-the-art facility south of Dallas, Texas. For more information, visit http://www.mouser.com.
About Grant Imahara
Well known in the engineering community, Grant Imahara has paired his engineering expertise with a successful TV and film career. In addition to his roles on MythBusters and BattleBots, Imahara has worked on many famous robotic characters, including R2-D2 from Star Wars, the talking robot skeleton sidekick Geoff Peterson from The Late Late Show with Craig Ferguson, and the Energizer Bunny.
Trademarks
Mouser and Mouser Electronics are registered trademarks of Mouser Electronics, Inc. All other products, logos, and company names mentioned herein may be trademarks of their respective owners.
Intel is a registered trademark of Intel Corporation in the United States and other countries.

Further information, contact:

Kevin Hess, Mouser Electronics

Senior Vice President of Marketing

(817) 804-3833

For press inquiries, contact:

Nick Foot, BWW Communications

PR Director

+44 (0) 1491 636393