27. september 2017
Mouser Electronics and aconno Sign Global Distribution Agreement
Mouser Electronics and aconno Sign Global Distribution Agreement
Global Distributor Now Shipping aconno's nRF52832-Based IoT Solutions
September 26, 2017 – Mouser Electronics, Inc., the authorized global distributor with the newest semiconductors and electronic components, announces a global distribution agreement with aconno, developers of technology that helps reduce the barriers between software, hardware, and connected things.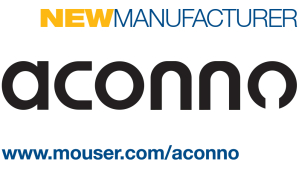 Through the new distribution agreement, Mouser is stocking aconno's Internet of Things (IoT) solutions, including the ACN52832 Bluetooth® Smart module, ACD52832 development board, and ACNPROG programmer. The heart of the ACN52832 module is the Nordic Semiconductor nRF52832 system-on-chip (SoC), which contains a 2.4 GHz transceiver, a 32-bit ARM® Cortex®-M4F processor, 512 Kbytes of flash, and 64 Kbytes of RAM, as well as digital peripherals. The module integrates power supply decoupling capacitors, 32 MHz and 32.768 kHz crystals, load capacitors, a DC-DC converter, a radio frequency (RF) matching circuit, and an antenna for enhanced range.
The ACD52832 is a development board for Bluetooth Smart, ANT and 2.4 GHz proprietary applications using the aconno ACN52832 module. The development kit is equipped with a 9-degrees-of-freedom (DoF) inertial module, a variety of sensors and actuators, and a high-resolution e-paper display, enabling designers to accelerate development efforts for new highly integrated IoT devices.
The aconno ACNPROG offers a small, vendor-independent debug interface for the ACN52832 module and other ARM-based chips that feature a Tag-Connect interface. Powered by a 48 MHz processor, the ACNPROG allows developers to quickly program devices through a variety of popular software as Keil, OpenOCD, GNU GDB, iAR and the mbed online compiler.
To learn more about aconno, visit http://www.mouser.com/aconno.
Mouser / aconno New Supplier
Page Two
With its broad product line and unsurpassed customer service, Mouser strives to empower innovation among design engineers and buyers by delivering advanced technologies. Mouser stocks the world's widest selection of the latest semiconductors and electronic components for the newest design projects. Mouser Electronics' website is continually updated and offers advanced search methods to help customers quickly locate inventory. Mouser.com also houses data sheets, supplier-specific reference designs, application notes, technical design information, and engineering tools.
About Mouser Electronics
Mouser Electronics, a Berkshire Hathaway company, is an award-winning, authorized semiconductor and electronic component distributor focused on rapid New Product Introductions from its manufacturing partners for electronic design engineers and buyers. The global distributor's website, Mouser.com, is available in multiple languages and currencies and features more than 4 million products from over 600 manufacturers. Mouser offers 22 support locations around the world to provide best-in-class customer service and ships globally to over 550,000 customers in 170 countries from its 750,000 sq. ft. state-of-the-art facility south of Dallas, Texas. For more information, visit http://www.mouser.com.
About aconno
aconno is a group of passionate and creative people who love to try new ideas and play with technology to create great products. aconno believes that creating smart products should be fun and simple — but as technology and electronics get more complex, people's abilities to create smart things get reduced.
aconno strives to reduce the barriers between software, hardware and connected things. Their mission is to unleash creativity and to empower the world's developers to create great connected objects and smart devices using low-power electronics.
Trademarks
Mouser and Mouser Electronics are registered trademarks of Mouser Electronics, Inc. All other products, logos, and company names mentioned herein may be trademarks of their respective owners.
– 30 –
Further information, contact:

Kevin Hess, Mouser Electronics

Senior Vice President of Marketing

(817) 804-3833

For press inquiries, contact:

Nick Foot, BWW Communications

PR Director

+44 (0)1491 636393