31. august 2017
Mouser Electronics a Sponsor of ST Developers Conference
Mouser Electronics a Sponsor of ST Developers Conference
Global Distributor to Exhibit at STMicroelectronics' Free Summit
August 30, 2017 – Mouser Electronics, Inc., the global authorized distributor with the newest semiconductors and electronic components, is sponsoring the 2017 ST Developers Conference, September 6, 2017, in the Mission City Ballroom of the Santa Clara Convention Center in Santa Clara, Calif. The ST Developers Conference brings together STMicroelectronics and its partners with experts in markets that are poised for rapid growth in the coming years, including smart things for the Internet of Things (IoT); smart driving; and smart home, city, and industry.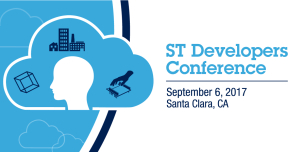 The ST Developers Conference is a free one-day interactive summit that enables attendees to meet and learn from industry influencers, who will present on a variety of topics while offering their perspectives on how these technologies will affect the future of product development. These presentations offer real-world examples and technical information while providing an overview of the technologies that are becoming available to help develop next-generation products.
The conference will offer a range of seminars to cover the needs of product developers as well as design engineers, technology and purchasing decision makers, project managers, technology package designers, and high-level business decision-makers. With five parallel tracks and over 40 different topics — plus two rooms of hands-on trainings — the event is designed to give the attendees the topics they need to get the most out of the day.
Visitors to the Mouser kiosk will discover how Mouser, Grant Imahara and the creative minds at WIRED Brand Lab are exploring the modern city, and how technology is shaping smarter cities. Plus, visitors can register for a chance to win a Google Home, which connects seamlessly with smart devices like Chromecast, Nest and Philips Hue, allowing users to control a smart home with voice commands.
To learn more about the ST Developers Conference, visit https://eng.info.mouser.com/ST-Developers-Conference.
Mouser / ST Developers Conference
Page Two
With its broad product line and unsurpassed customer service, Mouser strives to empower innovation among design engineers and buyers by delivering advanced technologies. Mouser stocks the world's widest selection of the latest semiconductors and electronic components for the newest design projects. Mouser Electronics' website is continually updated and offers advanced search methods to help customers quickly locate inventory. Mouser.com also houses data sheets, supplier-specific reference designs, application notes, technical design information, and engineering tools.
About Mouser Electronics
Mouser Electronics, a Berkshire Hathaway company, is an award-winning, authorized semiconductor and electronic component distributor focused on rapid New Product Introductions from its manufacturing partners for electronic design engineers and buyers. The global distributor's website, Mouser.com, is available in multiple languages and currencies and features more than 4 million products from over 600 manufacturers. Mouser offers 22 support locations around the world to provide best-in-class customer service and ships globally to over 550,000 customers in 170 countries from its 750,000 sq. ft. state-of-the-art facility south of Dallas, Texas. For more information, visit http://www.mouser.com.
Trademarks
Mouser and Mouser Electronics are registered trademarks of Mouser Electronics, Inc. All other products, logos, and company names mentioned herein may be trademarks of their respective owners.
– 30 –
Further information, contact:

Kevin Hess, Mouser Electronics

Senior Vice President of Marketing

(817) 804-3833

For press inquiries, contact:

Nick Foot, BWW Communications

PR Director

+44 (0) 1491 636393