26. april 2021
Mouser Broadens Embedded Line, Signs Global Distribution Agreement with IoT Specialist MultiTech
Mouser Electronics, Inc., the New Product Introduction (NPI) leader empowering innovation, announces a global distribution agreement with MultiTech, a leading global supplier of Internet of Things (IoT) devices and services. Through the agreement, Mouser now offers the MultiTech product line of sensor, authentication, and communications solutions to customers worldwide.
"We are pleased to announce our partnership with MultiTech, which furthers our commitment to providing the latest products and technologies to our customers worldwide," said Jeff Newell, Senior Vice President of Products, Mouser Electronics. "We look forward to providing engineers and buyers worldwide with their innovative communications solutions, backed by Mouser's best-in-class logistics and unsurpassed customer service."
"This partnership with Mouser brings MultiTech products to customers around the world with enhanced customer experience," said Dawn Rogers, Distribution Sales Manager at MultiTech. "Mouser's specialisation in rapid introduction of new products to engineers makes them a great partner for MultiTech as we expand our footprint."
The MultiTech SocketModem® Cell is a complete, ready-to-integrate communications device that offers 4G-LTE, as well as 2G or 3G, GSM data performance. These quick-to-market communications devices allow developers to add wireless communication to products with a minimum of development time and expense. The SocketModem Cell cellular modems are based on industry-standard open interfaces and use MultiTech's Universal Socket design, a flexible, comm-port architecture that allows engineers to use a single system design and populate it with their choice of connectivity module.
The MultiConnect® microcell is a compact and simple communications platform that provides cellular capabilities for fixed and mobile applications such as vending, smart parking, and smart inventory tracking equipment. This standalone USB-to-cellular device supports 4G-LTE Cat 4 and Cat 1 technology and is intended to provide basic cellular communication and security such as SSL/TLS 1.2 or higher.
The Conduit® programmable gateway is a configurable, manageable, and scalable gateway for IIoT applications. The Conduit features Wi-Fi, Bluetooth®, Bluetooth Low Energy, GNSS, and two accessory card slots that enable users to plug in MultiTech mCard™ accessory cards supporting their preferred wired or wireless interface including LoRaWAn to connect to a wide range of assets locally to the gateway.
The MultiTech xDot® is a secure, CE/FCC/RCM/GITEKI-certified, Arm® Mbed™ programmable, low-power RF module that provides long-range, low-bit-rate M2M data connectivity to sensors, industrial equipment and remote appliances. The xDot is LoRaWAN® 1.0.2 compliant, providing bi-directional data communication up to 10 miles (15 km) line-of-sight and 1 to 3 miles (2 km) in buildings, using sub-GHz ISM bands in North America, Europe, Australia (AU915), Asia Pacific (AS923), India (IN865) and Korea (KR920).
To learn more about MultiTech products now available from Mouser, visit https://eu.mouser.com/manufacturer/multitech/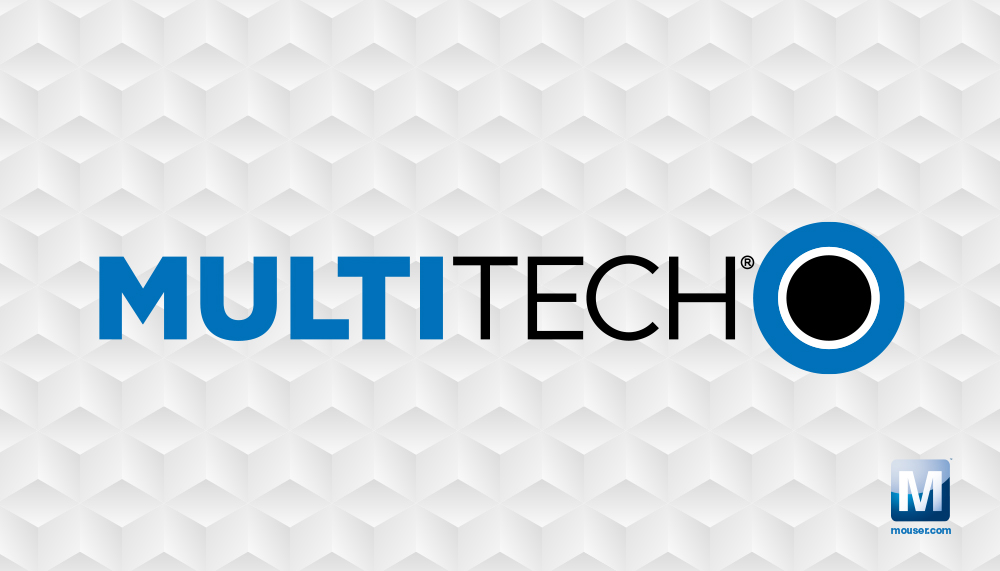 About Mouser Electronics
Mouser Electronics, a Berkshire Hathaway company, is an authorised semiconductor and electronic component distributor focused on New Product Introductions from its leading manufacturer partners. Serving the global electronic design engineer and buyer community, the global distributor's website, mouser.com, is available in multiple languages and currencies and features more than 5 million products from over 1,100 manufacturer brands. Mouser offers 27 support locations worldwide to provide best-in-class customer service in local language, currency and time zone. The distributor ships to over 630,000 customers in 223 countries/territories from its 1 million-square-foot, state-of-the-art distribution facilities in the Dallas, Texas, metro area. For more information, visit eu.mouser.com.