4. april 2017
Mouser Boosts Open Source Lineup with DFRobot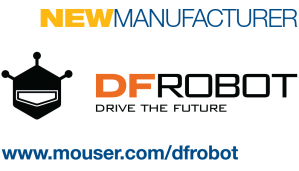 ,
Globally Distributes Plug-and-Play Sensors Series
April 3, 2017 – Mouser Electronics, Inc., the New Product Introduction (NPI) leader that empowers innovation, announces a global distribution agreement with DFRobot, a leading robotics and open source hardware provider. The agreement brings DFRobot's robotics and maker-focused products to Mouser's growing open source lineup.
The DFRobot product line available from Mouser Electronics focuses on the Gravity Series plug-and-play toolkit and the LattePanda single-board computer. The open source Gravity Series provides an easy-to-use platform for developing prototypes for applications ranging from smart home and robotics to industrial manufacturing and environmental monitoring. Gravity Series boards and modules offer color-coded pin headers and reversible three-pin interfaces that allow users of any skill level to easily connect, mix, and develop projects that are compatible with Arduino and other platforms.
Mouser stocks a wide variety of Gravity sensor and physical modules, including light, temperature, and gas sensors; an infrared (IR) receiver; a line-tracking sensor; and an analog flame sensor. To connect multiple sensors to an Arduino board, users can attach the IO Expansion Shield to the headers of an Arduino UNO R3 (or compatible) board.
The Gravity Arduino Starter Kit is a plug-and-play electronics toolkit that helps beginners easily learn how to work with sensors and the Arduino platform. The kit includes a DFRduino UNO R3 microcontroller, which functions exactly the same as Arduino UNO, and 12 popular Gravity components and sensors. The Gravity 27-Piece Sensor Kit for Arduino offers a robust selection of sensors that are fully compatible with the Arduino platform. The kit features a bundle of the most popular DFRobot Gravity sensors, including those for light, CO2, sound, touch, and distance, plus an accelerometer and a relay module. Both the Starter Kit and Sensor Kit use the IO Expansion Shield for connecting sensors to the Arduino board.
LattePanda is a powerful single-board computer that combines Windows 10 with an Arduino-compatible co-processor for physical computing. The board is based on the quad-core Intel® Atom™ Z8350 processor running up to 1.92 GHz and also supports both Linux and Android. LattePanda allows developers to run powerful tools such as Visual Studio, NodeJS, Java, and Processing, and provides APIs for developing software and hardware projects in C#, JavaScript, Ruby and more.
For more information on DFRobot products available from Mouser, visit http://www.mouser.com/dfrobot/.
Mouser / DFRobot New Supplier Announcement
Page Two
With its broad product line and unsurpassed customer service, Mouser strives to empower innovation among design engineers and buyers by delivering advanced technologies. Mouser stocks the world's widest selection of the latest semiconductors and electronic components for the newest design projects. Mouser Electronics' website is continually updated and offers advanced search methods to help customers quickly locate inventory. Mouser.com also houses data sheets, supplier-specific reference designs, application notes, technical design information, and engineering tools.
About Mouser Electronics
Mouser Electronics, a subsidiary of TTI, Inc., is part of Warren Buffett's Berkshire Hathaway family of companies. Mouser is an award-winning, authorized semiconductor and electronic component distributor focused on rapid New Product Introductions from its manufacturing partners for electronic design engineers and buyers. The global distributor's website, Mouser.com, is available in multiple languages and currencies and features more than 4 million products from over 600 manufacturers. Mouser offers 22 support locations around the world to provide best-in-class customer service and ships globally to over 500,000 customers in 170 countries from its 750,000 sq. ft. state-of-the-art facility south of Dallas, Texas. For more information, visit http://www.mouser.com.
About DFRobot
DFRobot is a world-leading robotics and open source hardware provider with a large community catering to future creators. The company creates innovative, user-friendly hardware and software products that become the building blocks in all kinds of electronic projects and fosters a strong community of learners around them.
Trademarks
Mouser and Mouser Electronics are registered trademarks of Mouser Electronics, Inc. All other products, logos, and company names mentioned herein may be trademarks of their respective owners.
– 30 –
Further information, contact:

Nick Foot, BWW Communications.

PR Director

+44(0) 1491 636393

For press inquiries, contact:

Kelly DeGarmo, Mouser Electronics

Manager, Corporate Communications and Media Relations

(817) 804-7764