18. maj 2017
Mouser-Backed Formula E Team Ready for Paris Challenge
Mouser-Backed Formula E Team Ready for Paris Challenge
TTI, Molex and Panasonic Join Sponsorship of Technology-Driven Sport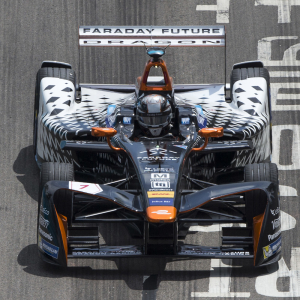 May 17, 2017 – Five events into the 2016–2017 season, the Mouser Electronics-sponsored Faraday Future Dragon Racing team now is preparing for the very challenging Paris ePrix on May 20, the midway point in the 12-race Formula E championship series. Driver Jerome D'Ambrosio is no stranger to the tough Circuit des Invalides, a street course that circles Les Invalides, just east of the Eiffel Tower. The course features 14 turns packed within a short 1.9-kilometers. Jerome is joined by experienced open wheel driver Mike Conway this weekend due to Loic Duval's conflict with a DTM race.
The team is taking a technological leap into the future this season with an innovative drivetrain. D'Ambrosio and Duval worked out some kinks in the first few outings this season, and now the team goes into Paris with high expectations.
Mouser is a proud sponsor of the 2016–2017 Dragon Racing team in collaboration with TTI, Inc. and valued supplier partners Molex and Panasonic. This is the third straight year that Mouser Electronics is sponsoring Formula E racing, a high-tech sport that is paving the way for future automotive technologies. Formula E features cars powered exclusively by electric power and represents a vision for the future of the motor sports industry, serving as a framework for research and development around the electric vehicle.
"Mouser consistently proves its commitment to technological innovation, which aligns with the team's leadership in electric car technology," said Todd McAtee, Vice President, Americas Business Development for Mouser Electronics. "We are proud to partner with the pioneers of this exciting new technology. We welcome the opportunity to team up with TTI, Molex, and Panasonic on this sponsorship."
"These amazing drivers and their cutting-edge cars are incredible," said Mike Morton, president of TTI Global Sales and Marketing. "TTI is proud to play a part in supporting this high-tech sport that is paving the way for automotive technologies."
"Molex is excited to again partner with Mouser in sponsoring this racing venture," said Fred Bell, Vice President of Global Distribution for Molex. "We look forward to watching innovative electric automotive technology in the hands of truly talented drivers."
"At Panasonic, we are pleased to be part of a forward-thinking technology that could determine the future of our automotive industry," said Jeff Howell, President of Panasonic Industrial Devices Sales Company of America.
After Paris, the remaining schedule includes six races in three venues: Berlin on June 10 and 11, New York City on July 15 and 16 and Montreal on July 29 and 30.
To learn more about the Formula E series, visit http://www.mouser.com/formula-e/.
Mouser / Formula E Paris ePrix
Page Two
With its broad product line and unsurpassed customer service, Mouser strives to empower innovation among design engineers and buyers by delivering advanced technologies. Mouser stocks the world's widest selection of the latest semiconductors and electronic components for the newest design projects. Mouser Electronics' website is continually updated and offers advanced search methods to help customers quickly locate inventory. Mouser.com also houses data sheets, supplier-specific reference designs, application notes, technical design information, and engineering tools.
About Mouser Electronics
Mouser Electronics, a Berkshire Hathaway company, is an award-winning, authorized semiconductor and electronic component distributor focused on rapid New Product Introductions from its manufacturing partners for electronic design engineers and buyers. The global distributor's website, Mouser.com, is available in multiple languages and currencies and features more than 4 million products from over 600 manufacturers. Mouser offers 22 support locations around the world to provide best-in-class customer service and ships globally to over 500,000 customers in 170 countries from its 750,000 sq. ft. state-of-the-art facility south of Dallas, Texas. For more information, visit http://www.mouser.com.
About Panasonic Industrial Devices Sales Company of America
Panasonic Industrial Devices Sales Company of America is the advanced industrial components and electronic devices sales division of Panasonic Corporation of North America, the principal North American subsidiary of Panasonic Corporation. The company provides cutting-edge components that power a diverse range of wireless and mechanical devices. Standard and custom components range from industrial automation devices to passive components, relays, connectors, sensors, wireless connectivity, semiconductors and more.
About Molex
Molex brings together innovation and technology to deliver electronic solutions to customers worldwide. With a presence in more than 40 countries, Molex offers a full suite of solutions and services for many markets, including data communications, consumer electronics, industrial, automotive, commercial vehicle and medical.
Trademarks
Mouser and Mouser Electronics are registered trademarks of Mouser Electronics, Inc. All other products, logos, and company names mentioned herein may be trademarks of their respective owners.
– 30 –
Further information, contact:

Nick Foot, BWW Communications

PR Director

+44 (0)1491 636393

For press inquiries, contact:

Kelly DeGarmo, Mouser Electronics

Manager, Corporate Communications and Media Relations

(817) 804-7764