8. maj 2023
Mouser-Backed DS PENSKE Formula E Racing Team Takes on the Challenging Streets of Monaco
Mouser Electronics, Inc., the New Product Introduction (NPI) leader™ empowering innovation, will cheer for the DS PENSKE Racing Team as they take on the challenging streets of Monte Carlo, Monaco, for round 9 of the 2023 ABB FIA Formula E World Championship on May 6.
The legendary 3,340 km long circuit has remained virtually unchanged since 1950. The track features multiple hairpin turns as it snakes around the casinos and hotels of Monte Carlo, offering countless opportunities for overtakes. The famous circuit will provide a true test for the all-new DS PENSKE 350kW Gen3 E-TENSE FE23. Team drivers for the Monaco race are Season 8 Champion Stoffel Vandoorne and two-time Formula E Champion Jean-Éric Vergne, both of whom are intimately familiar with the track. Vandoorne won the Monaco E-Prix last year, with Vergne taking third. Vergne himself won the Monaco E-Prix in 2019.
Mouser is supporting the DS PENSKE team for the globe-trekking 2022–23 season, in collaboration with TTI, Inc. and valued manufacturers Molex and KYOCERA AVX. Mouser and Molex have been partnering to sponsor Formula E racing since 2015.
Formula E is an international, fully electric street racing series that brings the latest innovations in electric vehicles and alternative energy solutions to the world's major city centres by creating a motorsport experience that will excite generations to embrace clean energy for a cleaner, faster future. Earlier this year, Formula E was independently ranked and recognised as the most sustainable sport in the world by the Global Sustainability Benchmark in Sports (GSBS), in addition to maintaining the International Standard for Sustainable Events (ISO 20121) and the FIA Three-Star level for Environmental Accreditation.
Using the very latest technology, the DS Performance Team has stretched the boundaries of efficiency and performance with the DS E-TENSE powertrain and software. Racing is all about speed and endurance, and racing sponsorships are an innovative way for Mouser to communicate its performance-driven business model and promote the newest technologies from its manufacturer partners.
To learn more about the Mouser-backed DS PENSKE Formula E team and view the Formula E schedule, visit https://eu.mouser.com/formula-e/.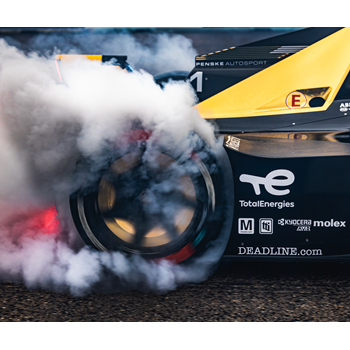 About Mouser Electronics
Mouser Electronics, a Berkshire Hathaway company, is an authorised semiconductor and electronic component distributor focused on New Product Introductions from its leading manufacturer partners. Serving the global electronic design engineer and buyer community, the global distributor's website, mouser.com, is available in multiple languages and currencies and features more than 6.8 million products from over 1,200 manufacturer brands. Mouser offers 27 support locations worldwide to provide best-in-class customer service in local language, currency and time zone. The distributor ships to over 650,000 customers in 223 countries/territories from its 1 million-square-foot, state-of-the-art distribution facilities in the Dallas, Texas, metro area. For more information, visit https://www.mouser.com/.