11. juli 2017
Mouser and TinyCircuits Enter Global Distribution Deal
Mouser and TinyCircuits Enter Global Distribution Deal
Mouser to Stock the TinyDuino Open Source Platform
July 11, 2017 – Mouser Electronics, Inc., the New Product Introduction (NPI) leader that empowers innovation, announces a global distribution agreement with TinyCircuits, a maker of very small open source electronics. Through the agreement, Mouser is stocking the TinyDuino platform with TinySheld expansion boards.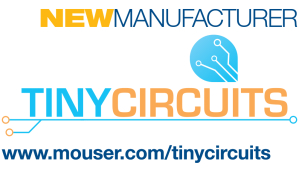 TinyDuino, now available from Mouser Electronics, is a miniature open source electronics platform based on the Arduino platform. The platform is comprised of a TinyDuino processor board and multiple TinyShields, which add special functions like sensors, communications, and display options. By stacking the TinyShields on top of the TinyDuino and other TinyShields, makers, students, and engineers of all levels create a TinyDuino Stack for almost any project.
The TinyDuino Processor Board uses the same Atmel Atmega328P microcontroller as used on the Arduino Uno and supports all of the same inputs and outputs — all on a 20 mm × 20 mm board. However, the TinyDuino uses an 8MHz ceramic resonator (instead of the 16MHz that the Uno uses), which allows the TinyDuino processor board to run directly off of lithium-ion batteries down to 2.7 V. Like the Arduino platform, the TinyDuino allows expansion by using TinyShields. Engineers can add anything from Bluetooth® or Wi-Fi communication capabilities to an OLED display to sensors and motors. TinyShields offer a stacking height of just 3 mm, allowing engineers to add several functionalities in an extremely compact final product.
For more information on TinyCircuits and the TinyDuino platform, visit http://www.mouser.com/tinycircuits/.
Mouser / TinyCircuits New Supplier Announcement
Page Two
With its broad product line and unsurpassed customer service, Mouser strives to empower innovation among design engineers and buyers by delivering advanced technologies. Mouser stocks the world's widest selection of the latest semiconductors and electronic components for the newest design projects. Mouser Electronics' website is continually updated and offers advanced search methods to help customers quickly locate inventory. Mouser.com also houses data sheets, supplier-specific reference designs, application notes, technical design information, and engineering tools.
About Mouser Electronics
Mouser Electronics, a Berkshire Hathaway company, is an award-winning, authorized semiconductor and electronic component distributor focused on rapid New Product Introductions from its manufacturing partners for electronic design engineers and buyers. The global distributor's website, Mouser.com, is available in multiple languages and currencies and features more than 4 million products from over 600 manufacturers. Mouser offers 22 support locations around the world to provide best-in-class customer service and ships globally to over 550,000 customers in 170 countries from its 750,000 sq. ft. state-of-the-art facility south of Dallas, Texas. For more information, visit http://www.mouser.com.
About TinyCircuits
TinyCircuits is a maker of tiny open source electronics, including the modular TinyDuino platform. TinyCircuits products are used by people worldwide to create a variety of projects, from makers creating projects at home to engineering students at top universities doing cutting-edge research to companies creating product prototypes and testing new concepts.
Trademarks
Mouser and Mouser Electronics are registered trademarks of Mouser Electronics, Inc. All other products, logos, and company names mentioned herein may be trademarks of their respective owners.
– 30 –
Further information, contact:

Kevin Hess, Mouser Electronics

Senior Vice President of Marketing

(817) 804-3833

For press inquiries, contact:

Nick Foot, BWW Communications

PR Director

+44 (0)1491 636393