27. juni 2017
Mouser and PRECI-DIP Sign Global Distribution Agreement
Mouser and PRECI-DIP Sign Global Distribution Agreement
June 27, 2017 – Mouser Electronics, Inc., the industry's leading New Product Introduction (NPI) distributor with the widest selection of semiconductors and electronic components, has signed a global distribution agreement with PRECI-DIP, a leading manufacturer of high-quality, precision-machined interconnect products.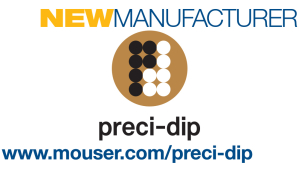 The PRECI-DIP product line available from Mouser Electronics includes a rich variety of headers, sockets, and spring-loaded connectors as well as a spring-loaded contact pins. PRECI-DIP headers and sockets meet the requirements of many IEC standards. Mouser is stocking dual-inline (DIL) headers and sockets, PCB connectors, and pin connectors in a variety of configurations and contacts.
PRECI-DIP's spring-loaded connectors are available in several configurations to meet the requirements of the most demanding environments, such as consumer electronics, automotive, medical, industrial, aerospace, and military. Mouser also now stocks a surface-mount, spring-loaded pins made from brass alloys with plated springs in tape and reel options.
For more information on the PRECI-DIP products available from Mouser, visit http://www.mouser.com/preci-dip/.
Mouser / PRECI-DIP New Supplier Announcement
Page Two
With its broad product line and unsurpassed customer service, Mouser strives to empower innovation among design engineers and buyers by delivering advanced technologies. Mouser stocks the world's widest selection of the latest semiconductors and electronic components for the newest design projects. Mouser Electronics' website is continually updated and offers advanced search methods to help customers quickly locate inventory. Mouser.com also houses data sheets, supplier-specific reference designs, application notes, technical design information, and engineering tools.
About Mouser Electronics
Mouser Electronics, a Berkshire Hathaway company, is an award-winning, authorized semiconductor and electronic component distributor focused on rapid New Product Introductions from its manufacturing partners for electronic design engineers and buyers. The global distributor's website, Mouser.com, is available in multiple languages and currencies and features more than 4 million products from over 600 manufacturers. Mouser offers 22 support locations around the world to provide best-in-class customer service and ships globally to over 550,000 customers in 170 countries from its 750,000 sq. ft. state-of-the-art facility south of Dallas, Texas. For more information, visit http://www.mouser.com.
About PRECI-DIP
PRECI-DIP is a leading manufacturer of highly reliable spring-loaded contacts that are used in many different markets. PRECI-DIP packs unequaled expertise into cutting-edge interconnect components, providing advanced designs, top materials and incomparable Swiss precision developed by men and women driven by passion and know-how.
Trademarks
Mouser and Mouser Electronics are registered trademarks of Mouser Electronics, Inc. All other products, logos, and company names mentioned herein may be trademarks of their respective owners.
– 30 –
Further information, contact:

Kevin Hess, Mouser Electronics

Senior Vice President of Marketing

(817) 804-3833

For press inquiries, contact:

Nick Foot, BWW Communications

PR Director

+44 (0)1491 636393