7. oktober 2020
Mouser and Molex Present Digital Think Tank for Automotive Technologies
Mouser Electronics, Inc., the industry's leading New Product Introduction (NPI) distributor with the widest selection of semiconductors and electronic components, and Molex, LLC, a leading global manufacturer of electronic solutions, have collaborated to create a new resource site devoted to connected solutions for the automotive industry. Engineers can access the informative new site by visiting https://molex.mouser.com/automotive.
As automobile technology becomes increasingly complex, engineers must develop solutions for software-defined vehicles, taking on a variety of challenges associated with reliable and secure mobile connectivity at all times. The new site from Mouser and Molex provides a single resource for the products, technical information, and in-depth articles necessary to develop solutions for software-defined vehicles.
To develop reliable applications for this emerging industry, manufacturers must understand the technologies and components involved in the constantly evolving connected vehicle. The digital automotive think tank site features articles, blog posts, videos, and product spotlights, as subject matter experts from both Molex and Mouser dive deep on the most important issues facing the latest in automotive design — including an article on ensuring bandwidth-ready, in-vehicle networks, which offers key information on the network requirements of software-defined vehicles.
Mouser offers a comprehensive selection of Molex products, including many that support in-vehicle connectivity. Molex 2.4 GHz/5 GHz flexible antennas offer simple integration into wireless devices with minimal implementation cost, making them an ideal choice for automotive applications. The compact antennas save application space while delivering consistent high performance. The HSAutoLink I interconnect system provides a proven solution for point-to-point in-vehicle USB connections with reduced electromagnetic interference (EMI), delivering data rates of up to 2.5 Gbps in four- and five-circuit configurations. The HSAutoLink II interconnect system is available in six- and 12-circuit configurations and delivers data rates of up to 13 Gbps, supporting high-speed USB, LVDS, and Ethernet protocols to meet increasing bandwidth requirements for advanced in-vehicle infotainment, telematics, advanced driver-assistance systems (ADAS), and camera devices.
To learn more about Molex, visit https://eu.mouser.com/manufacturer/molex/.
To access the new automotive resources and solutions site from Mouser and Molex, go to https://molex.mouser.com/automotive.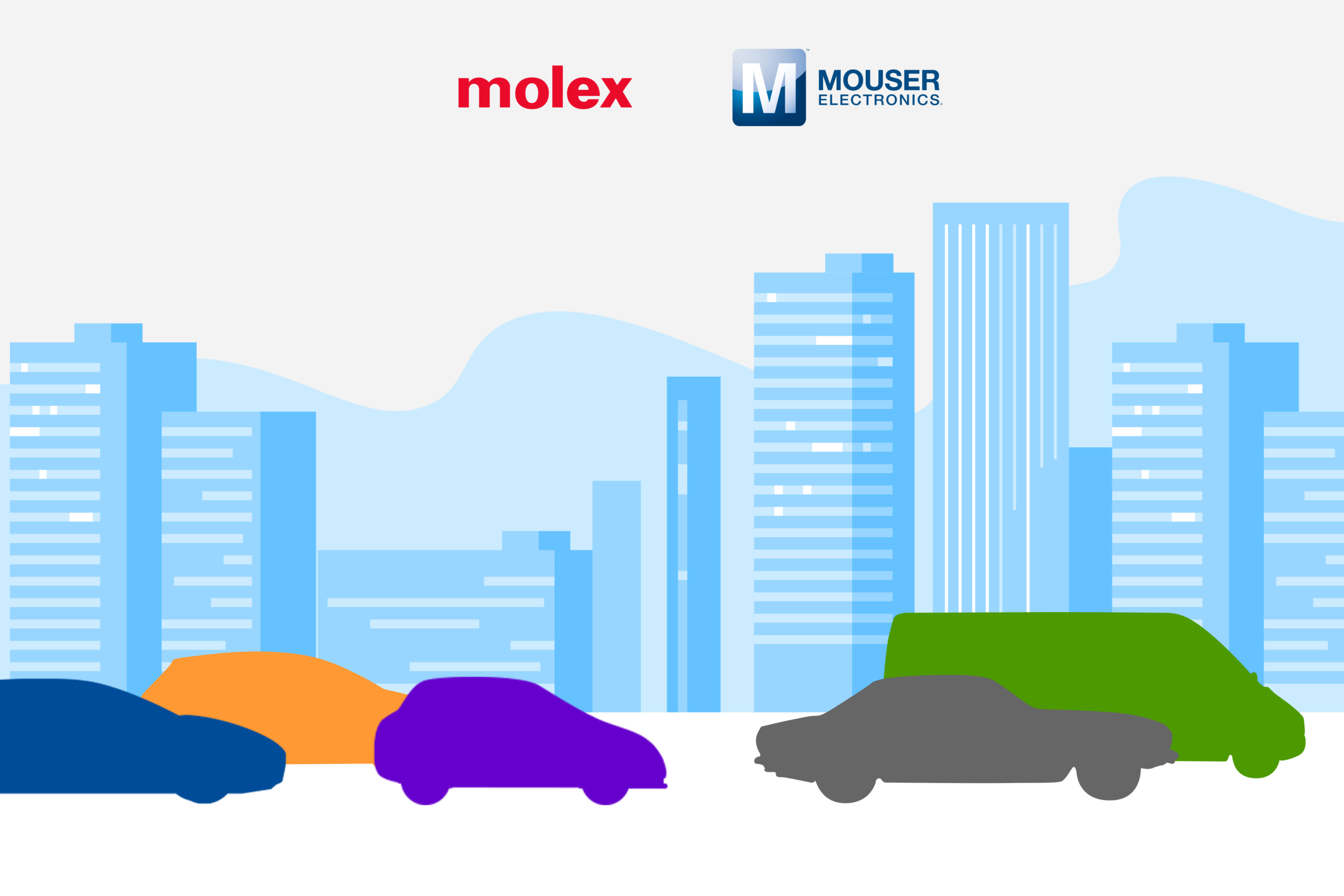 About Mouser Electronics
Mouser Electronics, a Berkshire Hathaway company, is an authorised semiconductor and electronic component distributor focused on New Product Introductions from its manufacturing partners for electronic design engineers and buyers. The global distributor's website, Mouser.com, is available in multiple languages and currencies and features more than 5 million products from over 800 manufacturers. Mouser offers 27 support locations around the world to provide best-in-class customer service in local language, currency and time zone. The distributor ships to over 630,000 customers in more than 223 countries/territories from its 93,000 square-meter, state-of-the-art facilities in the Dallas, Texas, metro area. For more information, visit http://www.mouser.com.