22. marts 2017
Mouser Amphenol Air Quality Eval
Mouser Offers Amphenol Advanced Sensors' Air Quality Eval Boards
Arduino-Compatible Boards Evalutate Telaire and Other Environmental Sensors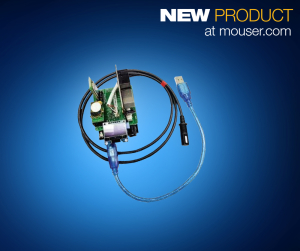 March 20, 2017 – Mouser Electronics, Inc., the authorized global distributor with the newest semiconductors and electronic components, is now stocking Telaire AAS-AQS-UNO air quality evaluation boards from Amphenol Advanced Sensors. The AAS-AQS-UNO evaluation boards help engineers evaluate Telaire air quality sensors and other sensors from the Amphenol range.
Amphenol Advanced Sensors Telaire AAS-AQS-UNO air quality evaluation boards, available from Mouser Electronics, are designed to evaluate Telaire air quality sensors as well as other Amphenol sensors. The boards support Bluetooth® low energy 4.0 and a 128 × 64 OLED screen, and feature reserved interfaces for the Telaire T9602 temperature and humidity sensors, T6713 carbon dioxide sensors, and SM-PWM-01C dust sensors. The boards are compatible with the Arduino UNO R3 microcontroller and use the Arduino integrated development environment (IDE) to help designers speed evaluation and development of the sensors. Both boards in the series include an Arduino-compatible board preloaded with software, the AAS-AQS-UNO sensor evaluation board, USB cable, OLED screen, and SM-PWM-01C dust sensor. The RH-CO2 kit also includes a T9602 temperature and humidity sensor and T6713 carbon dioxide sensor.
Designers can configure the boards' serial output to send sensor data to a PC over a USB connection for recording and analysis in third-party software. Typical applications include rapid development of air quality sensor systems, intelligent apparel devices, and low-power Internet of Things (IoT)-based Bluetooth modules.
To learn more, visit http://www.mouser.com/new/amphenol-advanced-sensors/amphenol-telaire-aas-aqs-uno-evalboard/.
Mouser / Amphenol Advanced Sensors Telaire AAS-AQS-UNO Air Quality Evaluation Boards
Page Two
With its broad product line and unsurpassed customer service, Mouser strives to empower innovation among design engineers and buyers by delivering advanced technologies. Mouser stocks the world's widest selection of the latest semiconductors and electronic components for the newest design projects. Mouser Electronics' website is continually updated and offers advanced search methods to help customers quickly locate inventory. Mouser.com also houses data sheets, supplier-specific reference designs, application notes, technical design information, and engineering tools.
About Mouser Electronics
Mouser Electronics, a subsidiary of TTI, Inc., is part of Warren Buffett's Berkshire Hathaway family of companies. Mouser is an award-winning, authorized semiconductor and electronic component distributor focused on rapid New Product Introductions from its manufacturing partners for electronic design engineers and buyers. The global distributor's website, Mouser.com, is available in multiple languages and currencies and features more than 4 million products from over 600 manufacturers. Mouser offers 22 support locations around the world to provide best-in-class customer service and ships globally to over 500,000 customers in 170 countries from its 750,000 sq. ft. state-of-the-art facility south of Dallas, Texas. For more information, visit http://www.mouser.com.
About Amphenol Advanced Sensors
Amphenol Advanced Sensors is a leading innovator in advanced sensing technologies and innovative embedded measurement solutions customized for regulatory and industry driven applications, creating value by providing critical information for real time data decisions. Amphenol Advanced Sensors is a company of industry leader brands such as Telaire, Kaye, Thermometrics, Modus Instruments, NovaSensors, and Protimeter. Amphenol Advanced Sensors offers industry leading domain expertise, rapid customization, world-class manufacturing capability and lasting customer relationships to deliver the greatest value in cost of ownership to their customers.
Trademarks
Mouser and Mouser Electronics are registered trademarks of Mouser Electronics, Inc. All other products, logos, and company names mentioned herein may be trademarks of their respective owners.
– 30 –
Further information, contact:

Kevin Hess, Mouser Electronics

Senior Vice President of Marketing

(817) 804-3833

For press inquiries, contact:

Nick Foot BWW Communications

PR Director

+44 (0)1491 636393