24. juli 2017
Molex ValuSeal IP65 Wire-to-Wire Connectors, Now Available at Mouser Electronics
Molex ValuSeal IP65 Wire-to-Wire Connectors, Now Available at Mouser Electronics
July 24, 2017 – Mouser Electronics, Inc., the industry's leading New Product Introduction (NPI) distributor with the widest selection of semiconductors and electronic components, is now stocking the ValuSeal wire-to-wire connector system from Molex, LLC. ValuSeal connectors are designed to provide cost-effective, reliable, and sealed performance, all within a one-piece housing design. The IP65-rated wire-and-ring seal system is capable of 11.0 A of power and is ideal for consumer, industrial, non-automotive transportation, robotics, and lighting applications.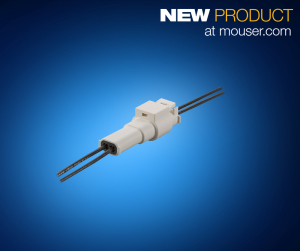 The Molex ValuSeal wire-to-wire connector system, available from Mouser Electronics, features an innovative one-piece housing design that simplifies the assembly process and protects against harsh and wet environments, dust, and low-pressure jets of water. The design also boosts efficiency by reducing the number of components needed. A compact 4.00mm pitch enhances design flexibility in applications where space is limited. The connectors also offer a positive latch feature that ensures secure retention when the receptacle and plug are mated, which prevents accidental un-mating
The ValuSeal wire-to-wire connectors also include an integrated wire strain-relief within the connector body to prevent over-bending, wire failure, and leak-paths. Mouser also stocks ValuSeal pre-crimped leads that are suitable for simplifying wire assembly for added cost efficiency.
For more information about the ValueSeal IP65-rated wire-to-wire connectors, visit http://www.mouser.com/new/molex/molex-valuseal-ip65-connectors/.
Mouser / Molex ValuSeal Wire-to-Wire Connectors
Page Two
With its broad product line and unsurpassed customer service, Mouser strives to empower innovation among design engineers and buyers by delivering advanced technologies. Mouser stocks the world's widest selection of the latest semiconductors and electronic components for the newest design projects. Mouser Electronics' website is continually updated and offers advanced search methods to help customers quickly locate inventory. Mouser.com also houses data sheets, supplier-specific reference designs, application notes, technical design information, and engineering tools.
About Mouser Electronics
Mouser Electronics, a Berkshire Hathaway company, is an award-winning, authorized semiconductor and electronic component distributor focused on rapid New Product Introductions from its manufacturing partners for electronic design engineers and buyers. The global distributor's website, Mouser.com, is available in multiple languages and currencies and features more than 4 million products from over 600 manufacturers. Mouser offers 22 support locations around the world to provide best-in-class customer service and ships globally to over 550,000 customers in 170 countries from its 750,000 sq. ft. state-of-the-art facility south of Dallas, Texas. For more information, visit http://www.mouser.com.
About Molex
Molex brings together innovation and technology to deliver electronic solutions to customers worldwide. With a presence in more than 40 countries, Molex offers a full suite of solutions and services for many markets, including data communications, consumer electronics, industrial, automotive, commercial vehicle and medical.
Trademarks
Mouser and Mouser Electronics are registered trademarks of Mouser Electronics, Inc. All other products, logos, and company names mentioned herein may be trademarks of their respective owners.
– 30 –
Further information, contact:

Kevin Hess, Mouser Electronics

Senior Vice President of Marketing

(817) 804-3833

For press inquiries, contact:

Nick Foot, BWW Communications

PR Director

+44 (0)1491 636393