18. juli 2017
Microchip's ATtiny1617 Series of AVR MCUs, Now at Mouser, Delivers Increased Throughput and Lower Power
Microchip's ATtiny1617 Series of AVR MCUs, Now at Mouser, Delivers Increased Throughput and Lower Power
July 18, 2017 – Mouser Electronics, Inc., the industry's leading New Product Introduction (NPI) distributor with the widest selection of semiconductors and electronic components, is now stocking the ATtiny1617 microcontroller series from Microchip Technology. Part of Microchip's low-power 8-bit AVR® microcontroller portfolio, the ATtiny1617 devices offer pin and code compatibility with the ATtiny817 series devices while extending the flash memory. The compact 8-bit devices run at up to 20 MHz, and provide a customized configuration and simplified process for capacitive touch systems and Core Independent Peripherals (CIPs) that help increase system throughput while lowering overall power consumption.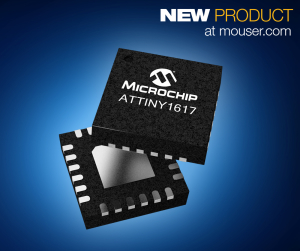 The Microchip ATtiny1617 8-bit AVR microcontrollers, available from Mouser Electronics, feature 16 kBytes of in-system self-programmable flash memory, 256 Bytes of EEPROM, and 2 kBytes of SRAM. Similar to other Microchip tinyAVR® microcontrollers, these devices use the 8-bit AVR processor with hardware multiplier and provide an Event System Controller that allows peripherals to communicate without using the central processing unit (CPU). This functionality enables designers to customize the configuration of the microcontrollers to specific applications. Also included on-chip is an integrated QTouch® Peripheral Touch Controller (PTC) that helps to simplify the development of capacitive touch systems offering touch interfaces with proximity sensing and a driven shield.
Other integrated features include a 20MHz internal oscillator; high-speed serial communication interfaces that include a USART, SPI and I2C; configurable custom logic blocks; a 10-bit analog-to-digital converter (ADC) with internal voltage references; operating voltages ranging from 1.8 V to 5.5 V; and picoPower® technology for sleep currents as low as 100nA.
Combining processing power, analog performance and system-level integration, Microchip's ATtiny1617 Series microcontrollers are available in a compact 24-pin QFN package and are suitable for a variety of power applications, including LED lighting, motor control, H bridges, and power converters. For development, the devices are fully supported by the Atmel Studio 7 IDE, the STK600 platform, and Atmel's START online configuration tool.
To learn more, visit http://www.mouser.com/new/atmel/microchip-attiny1617/.
Mouser / Microchip ATtiny1617 8-Bit AVR Microcontroller
Page Two
With its broad product line and unsurpassed customer service, Mouser strives to empower innovation among design engineers and buyers by delivering advanced technologies. Mouser stocks the world's widest selection of the latest semiconductors and electronic components for the newest design projects. Mouser Electronics' website is continually updated and offers advanced search methods to help customers quickly locate inventory. Mouser.com also houses data sheets, supplier-specific reference designs, application notes, technical design information, and engineering tools.
About Mouser Electronics
Mouser Electronics, a Berkshire Hathaway company, is an award-winning, authorized semiconductor and electronic component distributor focused on rapid New Product Introductions from its manufacturing partners for electronic design engineers and buyers. The global distributor's website, Mouser.com, is available in multiple languages and currencies and features more than 4 million products from over 600 manufacturers. Mouser offers 22 support locations around the world to provide best-in-class customer service and ships globally to over 550,000 customers in 170 countries from its 750,000 sq. ft. state-of-the-art facility south of Dallas, Texas. For more information, visit http://www.mouser.com.
About Microchip Technology
Microchip Technology Inc. is a leading provider of microcontroller, mixed-signal, analog and Flash-IP solutions, providing low-risk product development, lower total system cost and faster time to market for thousands of diverse customer applications worldwide. Headquartered in Chandler, Arizona, Microchip offers outstanding technical support along with dependable delivery and quality
Trademarks
Mouser and Mouser Electronics are registered trademarks of Mouser Electronics, Inc. All other products, logos, and company names mentioned herein may be trademarks of their respective owners.
– 30 –
Further information, contact:

Kevin Hess, Mouser Electronics

Senior Vice President of Marketing

(817) 804-3833

For press inquiries, contact:

Nick Foot, BWW Communications

PR Director

+44 (0)1491 636393