18. april 2017
Maxim's MAX17222 nanoPower Boost Converter Now at Mouser
Maxim's MAX17222 nanoPower Boost Converter Now at Mouser
April 18, 2017 – Mouser Electronics, Inc., the industry's leading New Product Introduction (NPI) distributor with the widest selection of semiconductors and electronic components, is now stocking the MAX17222 nanoPower DC-DC step-up (boost) converter from Maxim Integrated. The MAX17222 offers a high 95-percent efficiency that minimizes heat dissipation plus an ultra-low quiescent current that helps extend battery life in highly integrated wearables, health monitors, Internet of Things (IoT) devices, and other connected designs.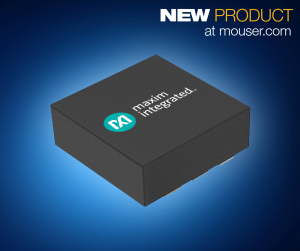 Maxim's MAX17222 nanoPower DC-DC boost converter, available from Mouser Electronics, operates over an input voltage range of 0.4 V to 5.5 V, delivering an output voltage range of 1.8 V to 5.0 V with an ultra-low quiescent current down to 300 nA. The device features True Shutdown™ mode, which boasts a current draw of just 0.5 nA to virtually stop battery drain, providing long battery life and eliminating the need for external disconnect switches. The converter's 500 mA peak inductor current limit gives designers greater flexibility when selecting inductor types, while the post-startup enable transient protection (ETP) allows the output to remain regulated for input voltages down to 400 mV, depending on load current.
Mouser is also stocking the Maxim MAX17222 evaluation kit, which features two independent circuits to evaluate both the MAX17222 and MAX17225 converters. Each circuit provides resistor-configurable output voltages from 1.8 V to 5 V in 100 mV per step. Additionally, each circuit output delivers up to 100 mA, 225 mA, or 425 mA, depending on the input-to-output voltage ratio.
To learn more about the Maxim MAX17222 converter and evaluation kit, visit http://www.mouser.com/new/maxim-integrated/maxim-max17222-converter/.
Mouser / Maxim Integrated MAX17222 Boost Converter
Page Two
With its broad product line and unsurpassed customer service, Mouser strives to empower innovation among design engineers and buyers by delivering advanced technologies. Mouser stocks the world's widest selection of the latest semiconductors and electronic components for the newest design projects. Mouser Electronics' website is continually updated and offers advanced search methods to help customers quickly locate inventory. Mouser.com also houses data sheets, supplier-specific reference designs, application notes, technical design information, and engineering tools.
About Mouser Electronics
Mouser Electronics, a subsidiary of TTI, Inc., is part of Warren Buffett's Berkshire Hathaway family of companies. Mouser is an award-winning, authorized semiconductor and electronic component distributor focused on rapid New Product Introductions from its manufacturing partners for electronic design engineers and buyers. The global distributor's website, Mouser.com, is available in multiple languages and currencies and features more than 4 million products from over 600 manufacturers. Mouser offers 22 support locations around the world to provide best-in-class customer service and ships globally to over 500,000 customers in 170 countries from its 750,000 sq. ft. state-of-the-art facility south of Dallas, Texas. For more information, visit http://www.mouser.com.
About Maxim Integrated
Maxim is the leader in analog integration. From mobile to industrial solutions, Maxim is making analog smaller, smarter and more energy efficient
Trademarks
Mouser and Mouser Electronics are registered trademarks of Mouser Electronics, Inc. All other products, logos, and company names mentioned herein may be trademarks of their respective owners.
– 30 –
Further information, contact:

Nick Foot, BWW Communications

PR Director

+44(0) 1491 636393

For press inquiries, contact:

Kelly DeGarmo, Mouser Electronics

Manager, Corporate Communications and Media Relations

(817) 804-7764