8. april 2019
Maxim's DS2477 Secure I2C Coprocessor, Now at Mouser, Delivers Authentication and Physical Security
Maxim's DS2477 Secure I2C Coprocessor, Now at Mouser, Delivers Authentication and Physical Security
April 8, 2019 – Mouser Electronics, Inc., the industry's leading New Product Introduction (NPI) distributor with the widest selection of semiconductors and electronic components, is now stocking the DS2477 DeepCover® secure coprocessor from Maxim Integrated. The DS2477 provides additional levels of authentication and device integrity protection for industrial systems, medical sensors, and Internet of Things (IoT) tools.
Maxim's DS2477, available from Mouser Electronics, is a secure I2C coprocessor with built-in 1-Wire master that combines FIPS202-compliant secure hash algorithm (SHA-3) challenge and response authentication with Maxim's patented ChipDNA™ feature to provide a cost-effective solution with the ultimate protection against security attacks.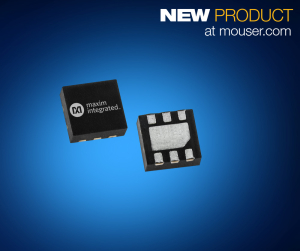 The DS2477 utilizes the ChipDNA output as key content to cryptographically secure all device-stored data. Attempts to probe or observe ChipDNA operation modifies the underlying circuit characteristics, which prevents discovery of the unique value used by the chip cryptographic functions. The ChipDNA circuit, a physically unclonable technology, uses a random variation of semiconductor device characteristics that naturally occur during wafer fabrication. The circuit generates a unique output value that is repeatable over time, temperature, and operating voltage, and provides a core set of cryptographic tools derived from integrated blocks.
To learn more, visit http://www.mouser.com/maxim-ds2477-coprocessor.
Mouser / Maxim DS2477 Secure I2C Coprocessor
Page Two
With its broad product line and unsurpassed customer service, Mouser strives to empower innovation among design engineers and buyers by delivering advanced technologies. Mouser stocks the world's widest selection of the latest semiconductors and electronic components for the newest design projects. Mouser Electronics' website is continually updated and offers advanced search methods to help customers quickly locate inventory. Mouser.com also houses data sheets, supplier-specific reference designs, application notes, technical design information, and engineering tools.
About Mouser Electronics
Mouser Electronics, a Berkshire Hathaway company, is an award-winning, authorized semiconductor and electronic component distributor focused on rapid New Product Introductions from its manufacturing partners for electronic design engineers and buyers. The global distributor's website, Mouser.com, is available in multiple languages and currencies and features more than 5 million products from over 750 manufacturers. Mouser offers 23 support locations around the world to provide best-in-class customer service and ships globally to over 600,000 customers in more than 220 countries/territories from its 750,000 sq. ft. state-of-the-art facility south of Dallas, Texas. For more information, visit http://www.mouser.com.
About Maxim Integrated
Maxim is the leader in analog integration. From mobile to industrial solutions, Maxim is making analog smaller, smarter and more energy efficient.
Trademarks
Mouser and Mouser Electronics are registered trademarks of Mouser Electronics, Inc. All other products, logos, and company names mentioned herein may be trademarks of their respective owners.
– 30 –
For further information, contact:

Kevin Hess, Mouser Electronics

Senior Vice President of Marketing

(817) 804-3833

For press inquiries, contact:

Nick Foot, BWW Communications

PR Director

+44 (0)1491 636393